Press
AMC Partners with Art House Convergence to Sneak Peek Low Winter Sun at Select Theaters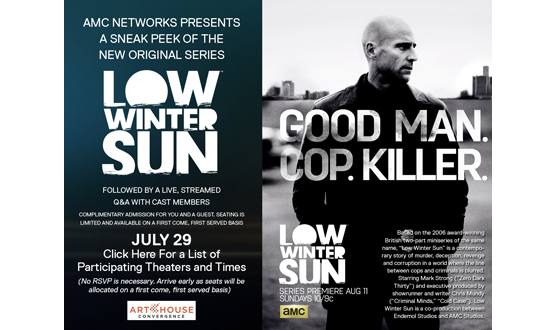 To celebrate the launch of the new original drama Low Winter Sun, AMC has partnered with Art House Convergence to offer the public a sneak peek of the series at more than twenty theaters across the country.
On Mon., Jul. 29, participating theaters will screen the Low Winter Sun series premiere, followed by a Q&A with executive producer Chris Mundy and members of the cast including Mark Strong and Lennie James, who will be live at the Michigan Theater in Ann Arbor. The Q&A will be moderated by Mark Binelli, Contributing Editor at Rolling Stone and the author of Detroit City is the Place to Be, and will be simulcast to each theater. For fans not in Ann Arbor, questions may be submitted via Twitter using the hashtag #LowWinterSun.
There is no cost to attend the screening at any of the participating theaters. However, guests may donate to Big Brothers Big Sisters of America, a national organization which provides one-to-one mentoring services that help children facing adversity improve in school, their behavior and their self-esteem. The national mentoring organization is actively seeking more male mentors and inviting alumni volunteers, mentees, staff and families to get involved again.
Details for the screenings are as follows:
IFC Center: 8pm      
323 Avenue of the Americas, New York, NY
Salt Lake Film Society @ Tower Theatre: 9pm    
111 East 300 South #99, Salt Lake City, UT
West End Cinema: 8pm      
2301 M Street NW, Washington, DC
Cedar Lee Theatre: Cleveland Cinemas: 8pm      
2163 Lee Rd., Cleveland Hts, OH
The Michigan Theater: 8pm           
603 E. Liberty, Ann Arbor, MI
Pittsburgh Filmmakers at Regent Square Cinemas: 8pm
477 Melwood Ave., Pittsburgh, PA
The Loft Cinema: 8pm        
3233 E. Speedway Blvd., Tucson, AZ
Red River Cinemas: 8pm    
11 S. Main St., Concord, NH
The Music Box: 7pm
3373 N Southport Ave., Chicago, IL
SIFF Cinema: 8pm  
305 Harrison St., Seattle, WA
Christopher B. Smith Rafael Film Center: 8pm
1118 Fourth Street, San Rafael, CA
Hollywood Theatre: 8pm     
4122 NE Sandy Blvd., Portland, OR
Laemmle NoHo 7 Cinemas: 8pm
5240 Lankershim Blvd., North Hollywood, CA
Camera 7 Cinemas: 8pm     
1875 S Bascom Avenue, Campbell, CA
Nickelodeon Theatre: 8pm  
1607 Main Street, Columbia, SC
Real Art Ways: 8pm
56 Arbor Street, Hartford, CT
Robinson Film Center: 7pm
617 Texas Street, Shreveport, LA
Amherst Cinema: 8pm        
28 Amity St., Amherst, MA
Cable Car Cinema: 8pm
204 South Main Street, Providence, RI
Austin Film Soicety at the Marchesa: 7pm
6226 Middle Fiskville Rd., Austin, TX
Jane Pickens Theater & Event Center: 8pm
49 Touro Street, Newport, RI
Low Winter Sun follows Breaking Bad on Sunday nights beginning Sun., Aug. 11 on AMC.
Read More