Q&A
Lodge 49 Q&A — Wyatt Russell (Dud)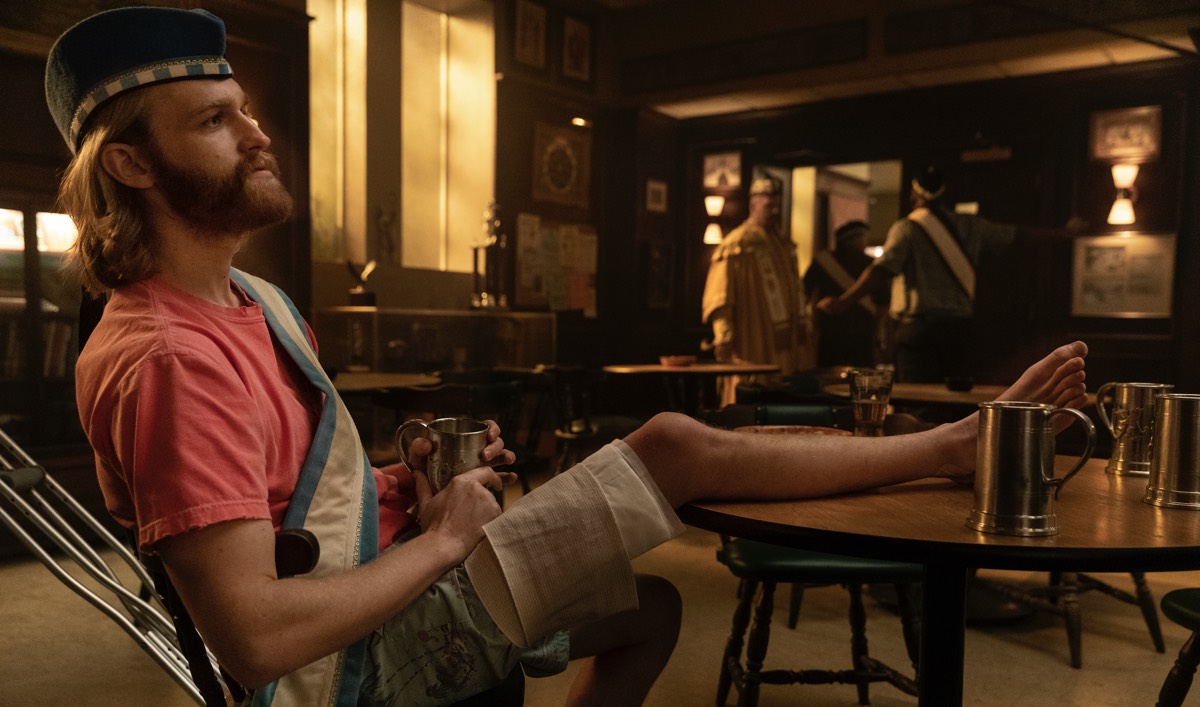 Wyatt Russell, who plays Dud on AMC's Lodge 49, talks about the magic Dud finds in another near-death experience and what his nirvana looks like. 
Q: So, Dud almost died…again! How will this impact him moving forward?
A: He feels like he had a cathartic experience, as if all of the struggles he's been through will pay off in the end and that he's on the right path. He feels that everyone who is in the lodge needs to realize they need the lodge more than ever now to share their problems, their victories, their thoughts, and to be with one another. That's what's important. I think that's Dud's starting point this season.
Q: With that being said, Ernie won't respond to Dud. What does that do to him?
A: Dud needs a spirit guide, in a way. His dad isn't there. He needs some form of a mentor. Dud helps Ernie in certain ways, too. He's hoping that Ernie can be there for him because he values their relationship a lot, but Ernie is just trying to live his own life and forget about all the sh-t that's happened. Ernie doesn't want to rehash what he wanted, being Sovereign Protector, or any of that stuff. He just wants to live his life. They're at odds, in that way, because Dud sees Ernie as the rightful Sovereign Protector and he feels that if Ernie runs the lodge, things would be as they should. He's a good leader and people like Ernie, but Dud can't quite reach him.
Q: Dud's been having dreams, but it's not until he speaks with Blaise that he starts to consider they may be visions. What parts of Dud does Blaise bring to the surface?
A: Blaise and Dud have an interesting relationship because they share the same wonder and majesty for the world around them. Nobody else really has that same type of feeling when it comes to what's out there and the answers to the questions of the universe. They share this big thought, together. Two of these people rubbing up against each other might not always make for the best team. [Laughs] They might drive each other crazy when you have two people who are searching as hard as they are. They're both active searchers in their own lives. They're active participants in their own story. They try to make stuff happen and it comes from them. Ernie is more of a passive participant on this ride.
Q: Why is Dud so accepting of Pool Party, the new pool store that has taken the place of where his dad's store used to be?
A: I think it's partly understanding that he's been through an experience and this is a part of change and moving on and accepting the situation for what it is. He's trying to turn over a new leaf when it comes to acceptance of other people's lives and other stories. He's trying to make the most out of it. That's who Dud is, but there's a little bit of a turn there when he just can't put up with certain types of people.
Q: What exactly does cleaning pools represent to Dud? It's even the answer he gives when asked what he would do if he could do anything in the world…
A: [Laughs] That's the genius of the writing and the simplicity of the main character. That statement is really the thesis of the show, in my opinion. It's a very simple thing. It's someone who wants very little. His nirvana is a very attainable goal. It's seemingly easy to get. It's a simple thought: "I can do anything? Well, I'd clean pools!" What Dud is saying is, "I just want to be happy." That's what everybody's answer is. It's so simple, but in order to get to that place, it takes jumping through rings of fire and a giant circle of Hell. That's the story. That's what Lodge 49 is. Everyone is living their own version of that. Dud's example is very clear and very simple, yet very hard to attain. Nirvana is a difficult thing to attain. I always thought that line was a really great way to introduce the audience to the thesis of the show. Hopefully everybody who watches the show asks that question: "I want to find my version of cleaning pools."
Q: What is Dud picking up on that he feels the need to tell Liz how proud he is of her and how much their dad loved her?
A: Dud doesn't completely understand what Liz is going through, and that makes for an interesting dynamic. She's trying to answer questions that Dud had last year about himself in so many ways. Dud always had his dad to look at and emulate and to understand himself better through that father-son relationship. Liz never had that experience of looking at her mother. She's going through her own crisis of identity. Dud is saying, "But didn't you feel loved growing up?" It's something that Dud can't understand. He probably won't truly understand until later. I think they give each other their space a lot more this season. Last season, they went through a period of not understanding each other and that all got brought to a head. Now, they understand that they each have their own path and that those paths are both as important as the other. It's fun to watch Liz on her own path, which doesn't have much to do with Dud. They intersect at some point, but it's interesting how they give each other space.
Q: What does Dud make of the lawyer who pops up in his life and promises money for his injuries? Is it another sign?
A: Yeah, I think what the show always does very well is give you what seems like an easy answer and an easy way out. Dud is like the definition of a "get rich quick" guy. She walks into his life at a time where he's going to latch onto that easy way out. She's another path for him to go down. She turns out to be her own character and I love the way Peter [Ocko] and Jim [Gavin] always find a way to do that. They do a really great job of introducing a character through the needs of our main character and then the character grows out of that – and not just who they are in relation to Dud. It was super fun working with Mary Elizabeth Ellis.
Q: What are you most excited for viewers to see this season?
A: I'm always excited to see how people react because it's a really different show. I appreciate the fans of the show because I always find their feedback to be really insightful. I'm always excited about that. I learn things about the show that I hadn't thought of. I'm excited for people to see the different tone. Tonally, it's changed. When I signed on to do the show, one of the things that attracted me was that I felt like it didn't have to go one way. It could go 18 different directions. This season was the real proof in the pudding for me. It can go in totally different directions – subtly – and still hold the same weight and story at the core. I'm excited for people to see that.
Read an interview with Jim Gavin and Peter Ocko, Showrunners and Executive Producers of the show.
Lodge 49 airs Mondays at 10/9c.
To stay up to date on all the latest Lodge 49 news, join the AMC Insiders Club.
Read More