Q&A
Lodge 49 Q&A — Brent Jennings (Ernie)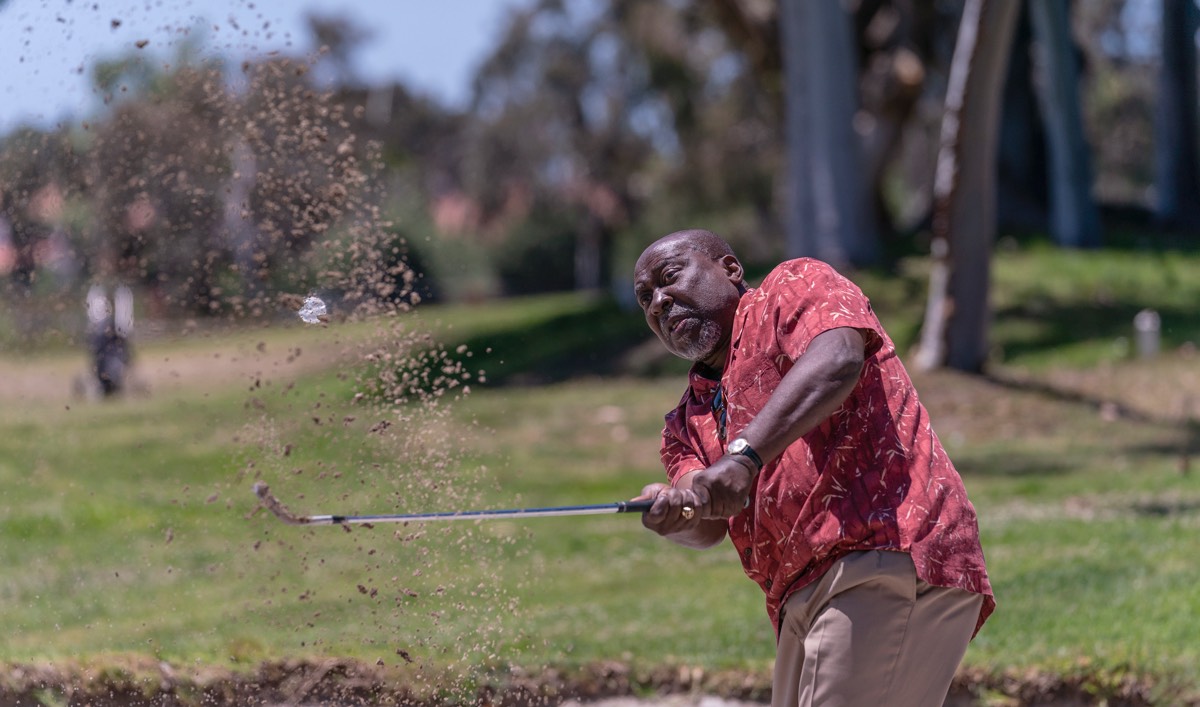 Brent Jennings, who plays Ernie on AMC's Lodge 49, talks about how his character's trip to Mexico really shook him up and how he's getting back on track. 
Q: Ernie seems to have really rescinded from life in. How would you explain the place he's in at the beginning of Season 2?
A: Ernie's experience in Mexico – which he knows about but the audience doesn't yet – sent him into a state of reflection and introspection about his life, which leads to a strong sense of disappointment in the choices he's made. He's looking over his shoulder and thinking, "I've been wasting my time and putting my energy in the wrong places. How can I salvage what's left of the time I have here? I need to stop thinking about these 'pie in the sky' escapades." He's totally mixed up right now. He's living in a house with a crow and a cat and nothing else to really show for a lot of energy spent. [Laughs] It's sort of a midlife crisis.
Q: Something really happened in Mexico…
A: At the end of Season 1 when El Confidente shows up and Ernie hops in the van – at that time, we're seeing the same Ernie who was pursuing Captain and the man who takes a chance and goes for the glory. When we see him get in that van, that was really a natural thing to do. He's an adventurer. The circumstances he ran into in Mexico were the things that changed him and made him reevaluate what he was doing. I can't spoil it, but let's just say he finds himself in some circumstances and sees El Confidente in another light.
Q: How would you describe the changes in Ernie's attitude at work?
A: His ego and sense of self is crushed. The last thing that he had to hold onto is challenged, as we see in Episode 2, when he's taken off the road. The life on the road, running around from place to place and selling plumbing equipment, the contacts he had, the social aspects of it, spending time alone in the car…He's a road man. Now his sense of identity is gone.
Q: How does it hit him when his coworker, Speedy, dies – and on the job, at that?
A: It hits hard. "Is that me? Is that my future? Am I stuck at the desk now? One day, I'll just fall over and my picture goes on the wall? What's left?" It hits him really hard. Is he the next Speedy?
Q: How much does Connie's absence while she is London affect Ernie?
A: I think at the beginning of Season 2, he's made some peace with Connie. His attitude is: "When she comes back, we'll see where we are." He's put that in a different place. I think he's looking at his life beyond Connie. She's another element of it, but it's not at the forefront of what he's dealing with. It's more about his own accomplishments as a man and as a person. It's much deeper. I don't think Connie alone could make him happy. Even if she came back and said, "I love you. Let's be together," he'd still be miserable.
Q: At the lodge, Ernie is letting Scott lead despite the fact that no one likes Scott in the position. Is he giving up on his dream of being Sovereign Protector?
A: I think he has let it go. He's even reexamining his relationship to the lodge and how involved he's going to be. These guys are talking about metaphysical theories, making gold and all of this alchemy – and I don't think that's what attracted him to the lodge. It was more the sense of community and belonging. At this point, he's looking at it as a place full of eccentricities. It's just not his priority. He's in a state of introspection and that brings him a lot of sadness. So, I think he's looking at the lodge with a sharper eye.
Q: How does Ernie feel when El Confidente shows up at the lodge? Is he worried about Dud meeting him?  
A: Very much so. He knows El Confidente has the personality that can put a spell on you. He's afraid that Dud will pursue the kinds of things that El Confidente wants him to pursue. There is some sort of weariness on Ernie's part that this will be a bad influence. It's like, "I don't want my kid playing with that kid across the street. He's a little off." [Laughs] He's not happy to see El Confidente.
Q: What excited you most about this season?
A: What I like about Season 2 is that the audience gets to know all the characters in a much deeper way. We get to learn who Liz really is, we see sides of Scott that we didn't see in the first season, we experience Blaise in a deeper way. The ensemble really shines, and I think the community becomes much richer and broader. The pawn shop guys and the people from Liz's restaurant become more prominent. It's a much bigger picture. The whole world becomes a lot richer in Season 2 and it's a lot of fun as the show progresses. We end up in many unexpected places.
Read an interview with Sonya Cassidy, who plays Liz.
Lodge 49 airs Mondays at 10/9c.
To stay up to date on all the latest Lodge 49 news, join the AMC Insiders Club.
Read More