Q&A
Lodge 49 Q&A — David Pasquesi (Blaise)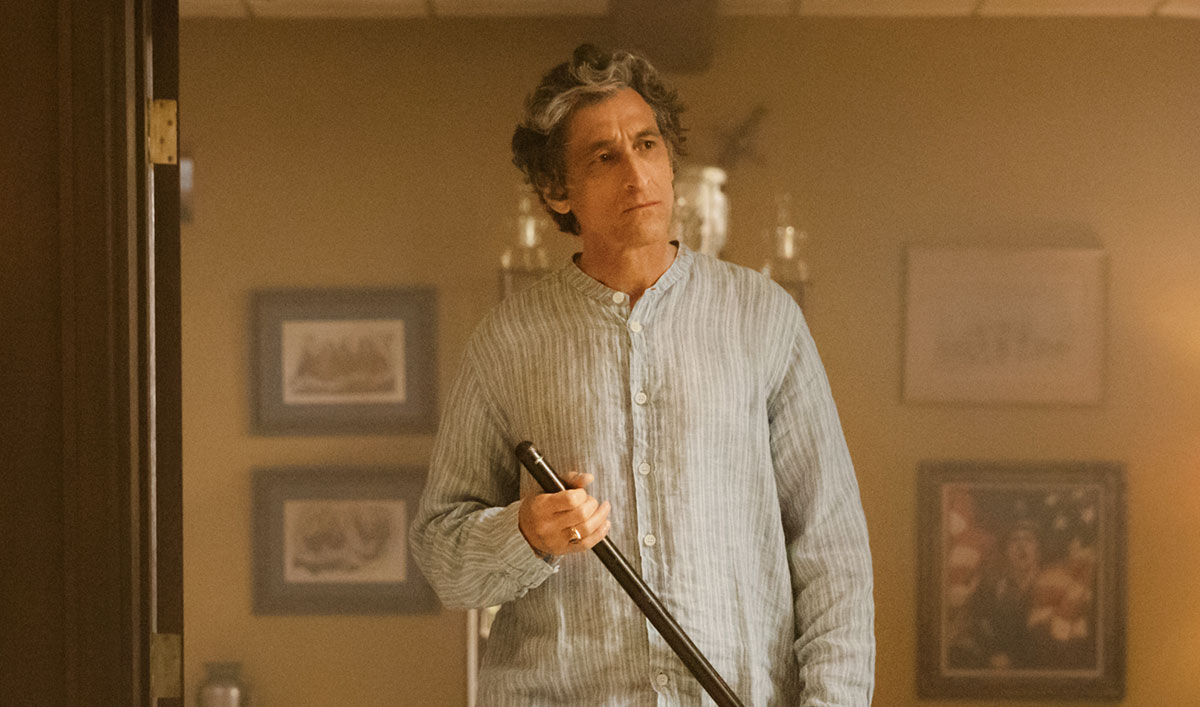 David Pasquesi, who plays Blaise on AMC's Lodge 49, discusses why Blaise's parasite is good news, how the lodge cures loneliness, and what it was like filming with a worm hanging out of his nose.
Q: What did you respond to about Lodge 49 and Blaise when you first read the script?
A: I read a fair number of scripts and not a lot of them are easy to read because they're uninteresting to me. This thing – I just kept wanting more. Regardless of the job, as a reader and consumer of the story, I just kept wanting more. It's not always that way. This was just a blast and really fun to figure out.
Q: How important is the lodge in Blaise's life?
A: For some people, it's social. For some people, it's a political thing and people want to advance. For Blaise, it's this exploration of alchemy and the notion of what can be. We don't know the story of what happened to Blaise and what drew him to the lodge, but we know that Larry was good to him when he got there. When Dud is telling that story at the beginning – that sad f–king tale – that's what brings everybody in. So, there is some sadness and loneliness. There's a benefit of being in the lodge just for the camaraderie and for Blaise to have anyone who doesn't view him as a total freak for his beliefs. It's a pretty accepting group.
Q: What does Blaise make of Dud and his interest in the lodge?
A: Dud wants to learn and he's eager, but he's just so wrong about his understanding of all of it. Blaise is excited that there's new blood. Dud does not seem to be closed off by these notions that Blaise has, which everybody else just dismisses. Dud's willing to listen and attempts to understand. He's seemingly incapable of understanding, but he's giving it a try. Blaise really appreciates that there might be another guy here who is as hopeful. This other world is a notion of hope. As above, so below. There are many worlds. The seen and the unseen. It's a hopeful message. So many cynical people just refuse to even be open to it.
Q: Even though Blaise is a more open-minded thinker, even he downplays some of the more mystical elements of the lodge to Dud  in Episode 2. How much does Blaise believe in those things?
A: I think that it is allegorical as well as literal. Most people think it's just allegorical. I believe it is both. In researching about this for preparation, they talk about alchemy and what follows this way is madness. It's just all so confusing – and deliberately so. Just madness. What you can believe, what you shouldn't believe…it's just craziness.
Q: What does Blaise think in Episode 3 when Dud's eulogy clearly shows he has bought in to some different ways of thinking?
A: He definitely does not understand what he's saying, but he gets an "A" for effort in my book. [Laughs] It's like when you talk to people who've listened to a podcast on evolution or something and then they try to explain to you about how our species used to be, but they don't know enough to talk about it. I think that's where Dud is at that point.
Q: In Episode 4, everyone is worked up about the mummy, but Blaise takes it a bit more seriously. What does he make of the body and its meaning?
A: This was a secret room in this building and it had been there all along. It was just inaccessible to us. It doesn't mean it wasn't there. I think it reinforces those ideas – just because we can't see it doesn't mean it's not right here. In fact, there was a dead guy right there. It's making it tangible. These lofty ideas sound absurd when they're just words.
Q: In Episode 5, Blaise tells Dud he is a fraud. Is that just an overreaction to the stress or is there some darker layers to Blaise?

A: I think these are all doubts that go with us all the time. Sometimes, you're unable to pretend it's not true. Most of the time, you pretend you know what you're doing, but once in a while something happens and you can't pretend anymore. Most of the time, most people are just pretending and most of the time, we get away with it. Once in a while, we come up against an unsolvable puzzle and it's frustrating.
Q: What was your first reaction when you read the scene involving Blaise pulling the parasite out of his nose?
A: The "I've got a parasite in me" scene was the audition scene. So, I knew that going in, but I didn't know there was actually one and that it came out. I read it and I was just tickled. [Laughs] I really did not see it coming. I wasn't sure that I had one. What's in my mind is what you see on screen. It's so beautifully gross. They did a great job with it.
Q: What was it like shooting that scene? How hard or gross was it? 
A: That thing that ends up in my hands with the blood on it – that was in my nose. I stuffed it in there and pulled it out. I think there's some CGI at the beginning. It was so weird. There's some ecstasy involved, so it was a hoot. And Wyatt [Russell] just screaming in my face was pretty fun, too.
Q: Blaise tells Dud he had a crisis of faith but that it has now been restored. What does that mean for Blaise moving forward?
A: The stumbling block of doubt has been removed. It was paralyzing. Now, that's all gone. It hasn't been a terrible waste of time. He's learned something and feels confident enough to continue. He's not totally stopped by fear. … He was right – there was a parasite in him when other doctors told him it was in his head. As odd as it sounds, him having a parasite is really good news. [Laughs]
Q: Any particular memories or moments from that first season that stand out?
A: I was looking forward to shooting this [parasite] scene because I didn't know how they were going to do it. We had a little parasite rehearsal. [Laughs] We took a look at parasites with the property department and saw if it went in my nose. And while that's going on, you think, "This doesn't happen at most jobs." It's a real fun group. Another highlight was Dud's speech at the memorial service. I loved that day. He was just up there doing that speech time and time again and it was compelling each time.
Read a Q&A with Linda Emond, who plays Connie.
Lodge 49 airs Mondays 10/9c. For the latest news and exclusives, sign up for the Insiders Club.
Read More