Q&A
Loaded Q&A — Jon Brown (Writer/Executive Producer)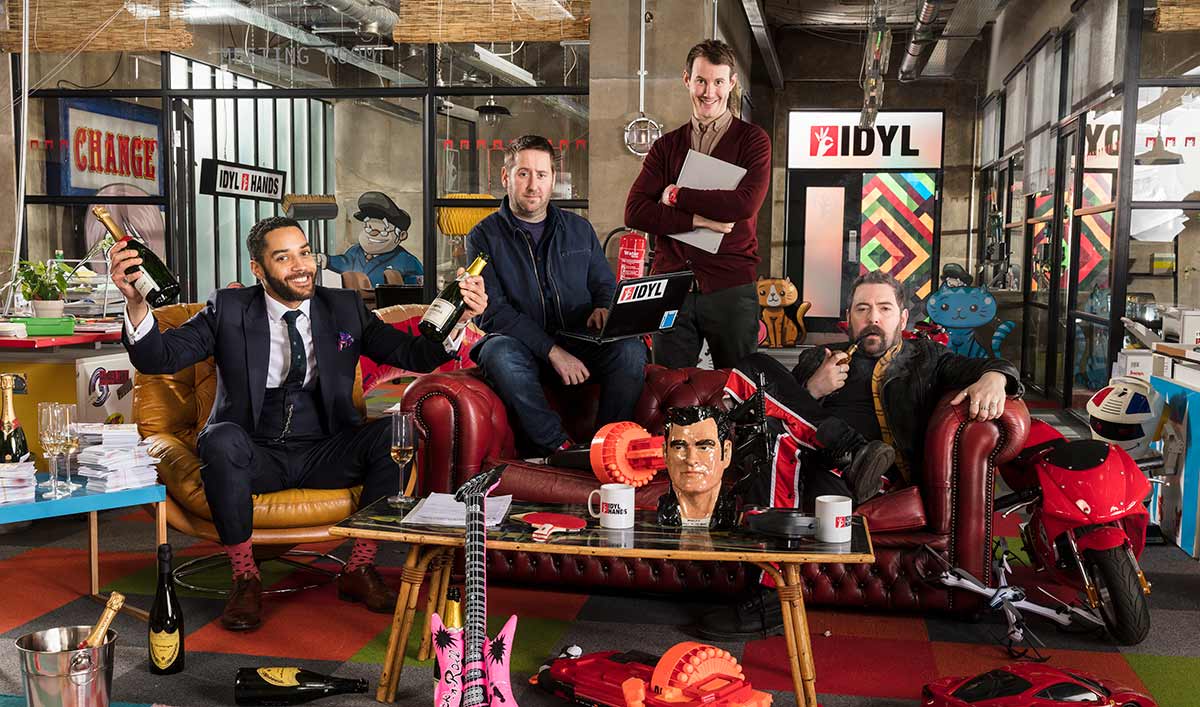 Jon Brown, Writer/Executive Producer for AMC's Loaded, talks about writing about taboo topics, turning Ewan into an asshole and his favorite scene of the season.
Q: What was it about Mesudarim, the Israeli series on which the show is based, that stood out to you?
A: I think it's increasingly hard, when you write comedy, to find genuine taboo to write about. There's so much material out there that is quite extreme, but it feels like one thing that is a genuine taboo – even in my own relationships with my friends – has to do with money. People being unable to talk about how much money they earn or how much their houses are worth… it feels like there's an area there where people struggle to talk about that. There's this secrecy around money especially in the current climate of poverty. It feels like there's never been a worst time to come into a load of money if you're the type of person to agonize over how people perceive you, which I am and which our characters are. I was interested in all that stuff. I was also interested in doing a show about male friendships. One of the guidelines of the show was: how much misery can we put them through? For example, Leon goes off into that luxury world but every time he does, he finds it tainted. I wanted to write a show where audiences sympathized and didn't just hate these people who are whining about having money. That felt like an interesting challenge.
Q: What made Jim, Samuel, Nick and Jonny perfect fits for their characters?
A: We got really lucky. Casting is such an imperfect science, especially because on a show like this, Episode 1 isn't just people meeting for the first time. This is a group of people who have known each other for years and two of them in particular have grown up together. We needed these four people to have a connection and you do your best with chemistry reads and rehearsals, but it can be very hard. We found Jim [Howick] and we instantly rooted for him. Jonny Sweet was someone I worked with before on Babylon and I wanted him to come on. For Samuel [Anderson], there was the challenge of writing a brash character and we needed someone who could get away with saying something distasteful but had that twinkle about him. Nick [Helm] felt like he could play the character of Watto. There was the tricky thing of having him say things that are quite stupid but in a way that's quite profound where he believes that what he's saying is wise.
Q: Ewan, in particular, went through a huge evolution. Did he end up where you originally thought he would?
A: We had an idea of somebody who gets the money and becomes this person who was always hidden away. That was a fairly early idea for him. Leon and the gang forced him to take a back seat and hid him away. That idea felt strong – to see someone split open. It felt like a good arc for him and as it progressed, it felt good, comically, that he'd become more assured and a bit of an asshole along the way and ends up making a deal with the devil. Jonny is so likable so it felt like a good thing for him to become a little bit horrible.
Q: What can you say about Watto and Naomi's budding romance? What was he searching for this season?
A: On the Israeli show, there's a relationship between Leon and a lawyer who works at the office, but I wanted a relationship to play out between Leon and Josh… a "love triangle" essentially between Leon and Josh and Abi and then another relationship between Leon and Casey… Naomi and Watto felt like a sweet counterpoint to Josh and Abi's relationship, which goes quite sour even though it's still heartfelt. I think it really works as an extra flavor on the show. It's a really nice moment at the end in Episode 8. Watto has been struggling with this dependency problem and he goes off the rails and he can't be on his own. His solution is to ask Naomi for help looking after himself. He's not really developed at all. Actually, their relationship could end up being quite complicated because she's going to be caring for him. As much as I think it's really sweet on the show, I still think there's space for it to be as complicated as all the others are.
Q: How do you think Josh and Leon's relationship evolves (for better or for worse) over the course of the season?
A: They come back into each other's orbits and try to fix this thing, this game, which you think will bring them together – kind of like parents putting aside their grievances. At the heart of it, Josh and Leon have a complicated relationship where Josh is trying to get away from Leon but he's conflicted and feels trapped. They're ultimately stuck together. They complement each other in ways neither of them understand and they never would have gotten where they got to without each other. I tried to give that relationship as much strain as possible.
Q: What were some of your favorite scenes and funny moments this season?
A: I always liked the scene where Leon goes to see his old teacher and reenacts his whole helicopter speech and slaps the money in his face. It always felt like one of things that you dream about: "I'm going to go back and see that teacher who said I wouldn't make it and rub my money in his face." That felt like a funny idea, but then we give the teacher a terminal illness and have him take the power back. Leon has the moment he thought he always wanted, but it's really dark and weird. I think that's my favorite moment because it's about fulfillment but it's also horrible. My favorite episode, though, is Episode 8 and it's the one I wrote the quickest. It felt the least difficult to write. You start a new series and you always hope the characters will give you something and surprise you and that you keep finding material for them. By the time I got to the episode, I felt really good about where they all end up and how they developed. It felt like I knew how to write for them by that point.
Read an interview with Nick Helm, who plays Watto.
Watch full episodes of Loaded on amc.com and AMC apps for mobile, Fire TV, Xbox One, Apple TV, Roku and Chromecast.
To get more exclusive content, sign up for the weekly newsletter.
Read More