Q&A
James Cameron's Story of Science Fiction Q&A – Brooks Peck (Curator, Museum of Pop Culture)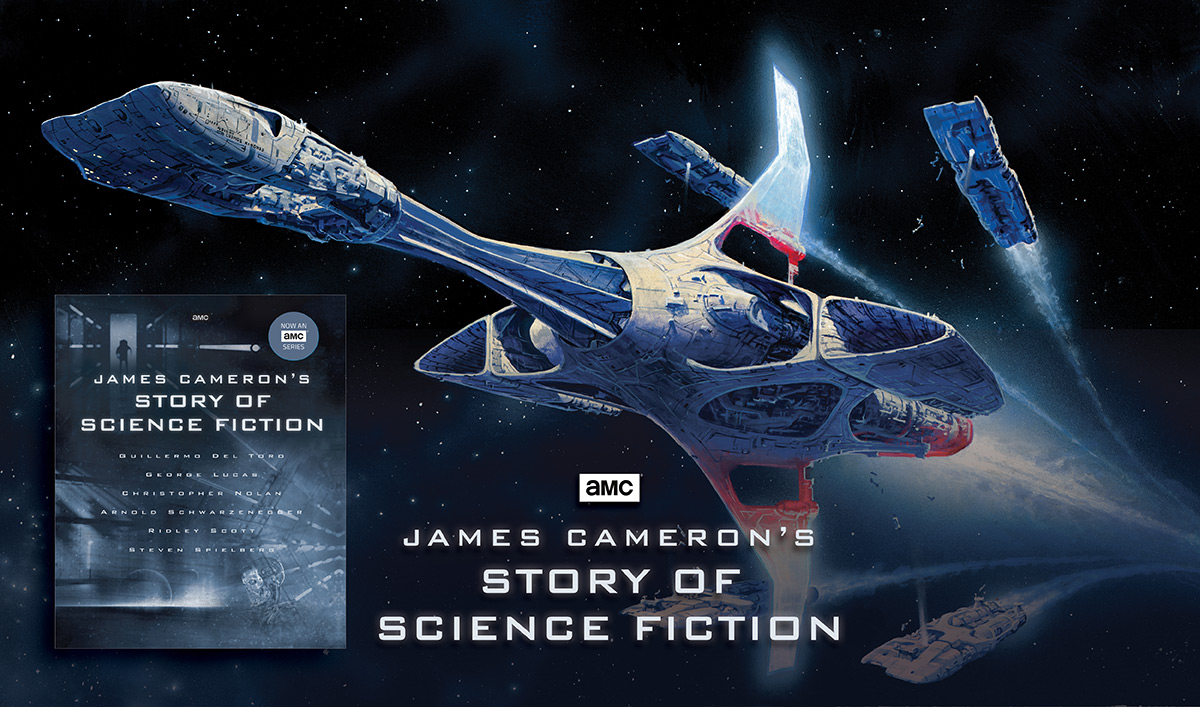 Brooks Peck, the curator for The Museum of Pop Culture (MoPop) in Seattle and contributor to the official James Cameron's Story of Science Fiction companion book, talks about working on the series, a day in the life creating sci-fi exhibits and some of his most memorable moments with sci-fi fans.  Buy the official companion book here.
Q: How did you come to be involved in James Cameron's Story of Science Fiction? In what ways did you and the MoPop team act as consultants on the show?
A: We knew Executive Producer Maria Wilhelm through our previous work together on Avatar: The Exhibition, which we organized in 2011. As the show was coming together, Maria reached out to us. Early in development we gave feedback on the overall structure of the show—how to organize the sprawling topic that is science fiction into episodes and acts. Once that was established, I helped connect the producers to authors, critics, and other experts who could speak to the topics. I gave feedback on what science fiction creations to cover, especially in classic literature. We did a fair bit of wrangling over what to include and where, hashing out questions like, is Battlestar Galactica more appropriate in the Space section, or Intelligent Machines?
Q: The companion book is a collection of interviews, old illustrations, concept art and more. Was putting the book together like curating an exhibit for MoPop?
A: There are similarities between creating an exhibition and putting together a book like this. It's a collaborative project, and there are many viewpoints and stories that need to be balanced. Chris Prince, the editor, did an excellent job in guiding and structuring a book with a wide-ranging topic. In exhibitions I always try to bring forward the primary sources — to let visitors hear the stories right from the source, as opposed to filtered through layers of interpretation. So in the case of the book, it's great to have access to the full interviews with the film directors. There's so much great material in them, but only a little of each could make it into the show.
Q: You wrote the afterword for the book as well. What do you hope readers take away from this book, and the James Cameron's Story of Science Fiction series?
A: I hope that both longtime science fiction lovers as well as people less familiar with the genre will take away an appreciation for the breadth of what's available as well as a deeper appreciation of what science fiction does — how, through entertainment, it unfolds questions about human life and experience. As the Amazing Criswell says in Plan 9 From Outer Space, the future is where we will spend the rest of our lives. So we should be thinking about it!
Q: What kind of work do you do as a curator for the Museum of Pop Culture? What does a "day in the life" look like?
A: Loathe as I am to shatter the popular perception of curators, who in films seem to always work alone at night in dimly lit vaults, my average day is spent at a computer. I'll be researching, writing, planning — there's way more planning than you'd imagine. But there are those exceptional days when they let me out and I get to visit a collector and see firsthand a prop or costume or document that is incredibly cool and hasn't been shown to the world for decades. A big part of the job is building relationships with the owners of all the cool [stuff]. You need to build trust, sometimes over years. After all, you're asking people to lend you what is likely their most prized possession; asking them to trust you to keep it safe while at the same time letting hundreds of thousands of people get very close to it.
Q: As a science fiction fan, what's it like for you to get to be around all of these iconic pieces from science fiction films and movies?
A: What can I say — when you've held a phaser from the original Star Trek series, one of only two remaining, you can tear up your bucket list and throw it away. You're done; you'll die happy. I've also come to appreciate the craft of prop and costume making in ways I never did before. Prop makers often put incredibly intricate details into their props. I've found things like embedded security strips in fake paper money, or beautiful linings on the inside of a costume. No one will ever see these things, but the makers do it anyway for the love of the craft.
Q: MoPop is wrapping up an exhibit on Star Trek this month. What have been some of your favorite memories of the exhibit?
A: We created a light-hearted interactive in the Star Trek exhibition called the Khan! Booth. This is one for the fans. It references the famous scene in Star Trek II: The Wrath of Khan when Kirk screams "Khaaaaaan!" so desperately and loudly that apparently he could be heard through the vacuum of space. Our visitors can insert themselves into that scene in the film and do their best Shatner imitation at the key moment. During our opening weekend there was a teenage boy who delivered such a gut-wrenching, impassioned "Khan!" that everyone in the gallery burst into applause.
Q: Do you have a favorite piece you were able to acquire for MoPop?
A: A few years ago we received an email from the widow of Jack Gaughan, who was a prolific and underappreciated science fiction artist. His widow said she had a small archive of his work and asked if we would like to take a look. So Senior Curator Jacob McMurray and I threw off our lab coats — we never actually wear lab coats — and went to Dayton, Ohio to check it out. Jack Gaughan isn't a name too well remembered now, but he painted covers for every major science fiction author in the late 20th century, from Frank Herbert to Ursula K. Le Guin to Isaac Asimov and many more. He also drew thousands of interior illustrations for the magazines. And he saved everything. His little archive turned out to be stacks of paintings, boxes of drawings, and a set of 90 sketchbooks comprising his entire career. Having all of this together makes it possible to trace Gaughan's work from early sketches to concepts to finished piece. It's a fantastic record of the work and life of an artist. During that first visit, his widow Phoebe kept saying things like, "Well I've got this other box of sketches, but you won't want that." We wanted it all, and Phoebe generously donated it all to the museum's collection. I'm so, so glad that we are able to now preserve this archive and study it.
Q: What are some of your favorite science fiction films and books, and how did they influence your life?
A: In a fairly typical, overly boyish way, Star Trek and the novels of Robert Heinlein got me hooked on the stuff. As a kid I watched Star Trek for the aliens and spaceships and adventure. Now I return to it for the social commentary — which wasn't perfect, but they were always trying. From there, Jack Vance's Planet of Adventure novels taught me to look at writing style, not just substance. I think Terminator 2 is the perfect marriage of an exciting story with a powerful message. It may be about robots, but it's incredibly humanist. I have a great fondness for time travel love stories. In print there's I Killed Adolph Hitler by Jason, and in film, Happy Accidents is an overlooked gem.
The James Cameron's Story of Science Fiction companion book is available now. Buy it here.
James Cameron's Story of Science Fiction airs Mondays at 10/9c. Click here to add a reminder to your calendar.
Watch full episodes of James Cameron's Story of Science Fiction on amc.com and AMC apps for mobile, Fire TV, Xbox One, Apple TV, Roku and Chromecast. To get more James Cameron's Story of Science Fiction extras like interviews, behind-the-scenes videos and more, sign up for the Insiders Club.
Read More