Q&A
(SPOILERS) Into the Badlands Q&A — Ella-Rae Smith (Nix)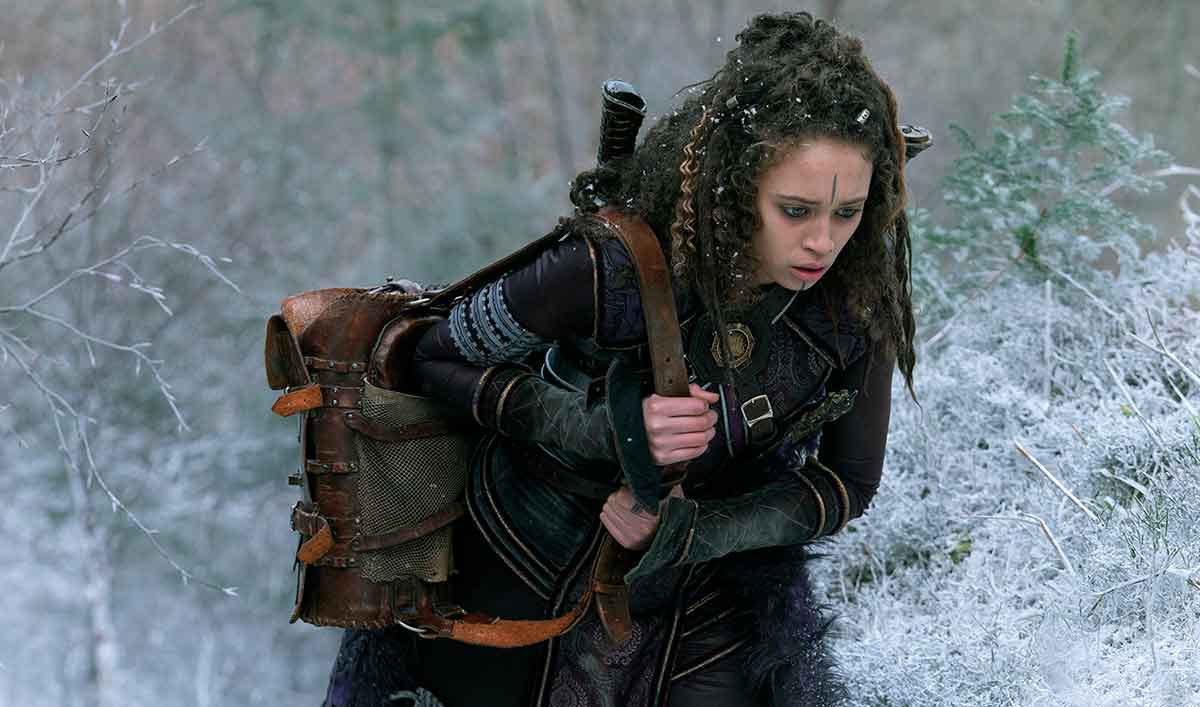 Ella-Rae Smith, who plays Nix on AMC's Into the Badlands, talks about her character's shift in perspective and learning more about what her Gift can do. 
Q: What originally drew you to the role of Nix?
A: I had never heard of anything like this. It's such an original show. Nix is so badass and has this magical power. Also, it was the fact that it's a martial arts show. I had no background or training and I thought it would be interesting to learn more about it. I'm very free-spirited, so to play someone who is kind of the opposite and who is controlled by someone else was an interesting challenge. It was so far away from me.
Q: What was your training like – both physically in fight camp and also getting in the mind of teenager whose been killing for most of her life?
A: Physically, it was definitely a good challenge. I realized I'm more physically fit than I thought I was – which was nice! It was intense, but it was a proper Badlands welcome to the show. Seeing the talent of these people was slightly terrifying, but it was also exciting to say, "I'm here to learn how to do that." It felt like a really rare opportunity. Mentally, with Nix, it was about getting into this mentality of "Everything Pilgrim says is right. He is my savior." With every character you play, you have to understand why they do what they do. People are drawn into cults because they're so lonely and vulnerable. You find someone who tells you you're strong and who needs you and that gives you purpose. You don't really think that deeply about what it is you're doing because this cult makes you feel good about yourself for the first time in your life.
Q: At the start of this second half of the season, why do you think Nix feels compelled to help Sunny and leave her old life behind?
A: She's following Pilgrim from the beginning because he's the first person in her life who celebrated her and made her feel valued. Once she figures out that Pilgrim killed Castor, that is the ultimate and biggest betrayal. That completely sparks her change of thought. It's like the coming of age you have as a kid when you realize your parents aren't fantastic angels. And then she meets Sunny and sees all these things that Sunny is doing to help his son. She realizes that this is what fatherly love is and she wants to help him because he's been so selfless. She realizes what's good and what's evil.
Q: In Episode 11, Nix faces off against M.K. Where do you think her head's at, to brutally fight against a boy she only days ago had some warm feelings for?
A: It's a rollercoaster! [Laughs] She never chose to defend M.K. She was told to, and she took that as truth. She sees how sucked into the cult M.K. is and realizes that there is no saving him. He's lost now and she doesn't want to be there anymore. I sometimes question how true her warm feelings toward him ever were. It wasn't a relationship out of choice. It's the same thing with Castor, but there's a longer backstory with Castor. M.K. is like a weird replacement for him, but he's a completely different person. She sees how much hate and anger M.K. holds towards Sunny, who Nix realizes is a good person. Also, M.K. is incredibly vulnerable. He's a vulnerable young man who's also found people who celebrate him for something that he can do that he's been told is bad. That's incredibly attractive for him.
Q: What was it like for you fighting with Aramis Knight in that warehouse with the mannequins?
A: It was a very clever set to use because it was very interactive. I love that on every set of a fight, stuff gets involved. There's a particular moment where M.K. pushes all of the male mannequins towards me and I push all the female ones towards him. I think that's such a fantastic use of props. It's also such a cool fight because it's a dark chi fight. When Nix goes dark-eyed, I always want her to be very controlled. It's a very small thing, but if you look closely, I always fight with my mouth closed. M.K. is super emotional and charged. Nix is reluctant to fight this pure and visceral anger. Her dark chi flavor is like an icy, cold mint. [Laughs]
Q: Ankara shows Nix that the gift can be used for many more things than killing people (healing, telekinesis, etc). How do you think that lands on her?
A: That's major news. This one thing that she's been celebrated for, but is also seen as an evil thing. She knows it makes her different and she can possibly make up for all the bad things she's done with this good thing. It's huge to know there is more to her. This one thing that has caused so much evil can actually cause good. And that's inside of her. It's magic. I really wish Nix had a chance to explore that more.
Q: Do you have a favorite fight sequence from the show so far?
A: It's probably the Chau towers fight scene, which is the first fight I did. That was my first week filming. I was so overwhelmed, but it just came together. The moment I catch that arrow and break it took so many attempts to get right, but it looks so good. That was another closed-mouth Nix fight. I remember looking at it and thinking, "That's not me! That's crazy!" [Laughs] I also love the River King fight with Sunny. I love how clever the fights are. I thought fights were just people punching each other and gross blood, but it's really choreographed pieces.
Q: How do you feel now that the series is winding down its final episodes?
A: I don't think there's ever been a show like this. That's what makes it so special. Every time I watch it, I'm absolutely amazed. I'm really sad, but I'm also excited because we're going out with a bang. The last half of the season are my favorite episodes. Everything just gets crazy. I feel really grateful to have been a part of it. I learned so much and it's really close to my heart.
Read an interview with Lewis Tan, who plays Gaius.
Into the Badlands airs Mondays at 10/9c.
To get more exclusive interviews with the cast, sign up for the Insiders Club.
Read More