Q&A
Into the Badlands Q&A — Sherman Augustus (Nathaniel Moon)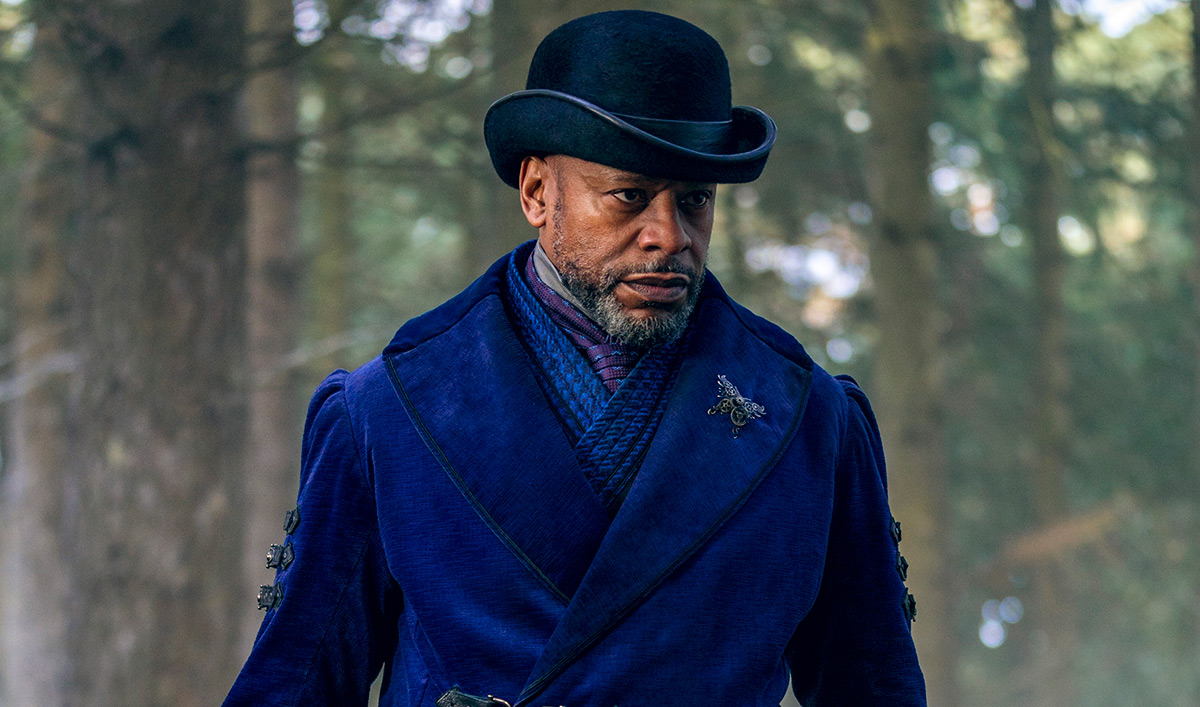 Sherman Augustus, who plays Nathaniel Moon on AMC's Into the Badlands, talks about Moon teaming up with the Widow, the hunt for Sunny and his new weaponized hand.
Q: What was your reaction when you heard you'd be coming on as a series regular?
A: I read the breakdown the year before last, when they introduced the character, and it said that he would come back for seven episodes. I thought, "Okay, seven episodes means you're a regular," but no one had any idea that we were going to be doing 16 episodes. When I was reading the scripts, I thought, "Oh man.  This is such a great rounded character." It was just so easy as an actor to let this character step through me. I always let the character evaluate me before I do anything. I have a meeting with my characters. I'm one of those actors. I go in deep. That's the only way I could make him real and do my work. I've been asked how much of me is in Moon and, well, I can't run around clipping people! [Laughs] You wish you could when someone cuts you off in traffic.
I had this backstory about his ex-wife and child and where he's coming from and then the new information I was getting. There's something new every time we get a script and you find something else out, so you just have to add onto your own backstory. I found out he was a Regent, which means he was a Clipper, which means he had to be a Cog at one point. He was reluctant of this whole thing and you saw that he wanted to get out and have a life, but he's good at what he does. He was legendary on the battlefield.
Q: Not only is Moon back in the Badlands, but he's also a Regent again. What's it like for him to return to this life that he tried so hard to put behind him?
A: I think he's giving society – or what's left of society – another shot. I don't think he was looking for anything or had any expectations. Remember, he wanted Sunny to kill him. That was the only way he was going to get his honor back. He's trying to get out of that whole thing of being a disgrace. He can go into this battle with Chau for the Widow, be a General, lead these Clippers into battle and maybe come out on the other end as a winner. I don't think he's in it for the glory, but for the honor. If he falls on the battlefield, that's still honor to him. I think that's his motivation and the reason why he's doing these things. He's open to seeing what else is out there and what she's doing. He sees she wants to do this for good. She's doing it her way and for a good cause, but it is still the Widow. [Laughs] He's still skeptical and not trusting where she's coming from. There's a little bit of that there. He's trying to figure out if she's for real. He'll join her cause and help her achieve her goal, but remember that conversation at the top of the tower. She said she'll help him find the man that dishonored him. If that happens, he'll be in the right place at the right time.
Q: As you mentioned, Moon has been wanting to kill Sunny for NOT killing him. Why did he find it such an honorable thing for Sunny to kill him?
A: When Moon saw [Sunny] fight, he knew Sunny was going to be the one that would give him that 1,000th tattoo or be good enough to take Moon out of his misery and shame. He still sees his wife and child's head on that table when he returned home. Moon is still seeing those visions in his head. He's still harboring that.
I didn't want to come into the season all hell-bent on Sunny and Bajie and my hand being gone because then I'm taking my character into one dimension. I wanted him to be three-dimensional. When you're hell-bent on something like that, it's going to eat you up. Something that I learned when I used to play football is that when you're concentrating on an injury or any worry, you're not focused. Anger can focus you on your training and where you want to go and your drive to achieve a goal. So, I'm going to be in the best place I need to be to achieve a goal when it comes along, but I'm not going to let it get me sick. That's not a good warrior code. I'll handle business the day I see him. It's not something he goes to bed with every night. He doesn't say his prayers and go, "Oh yeah, God, please let me see Sunny so I can take his head? Amen." [Laughs] That's sick.
Q: Moon has his hand cut off in Season 2, so what's it like for you now to shoot all these incredible fight scenes with that in mind and with your awesome new glove weapon?
A: I honestly thought they were going to give me a Darth Vader hand where your fingers can move. I thought I was going to get one of those, so for months I was practicing with two hands. I'm right-handed and I'm doing it all with my right hand. One night, two weeks before I leave, I get an email from Daniel [Wu] that says, "you are practicing with your left hand, aren't you?" [Laughs] Damn! When I got that email, I knew they were going to Jamie Lannister my ass. So, it will rotate and it will do certain things, but the fingers can't do anything. I started practicing really hard and learned what I could with my left. I put in the extra time and brought swords home with me. And I got something better than the hand. I can shoot darts out of this hand, man. Are you kidding me? I have a dagger, too? Dude, I'm going to have some fun with this. So, I'm cool. It's a little inconvenient, but that's okay. I can shoot darts!
Q: How would you describe the tension and complicated relationship he has with Lydia now that they're both working for the Widow?
A: Ahh, a curveball. I love Orla Brady. She's so easy to work with. She and I both worked on another project called American Odyssey. He has feelings for Lydia. They once were an item many years ago and he fled, which led to her life with Quinn. That's his first love. It's weird to run into her after all those years and it kind of belittles the focus and the hate for Sunny. I think Moon is trying to figure out a lot of things that are all happening in his sphere at this time.
Read an interview with Lorraine Toussaint, who plays Cressida.
Into the Badlands airs Sundays at 10/9c. Click here to add a reminder to your calendar.
Watch full episodes of Into the Badlands on amc.com and AMC apps for mobile, Fire TV, Xbox One, Apple TV, Roku and Chromecast.
To get more Into the Badlands extras like interviews, behind-the-scenes videos and more, sign up for the Insiders Club.
Read More