Q&A
Into the Badlands Q&A — Emily Beecham (The Widow)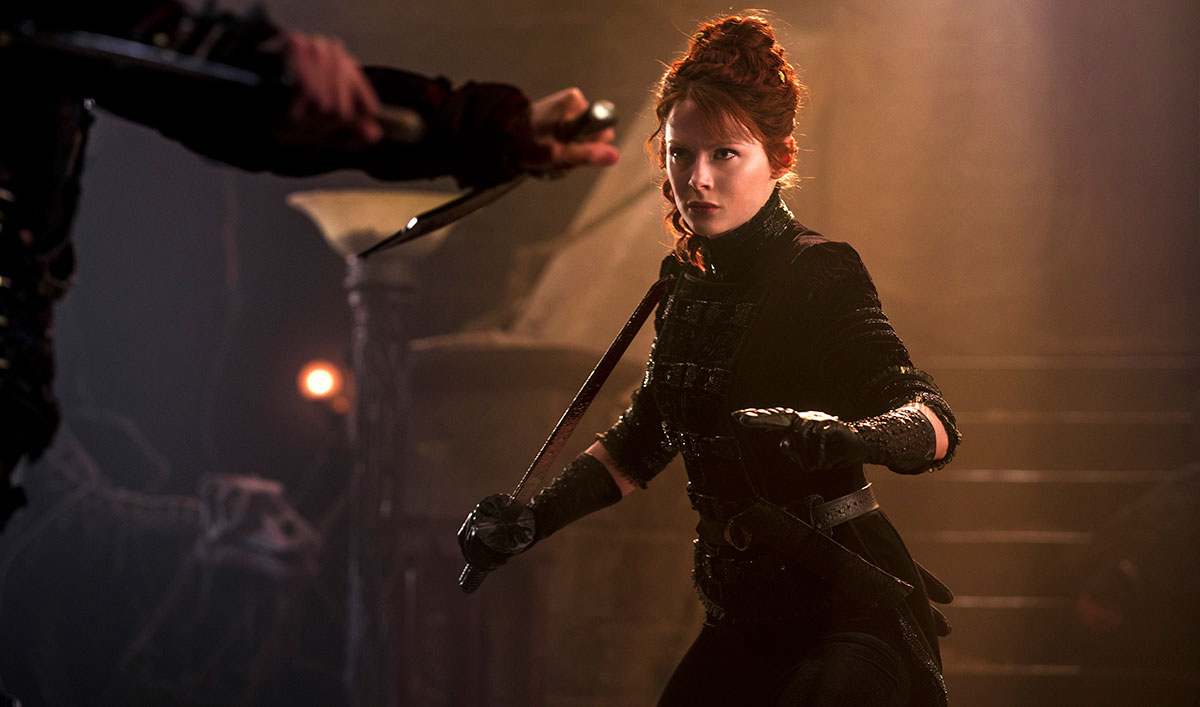 Emily Beecham, who plays the Widow on AMC's Into the Badlands, talks about her character's new Regent and Pilgrim's threat to her mission. 
Q: What does The Widow see in Moon to make him Regent?
A: Moon's a great fighter and he has a strong heart. He cares deeply about things and she knows he's a sensitive person. That's an important quality. It's his caring and his toughness. They approach things very differently. She's at the front of a revolution, but she likes to stay in the background.
Q: Did you ever imagine the Widow and Lydia would be teaming up, too?
A: Lydia is not quite as defensive and prickly as she used to be. She's become more open-minded and softer about the idea of fighting and she's embraced the idea of fighting with the Widow. She's shown a much more nobler side to herself and she and the Widow are getting along so much better because of that.
Q: What was it like filming with Ally Ioannides as an opponent instead of an ally?
A: It's all fun. Ally and I enjoy working with each other and we trust each other, so we can play around and be tougher. We can do whatever we want in this context with the trust that we're both playing around. It enabled us to have more fun in the scenes together. It's exciting to see these two characters' relationship change. It's nice for Tilda to have a really interesting storyline where she becomes a bit tougher and more grown up as opposed to just following her mother's orders…Tilda still has a love for the Widow and has that instinct to protect her no matter what. Even though they're fighting on different teams, there's trust between them still and there's love between them.
Q: How do you think the Widow feels about M.K. getting his gift back? Does it give her hope that she could get back her own?
A: It's definitely very threatening to her and to her fight because nobody can really match against the dark chi power, but she chooses her battles and she doesn't panic. She does whatever she can and maybe it can figure itself out, but it's definitely an extra burden to know he has his gift back and he wants to sabotage her. It causes extra trouble, but it does prove that the gift is malleable and can come and go. It probably does give her more hope that she can harness that and reawaken her [own] chi.
Q: The Widow gets to meet Pilgrim face-to-face in Episode 4. How do you think the big showdown against Chau's gang has affected her relationship with him?
A: I think it shows that she's a smart ally to have – if they were to become allies. She's a strong team member and is a good fighter. She has sharp instincts. I think it would just strengthen their relationship. I'm sure she'd be willing to make a compromise in some areas and she can be a cooperative ally.
Q: What was it like shooting that huge fight scene with so much of the cast?
A: We shot it all in different pieces, so we were all very split up. I shot with Babou [Ceesay], who plays Pilgrim, on the same day. That was his first fight, I think, and he was a little nervous but then he did that whole amazing sequence so well and executed it so amazingly that I actually felt a little intimidated! I had to go right after him and do my long sequence and I didn't want him to show me up. [Laughs] He was really good. He's a natural.
Q: What threat does Pilgrim pose to the Widow's mission?
A: He's definitely a big stick in the wheel. It's a big problem. He's taking her cogs and it angers her. She feels he's deceiving these followers. He's doing whatever he can to get these followers and he's taking advantage of their hopelessness and naiveté. She doesn't believe in Azra. She feels it's a lost dream. He's smart and he's using this fantasy to manipulate the cogs into following him and doing whatever he wants them to. He's definitely a big problem. She's got a good heap of problems going on at the moment!
Read an interview with Sherman Augustus, who plays Nathaniel Moon.
Into the Badlands airs Sundays at 10/9c. Click here to add a reminder to your calendar.
Watch full episodes of Into the Badlands on amc.com and AMC apps for mobile, Fire TV, Xbox One, Apple TV, Roku and Chromecast.
To get more Into the Badlands extras like interviews, behind-the-scenes videos and more, sign up for the Insiders Club.
Read More