Q&A
Into the Badlands Q&A — Orla Brady (Lydia)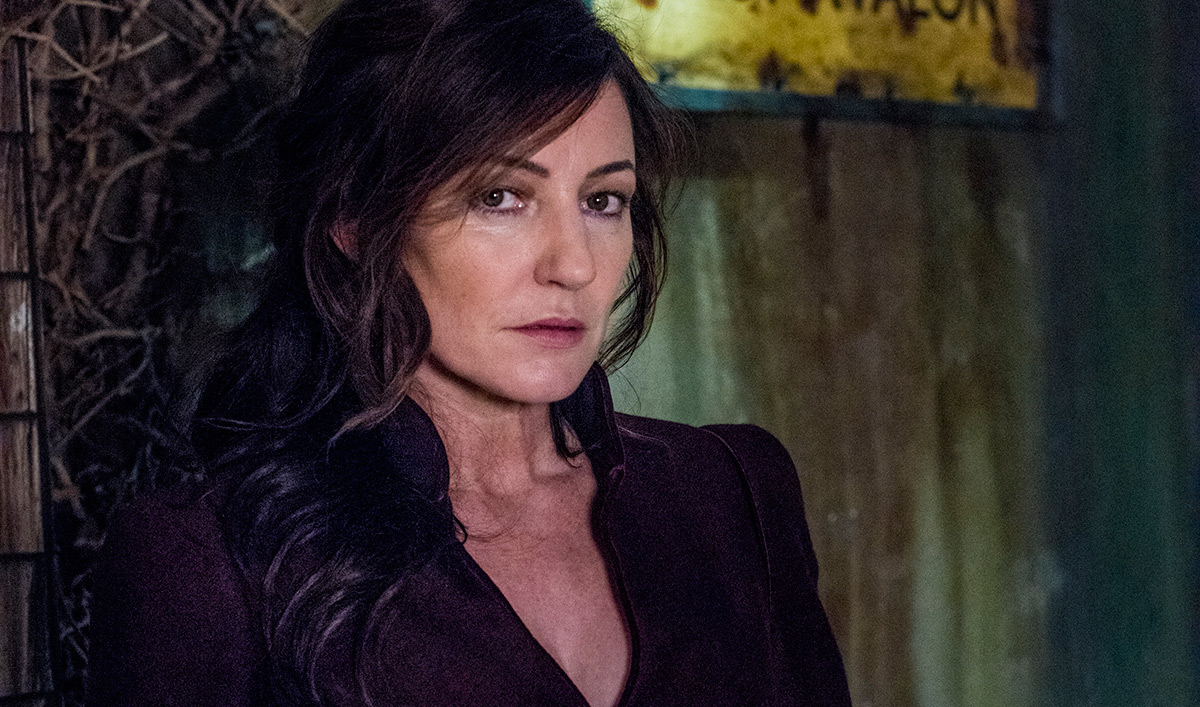 Orla Brady, who plays Lydia on AMC's Into the Badlands, talks about shooting in her native Ireland, unleashing her character's warrior side and what Sunny's return means for Lydia.
Q: Lydia unleashed a warrior side this season. How did you prepare to show off your moves and get more physical on set?
A: With great difficulty! I figured out early on that I wasn't going to fight in Season 1. I went along in Fight Camp a few times and did a little bit, but I didn't do much. That all changed in Season 2 because they told me they wanted to see Lydia fighting, so I went to Ireland a month early. It was a lovely bonding thing to do and Daniel Wu runs [the camp] with great leadership and enthusiasm. In my normal life, I don't really have an exercise discipline. I walk the dogs on the beach or get on my bike to see friends, but I don't have a gym membership. [Laughs] For me, it was intense to do any kind of training. I was trying to understand, rhythmically, how you keep the other person you're working with safe and how you break down the moves for shooting. I wanted to be as fit as I could be to do my bits without stunt doubles all the time.
Q: Did you know those fighting skills were buried inside Lydia or did it come as a surprise?
A: She rejected her Totemist faith as a young woman and instead went to marry a very violent young man. This is a very violent world and fighting skills are very prized. She was taught fighting skills at a young age, but she hasn't had to use them in her daily life because she was kind of like a first lady. She was married to Quinn, who became very powerful very early, so she was in a position of great protection, but I knew they were there. My read on the character is that if her back is ever against the wall, she won't back down. Lydia has a firm grasp on politics. She's found peace with her faith and wants to adhere to it, but when a nomad walks in the door, she either can adhere to her faith and die or grab a steak knife and get to work. She's a pragmatist. [Laughs]
Q: How did getting thrown out of the Badlands shift Lydia's ambitions and priorities on her journey?
A: Sometimes the worst thing that happens to you in life turns out to be the best. She lost everything – the protection and love of her powerful husband and son, and her status within the Badlands. She loses all of that entirely and has absolutely no other option except to go back to her father and beg for mercy, which she does. That is a very bad moment, but it becomes something that is transformative and beautiful. When we meet her at the beginning of Season 2, we see someone at peace. She has nothing left to lose and she's happy to be connected to people. That's enough for her. She's entirely living in the present and is trying to reflect on her own engagement with life and happiness and what that means.
Q: How did the loss of Ryder amplify these new warrior tendencies?
A: People go straight to anger in order to avoid grief, and I think that's what Lydia does. She is, of course, devastated to see the one child she brought into the world has been killed, but very shortly after, she shuts down and goes into a revenge state. She parlays that grief into deadly anger and believes it's her only recourse. She's no longer a mother; she's now an avenger.
Q: In Episode 8, Quinn proposes that he, Lydia and Veil all be a family and raise Henry together. How does that land on Lydia given the situation?

A: He's proposing it, but it's not a discussion because she's a prisoner. You can't discuss with prisoners. You can only impose a rule. Part of his madness is that he's pretending they're a family and that there is a choice. Lydia sees it as proof of his descent into narcissistic craziness. He will have what he wants even if the world burns around him.
Q: Are there still some unresolved feelings on Lydia's end? Does she still love Quinn?
A: Well, clearly something's up in Episode 6. [Laughs] I don't believe it's love in that beautiful, expansive, tender sense. There's a sexual energy that was between them and is still there for her. When he captures her, he wants to reel her in and he uses her. He knows she'll be drawn in if he evokes it. He's all about tactics, and she does fall for it. People sent me messages on Twitter about that more than anything like, "What are you doing?! Just kill him!" Marton [Csokas] is a very charismatic actor and he plays Quinn so wonderfully because there is that duality. The character does unspeakable things, but – and I say this with caution – he's still alluring in a dreadful way. Alluring in the way that cigarettes are.
Q: What does Lydia see in Veil that motivates her to want to help her?
A: There are things that are hardwired into us, and we're hardwired to respond to mothers and babies. You'd almost jump in front of a train to get them out of the way. I don't mean literally, but your instinct is to protect them. Also, she's a fellow mother and understands how desperate this young mother must be. Veil is not someone she particularly knew, except as a Cog, but everything changes when they both become prisoners. Now she sees Veil as a fellow human being.
Q: The news of Sunny being alive is obviously good for Veil, but he has no idea Lydia is captured as well. Is Lydia unsure of their dynamic now?
A: I was hoping that ambiguity would be there. However, broadly speaking, the world that Lydia occupies which Quinn has imposed on her has become so extreme that the resistance can only be a welcomed thing. So, even if Sunny comes and kills all of them, he's coming to kill Quinn and that's a good thing. I think she sees Sunny as the resistance. He's trying to get back to his baby and she understands the purity of that. It's like the one pure thing in this whole story.
Q: What was it like shooting in your homeland of Ireland this season?
A: Oh, my God, it was heaven. I haven't lived in Ireland for years, so the idea of doing the show I love in the country I grew up in was just heaven sent. I also remember feeling instant relief that no one had to fight in full costume in that New Orleans heat anymore. When we got to Ireland, I kept checking in with people and letting them know where the coffee shops and vegan food is. I really wanted people to enjoy it.
Read a Q&A with Nick Frost, who plays Bajie.
Watch full episodes of Into the Badlands on amc.com and AMC apps for mobile, XBox One, Apple TV, Roku and Chromecast.
Into the Badlands airs Sundays at 10/9c. To get more exclusive interviews with the cast, sign up for the Badlands Insiders Club.
Read More