Q&A
Into the Badlands Q&A — Madeleine Mantock (Veil)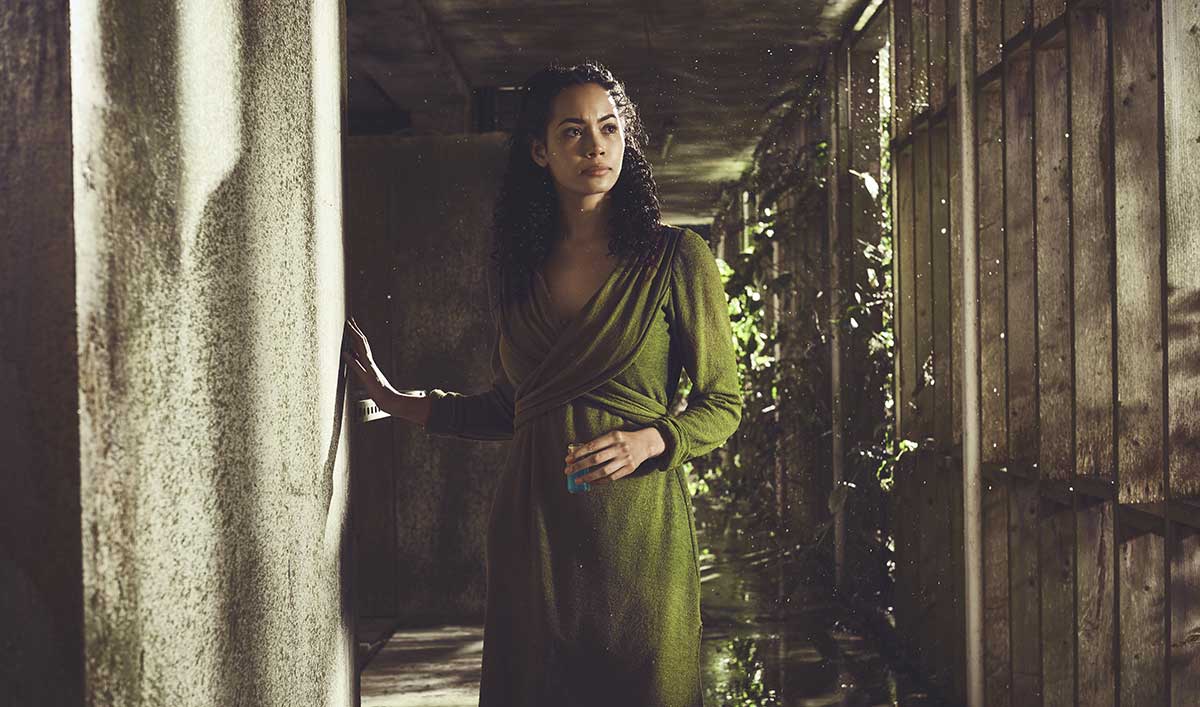 Madeleine Mantock, who plays Veil on AMC's Into the Badlands, talks about shooting the wedding scene, the dire circumstances her character is in, and the joys of working with Marton Csokas.

Q: How would you describe the changes in your character's moral compass this season? 
A: You can see how the world my character inhabits is so different. She's trapped in this bunker, surrounded by men, and everything's so filthy and dirty. That's not to say that last season she was living in a palace, but she was certainly able to remove herself from most of that madness and create a little haven for herself and Sunny. She also now has this baby – and that was one of the biggest physical challenges because most of the time we don't film with an actual baby. We film with a doll, which is like three times heavier than the actual baby. [Laughs] She has this other life to protect now and things are just amped up.
One of the things I notice people saying when they're live-tweeting is "Why doesn't she kill him? Why does she trust him?" She understands the relationship she has with Quinn. It's not ideal, but she didn't know if Sunny was alive and being in this dreadful place is something she can kind of manage. It's not great and it's stressful, and from episode to episode, you see her try to navigate her way always with the end goal of trying to find Sunny. There are days when I'm like, "Is he acting that way because of the tumor?" There are elements where we blame the tumor, like Quinn seeing ghost Ryder, and then there are times when I'm like, "Is this actually Quinn just being reprehensible? Or has he gone mad?"
Q: Quinn actually gave Veil to her parents as a gift, and then later killed them. Do you think that adds to the oppressive element of their relationship?
A: Definitely. It's a testament to Quinn's strength of character – as bad of a character as he may be – and that he really believes in that "it's yours if you take it" mentality. I guess he was doing a nice thing in giving Veil to her adopted parents, but who did he take her away from?
Q: How do you and Marton Csokas approach this dynamic between them?
A: We actually lived in the same building with Orla [Brady] this year. I lived on the bottom, Orla was on top and Marton was in the middle, so I saw him quite a lot. He does a lot of character work and has very strong ideas of what he wants to do, which is really helpful for me. He's really fun to work with because he's so expressive and bold. When someone's clear, it's helpful for an actor to react and in this situation, Veil is very reactive. She's not able to put her own stamp on things. She's gauging what's going on in the moment.
Q: Did working on such a dark and gloomy set further help you portray Veil's circumstances?
A: Certainly the day that I go out running in the woods was Maddy's Day Out. I remember feeling like, "Wow, I'm outside. It feels really strange!" [Laughs] It was fitting because obviously I end up at the Widow's and then straight back in that bunker.
Q: Dire circumstances aside, can you talk a little bit about the elaborate costume and set detail during the wedding scene in Episode 8?
A: Early on in the season, Daniel [Wu] teased me about kissing Marton and I thought, "under what circumstances?" And then I heard Veil and Quinn get married! I was shocked. It's probably one of the biggest things I've done in terms of the way they dressed the set and the costume I got to wear. On the show, the Widow has amazing hair and makeup and costume and so does Jade. My character has always been kind of plain and I haven't had much help, aesthetically, in that sense. It was really exciting to wear something decadent, even though Veil obviously isn't excited to be wearing it. I really felt that feeling of oppression that day because there was so much open flame on set and it was so hot. The costume was eye-catching and all eyes were on me, so having to walk down the makeshift aisle with all these skulls on the floor and all the Loyalists staring… I guess it helped me get into what Veil was feeling in that moment. It was the most amount of unwanted attention on a person. The style of it is so Quinn with the deep reds.
Sunny and Veil aren't married. They just love each other. So, for Veil, maybe she had hoped to marry Sunny. No one is pure in the Badlands, but the purity and grace that surrounds them almost feels tarnished now because she's had to marry Quinn. It's really sad.
Q: Should Veil have reason to trust Lydia to get them both out of this situation?
A: To me, Lydia has always been a product of the environment. She's probably been just as hurt by Quinn as Veil has. She's just doing the best she can to survive as well. There's a scene where they're all together having a bloody steak dinner – a la Quinn – and these two women are in different scenarios but in the same circumstance with this man who wants them. There's a connection there, and Veil knows she's about to go through everything Lydia has gone through before. Lydia shared a bed with this man and had a child, but Veil sees that she's still standing. She's probably wounded and broken inside, but I think Veil sees her as someone to give her strength.
Q: There's definitely some tension between Veil and Tilda, given their history. Does Veil blame Tilda for her current situation since she didn't kill the Widow?
A: Even though she gave Tilda the opportunity to free herself, she never did it in the sense that Tilda had to. It was a decision to make for herself. Veil's child coming into the scenario changes things. When Tilda sees Veil and Lydia back in the bunker, she's shocked. She hadn't put two and two together that this is the result of the deal that the Widow made with Quinn. Veil tells her they both weren't strong enough – Veil could have killed Quinn, and Tilda could have killed the Widow – and now Veil's child is paying the price. It's difficult because she can only blame her as much as she can blame herself. I think she might see a kindred spirit, in a way. She has this feeling that Tilda has a place somewhere else. She's disappointed that Tilda didn't poison the Widow, but she can't blame her for it because she knows what it's like.
Q: By the end of the episode, Veil goes from plotting to kill Quinn to learning that Sunny is alive. How does the news shift her priorities going forward?
A: Number one, he's alive. Yay! Number two, he knows where she is and he's coming. She told Edgar that she hopes Sunny is alive because Henry needs his father, but she never addresses how she feels about it. Even though it's been a long wait, I think it will be a good payoff. All she has to do is wait a little bit longer and it will be sweet, sweet revenge.
Read a Q&A with Orla Brady, who plays Lydia.
Watch full episodes of Into the Badlands on amc.com and AMC apps for mobile, XBox One, Apple TV, Roku and Chromecast.
Into the Badlands airs Sundays at 10/9c. To get more exclusive interviews with the cast, sign up for the Badlands Insiders Club.
Read More