Q&A
Into the Badlands Q&A — Sarah Bolger (Jade)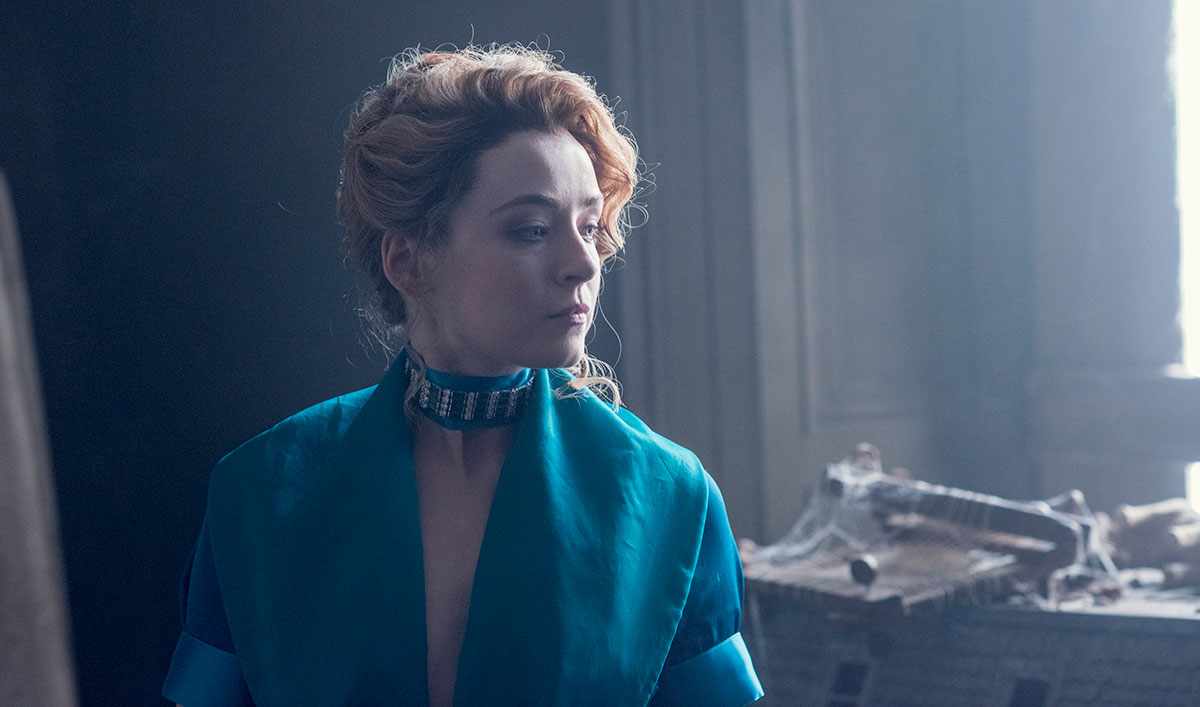 Sarah Bolger, who plays Jade on AMC's Into the Badlands, talks about her character's ability to survive, her take on Quinn's return and why Jade doesn't second-guess herself.

Q: Jade managed to survive all of the chaos in the Badlands last season. What does that say about her as a character? 
A: I think it's pretty incredible because she's a woman within this manic, hectic, barbaric world. She has no army or fighting skills that we've seen thus far and, yet, she remains unscathed. That's the definition of a survivor. She outlasted so many more people who have the fighting abilities of great warriors, and she remained firmly planted and moving forward in the right position. She's incredibly smart.
Q: Were you just as surprised as she was to see Quinn come back into the picture? 
A: Honestly, I think Marton [Csokas] does such an incredible job at Quinn that I couldn't believe for a second that he wouldn't be brought back. That idea, to me, seemed implausible. [Laughs] He's so charismatic on-screen, and he brings something so different and otherworldly to this character. He's brilliant, and I'm a big fan.
Q: Ryder's death is devastating to Jade, but it also prompts her to declare herself as rightful Baron in Episode 5. How did you read that decision of hers? 
A: She's dealt with a lot of pain in her life. As we know it, she has no family, she's been a house Cog, and she's fending for herself all the time. I think Ryder and Jade had a positive relationship. The idea of love in the Badlands is something vague, and it's not the term we know in 2017 as regular humans. Love is something different, and I think she got security from him. There was a bond there. So, I think it is traumatic to her to lose another person in her life, but she has this unbelievable strength, and someone needs to rule. To be fair, this is her dream, but it just comes under the worst circumstances. She absolutely has to step up. There's no other way, and this is where we see the woman shine through the curtains of just being a wife or a household Cog.  
Q: Do you think she second-guesses how she claimed this powerful position?
A: In Episode 201, we see a conversation between Jade and Ryder where he's talking about how he's Baron now because he fabricated this lie and how maybe Quinn's dead or maybe he's not.  It doesn't matter to Jade how it came to be. The point is if you now have it, you can only look forward. I don't think she believes in guilt. I don't think that's a thing in Jade's mind. She's dealing with it every step of the way, day-by-day. She's creative, pragmatic, ruthless and she owns her smarts. Even though it happened in the worst possible way, she's going to own this decision.
Q: How would you describe her as a leader? How does her leadership style differ from that of Ryder's?
A: I think her ambition always surpassed Ryder's. His motivation was to be his father, and he only had one target – to beat his dad. Jade has none of that. She's going to be the best ever. It's not like a little boy's dream of outdoing his dad. Her goals are far bigger than that.
Q: What about someone like, say, the Widow? 
A: Even though she'd probably never admit it, I think Jade looks up to the Widow. She's this powerful woman, going solo, doing amazing acts and having people follow her. Who knows how Jade's people will react to her, but I think given the opportunity, she would rule extremely well.
Q: While she's not much of a fighter, what is Jade's biggest strength?
A: I think it's understanding people. She has a firm grasp on manipulation and what she can gain from people. I think that is strength for her – seeing in others what you don't have and trying to gain their knowledge and experience. She's not saying she's the best at all things. In fact, I think people are attracted to others when they see a quality that they don't have. She gained all she could from Quinn, and she did that with Lydia and Ryder. The world they live in is just so cutthroat. No one has the ability to be a glowing angel.
Q: Does starting off as a Cog herself further add to the empathy of the character?
A: One hundred percent. She's not going to forget where she came from. She does care about her past and reaching out to her fellow Cogs. I think she would be good to her people as Baron, but it's just coming at a time where there's so much turmoil and you just don't know how people will take her reign. She's come up through the ranks in a miraculous and sneaky way, but that doesn't mean that her intentions would not be good for the people around her.
Q: Jade is united with Lydia now to avenge Ryder's death. How might that prove to be difficult given their past?
A: It's difficult, but Jade sees things as very black and white. She sees an opportunity to help Lydia and give her something, and it's the perfect move because it's exactly what Jade needs. She doesn't have control of her army yet and she's just taken power, so for her to handle the problem she's having, with Lydia's help, is genius.
Q: Who do you think is Jade's biggest ally right now? What about enemy?
A: I think she fears Quinn, and he's the epitome of her enemy because he knows her. That's dangerous. Sadly, I think Ryder was her ally, so it's hard to see where she stands with people who are ready to support her, but she does have an ability to get people on her side through guiding… or other creative ways. [Laughs]
Q: Are there any female leaders that have inspired you in playing your character?
A: After writing the first season, [executive producer] Miles Millar was reading Wolf Hall and saw things about Jade and Anne Boleyn. It's more historical, strong women who I am getting that essence from. Because the world is so new-age and magical, it wouldn't be fair to look at someone like Hillary Clinton. As great as she is, Jade is a bit different.
Read a Q&A with Oliver Stark, who plays Ryder.
Watch full episodes of Into the Badlands on Xbox One, Apple TV, Roku, AMC mobile apps and amc.com.
Into the Badlands airs Sundays at 10/9c. To get more exclusive interviews with the cast, sign up for the Badlands Insiders Club.
Read More