Q&A
Into the Badlands Q&A — Nick Frost (Bajie)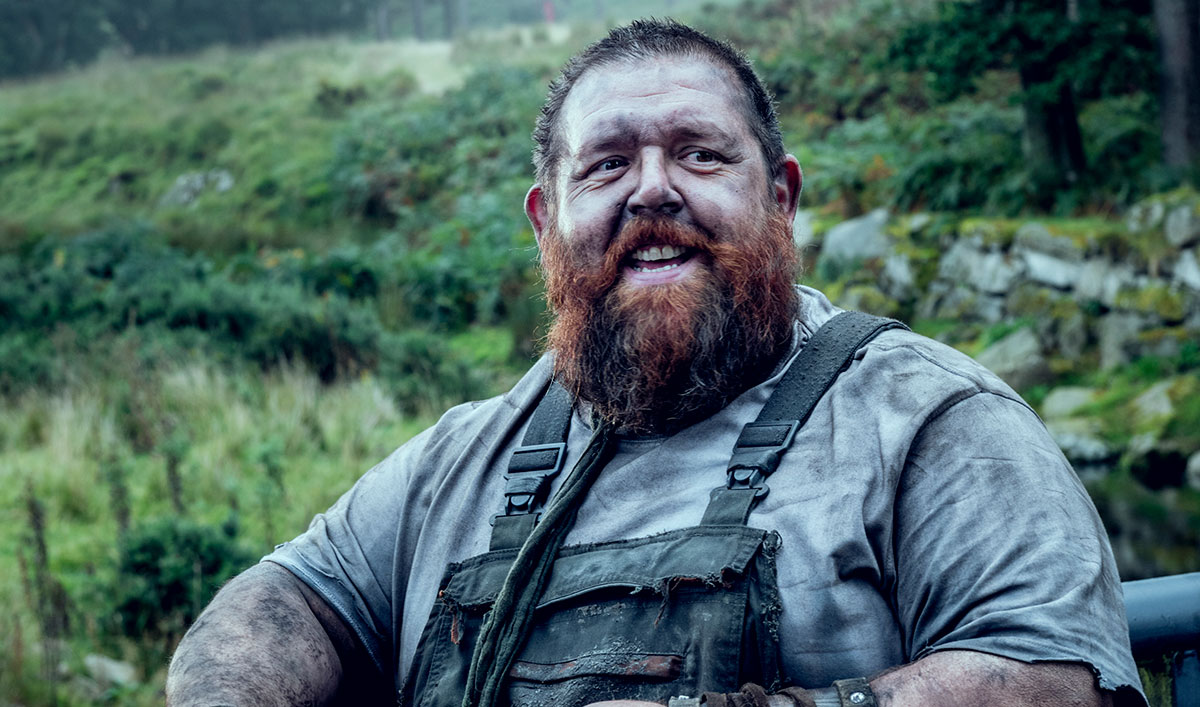 Nick Frost, who plays Bajie on AMC's Into the Badlands, talks about playing a character written just for him, how his fight scenes make him feel like a warrior and what Bajie brings out of Sunny.
Q: Miles and Al said they wrote the character of Bajie for you, never dreaming they'd get you to play the part. What was your instant reaction when you read the script?
A: I didn't read the script before I met with Miles. We went and met early one Saturday morning and sat and drank coffee, and I just got a really nice feeling. I'm drawn to projects because of the people rather than by the script. Scripts can be changed and adapted… so I'm never too concerned about that side of it. The character was written for me, and it's terribly flattering that anybody would think about you when creating something. They needed it to be slightly comedic, so I could bring the thing I do to set and have a voice…. It was just perfect. I was thrilled to be asked.
Comedy is usually the easiest thing I do on a show or a film because it's just me being me, but on a show that's already established in the genre that this is in, you have to be careful about how you pitch the comedy. I was really keen that Bajie wasn't just a guy that popped up and said a funny thing at the end of a scene. It needed to be within the realm of possibility for someone who lives in this realm. I had to keep an eye on that.
Q: Did you have to go through Fight Camp? What was that experience like for you?
A: There was a five week training camp, but because of other work commitments and a family vacation, I couldn't do it. I literally did a few hours. It was the end of week five and I got into the camp at around one in the afternoon and by four o'clock, they got everyone together and said, "Alright! That's a wrap on camp! We start shooting the day after tomorrow!" I kicked a heavy bag and did some press-ups and that was that.
Q: Bajie engages in some pretty gnarly fights over the course of the season. What is it like shooting such elaborate fight scenes on set, even without much training?
A: I think I've set a precedent on set now. I think if I go to training camp, I'll be too good! [Laughs] All the fights were really fun to shoot, but also exhausting. When you go home after a day of fight scenes and you're bloody and sore and dirty and sweaty, you feel like you've done a really good day's work. I love that feeling of returning home like a victorious warrior. I used to play a lot of rugby and I used to have that feeling. There is a great fight in Episode 7 with M.K. and I versus a bunch of Abbots. There are some really big Bajie moments and he's gotten bigger and bigger as the season goes on. His story line is becoming more and more intertwined with what's happening with the others, which is great.
Q: In Episode 7, we discover Bajie was one of the Abbotts from the Master's monastery. Did Al and Miles fill you in on Bajie's backstory from the start, or was it a twist you discovered in the scripts?
A: We don't get the scripts until a few weeks before we shoot them, so I'm always as eager as the next person to get a hold of them and see where Bajie is going to go and to see where the show is going. Daniel Wu and I became friends, so he'd go to a production meeting and come back and say, "Hey, Bajie's going to do this or this" and I'd be like, "Oh, yeah!"
Q: Does Bajie regret losing his gift? Does he see a chance to shepherd M.K., who's also lost his gift?

A: I don't think Bajie's that kind of person. He probably regrets losing it for half an hour and then just gets up and moves on. With M.K., I think he sees a chance to potentially right a wrong and he can steer this young man onto the correct path.
Q: Were you surprised at the emotional story Bajie tells about Flea? Do you think he covers up those emotions with his humor? If so, why?
A: I think there's a misconception that someone who's funny can't feel anything. I think something very bad happened to Bajie at one point and he covers it up by being funny. Bajie is funny, but he's also a badass. When we first meet him, he's in prison, so he's done something to get there. He has a lot of enemies and he knows a lot of dangerous people, so I don't think he's to be messed with or underestimated. I think part of the fun of being Bajie is that no person in real life is just a badass or just funny or evil or an idiot. Everyone has all of these qualities running through them simultaneously at all times. If you can be that on screen, people respond to it because he's a human being like us.
Q: What's been the most interesting part of how Bajie and Sunny's relationship has evolved over the season? Do you think they actually like each other or just respect what the other offers?
A: I think they like each other a lot. I mean, not at first, but I think they've worked through their trust issues. There have been a few times when Bajie comes through and saves Sunny, and I don't think Sunny forgets that. There's a connection between them and it feels touching. I hope the audience is touched while watching it. These two men have become friends, and it's really interesting what Miles and Al and the writers have done. They took someone like Sunny and introduced someone like Bajie to him, and he's more of a rounded character now. He's not just a cold-blooded assassin who thinks life isn't for him. Bajie opened up a whole new side of Sunny.
Read a Q&A with Ally Ioannides, who plays Tilda.
Watch full episodes of Into the Badlands on amc.com and AMC apps for mobile, XBox One, Apple TV, Roku and Chromecast.
Into the Badlands airs Sundays at 10/9c. To get more exclusive interviews with the cast, sign up for the Badlands Insiders Club.
Read More