Q&A
Into the Badlands Q&A — Emily Beecham (The Widow)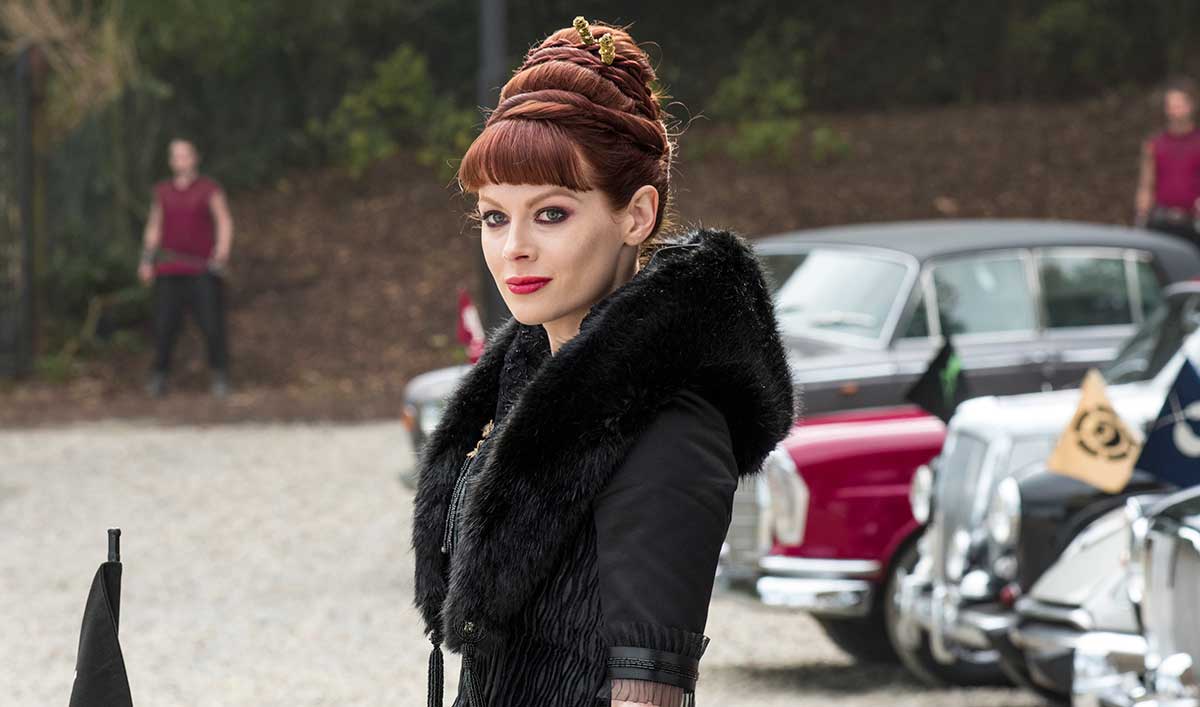 Emily Beecham, who plays the Widow on AMC's Into the Badlands, talks about her character's goal to uproot the system, the vulnerabilities she sees in playing her, and why the Widow and Waldo are working together now.

Q: What was your training like for Season 2? Did you do anything differently?
A: My training for Season 2 was more yoga-based. It was slightly adjusted and we worked more on strength and flexibility. It was three weeks long and it was a more gradual training, which was helpful. I had to start at 100 miles per hour with doing that first scene in Episode 1, which was a week-long shoot, and most of it was me going up and down staircases with a katana. I've learned a lot about my body and how to keep it healthy to be able to do these extreme things, and it's had an effect on my life. You have to look after your muscles and joints because the fighting is very high impact, and you could very easily injure yourself. There are aches that don't go away for a long time if you don't look after yourself. I'm definitely a lot more flexible, which makes things a lot easier. [Laughs]
Q: How would you describe the new dynamic between the Widow and Tilda, who's taking on more responsibilities as a Regent now?
A: Tilda is growing up. She's becoming a woman and starting to form strong opinions of her own. So, it's natural that she's going to start questioning the Widow, challenging her and not wanting to do all the things the Widow wants her to do. The dynamic shifts a bit and the Widow starts to lose a little bit of power over her. It starts to become more of an equal relationship and more of a friendship of trust and accomplice, rather than the motherly relationship like in Season 1. Tilda provides the Widow with strength and encourages her when the Widow is being doubtful. She's becoming a supporting team member.
Q: In Episode 3, even the Widow questions why Waldo's helping her for nothing in return. Is there reason to be suspicious of his loyalty considering he betrayed his own Baron?
A: He probably believes the other Barons are worse options, and she's the better of all the evils. [Laughs] She's got more progressive ideas and is more willing to compromise and try to do something different, so I think that's probably the appeal for Waldo. He treats her like she's naive and like she doesn't properly understand the consequences and repercussions of her actions, so he's trying to guide her because she's quite impulsive.
Q: Waldo has also mentioned "blowing up the whole system." Are they a good fit for each other?
A: I think they make a good team. He's had so much experience and has the wisdom, which she lacks, and she's got the power and the money and the will. I think they make a really strong team if they can learn to get along. If they make the right choices, they're a very strong team together. One has what the other lacks and vice-versa.
Q: Can you say more about the Widow's ambitious vision for the future and giving her followers free will to join her?
A: Her ideals are the same as in Season 1. She still questions herself, which is good. She questions her ideals and doesn't get side-tracked by the thrill of gaining power in the competition. She's very driven in that way, but she also cares quite deeply for her cause. She often checks in on herself and whether she's capable of being a good leader. She has to step into these shoes now that she's gained power and a lot more followers. Now, she has to walk the walk. Her goals are very much the same, but her situation is changing quite quickly.
Q: Do you think the political aspects that come along with that are more than she bargained for?
A: She knows that words aren't really her thing even though she's really good at swinging a sword and being a warrior. That's what makes her nervous – that she won't be able to step up to the mark. She starts to realize she does need an advisor and that's why she has Waldo. She's only human at the end of the day.
Q: At the end of the episode, the Widow is walking into a tricky situation at the Baron conclave. Do you see your character as fearless or can you identify some of her vulnerabilities?
A: She's fearless to a certain extent, but when she has to face this very real situation, she doesn't quite know what to do and she knows she has to behave like she does. In order to press further with who you want to become, you have to take risks, put yourself out there… That's the only way to discover you're actually capable. She may find that she has the talent, but she doesn't know if she's just going to be lousy. There's a lot to lose. There are a lot of people who are relying on her and need her to succeed. There's a lot at stake for herself, for her cause, and for her Clippers and Cogs and everyone who follows her.
Q: What does it mean to you to play such a strong, empowered woman? What do you hope she represents for viewers?
A: I hope she represents a strong woman with a mind to create. She has all the qualities of other male Barons, and she's a force to be reckoned with. She's an independent female leader and she's got a lot of different sides to her. It's such an exciting role to play.
Q: As the Widow continues towards her hopes of leading a revolution, what will be some of her biggest challenges?
A: She's already gained a lot of followers, which was her goal in Season 1, but her next challenge is to actually make these changes that she's promised and to make it all happen. Her biggest challenge is to make the right decisions as a leader and make a positive impact to actually change the whole system of the Badlands in the way that she has promised. She has to negotiate with these other Barons, who are quite dangerous, in order to keep her position while at the same time she's fighting for her cause. It's a bit of a juggling act for her.
Read a Q&A with Aramis Knight, who plays M.K.
Watch full episodes of Into the Badlands on Xbox One, Apple TV, Roku, AMC mobile apps and amc.com.
Into the Badlands airs Sundays at 10/9c. To get more exclusive interviews with the cast, sign up for the Badlands Insiders Club.
Read More