Q&A
Into the Badlands Q&A — Daniel Wu (Sunny)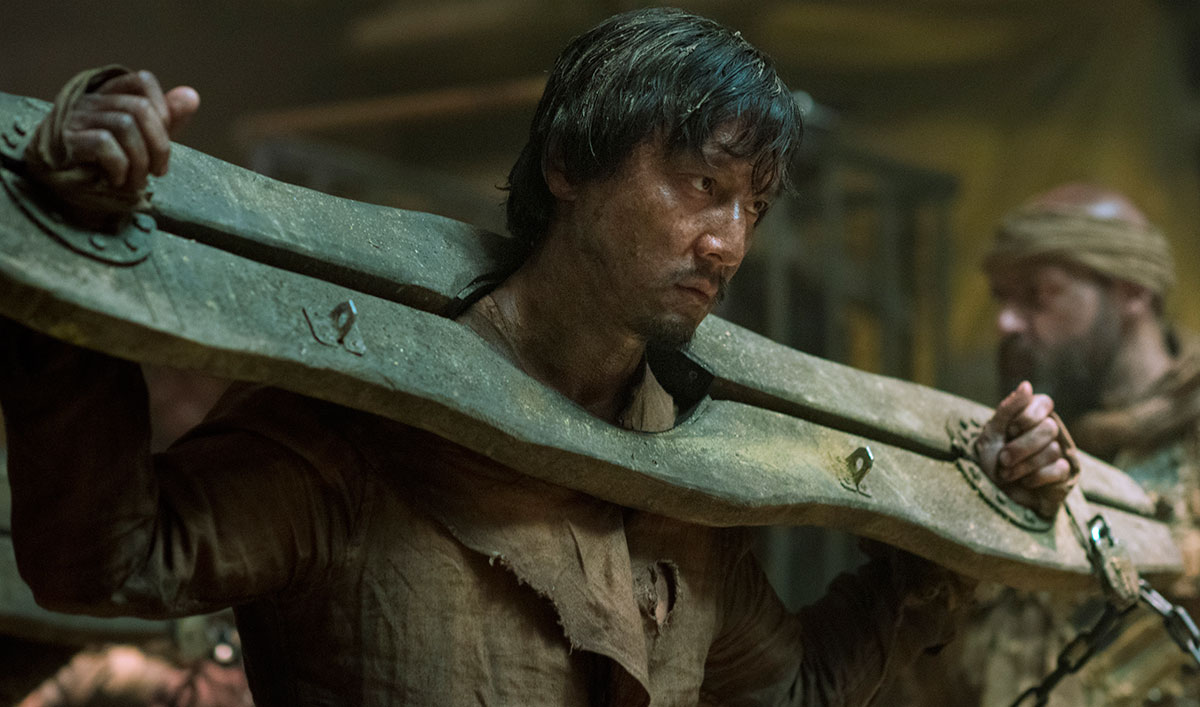 Daniel Wu, who plays Sunny on AMC's Into the Badlands, discusses punching up the action this season, his character's internal struggle and creating a fun dynamic with Nick Frost.
Q: How did you gear up for Season 2? Was bootcamp training easier or harder this time around?
A: Since Season 1, I've learned a lot about myself, physically, so I changed my training regime quite a bit. I added a lot more interesting things like yoga to my training to help loosen me up a little bit because old man kung fu is different than young man kung fu. [Laughs] It's a different mentality. In my 20s, I would do 500 kicks on each leg every day and when you get to my age, you can't really do that anymore because it can actually degrade your body. You have to be smart in your training and figure out ways to challenge your body but also not hurt yourself, as well. I also lost about 15 pounds because in the first episode, you see that Sunny's been enslaved for six months and I felt he should be physically different than last season. Losing muscle mass actually helped me with the fighting because I wasn't carrying an extra 15 pounds on my back while doing all the martial arts. It made it a lot easier for me.
Q: It's clear that Sunny is much more than a coldblooded killer. What's it been like exploring those other layers of your character this season?
A: It was great. Last season, he didn't have much room to explore because he didn't have anyone to really confide in about his plans to leave the Badlands. Quinn would have definitely killed him for that, Veil couldn't know too much either because it'd put her in danger and even with M.K., he was a new kid he'd just met, and he wasn't sure if he could trust him. His mission this season is quite simple, but it's hard for him to achieve. He's been thrown out of the Badlands and has to find a way to get back in to find Veil and his baby.
Q: Sunny ended up in the mines because he was trying to protect M.K. from the River King. How does he process what's happened to him as a result?
A: It fuels his rage and anger that he's been put in this situation and taken out of the Badlands. Now, he's trying to get back in, when all season long last year he was trying to get out. [Laughs] He has to go back into that hellhole again. At the beginning of the first episode, you can tell he's a broken man. Last season, he was a noble warrior, well-respected and everyone knew who he was. Now he's weaker, filthy and no one knows who he is or cares. He has to start from scratch.
Q: Sunny's trying to get away from his Clipper identity, but even the tattoos on his back remind him of his past. In some ways, is it always going to be a part of him or do you believe he can rebuild himself?
A: I think it's something Sunny's going to be struggling with throughout the rest of his life because you can't necessarily erase what you've done in your past even though you want to start over. Those tattoos are permanent and he feels the weight of them every day. It's a struggle and what he's flipping back and forth with is: Am I just a killer or can I be something else? Can I be a normal person with a family?
Q: What was it like working with Nick Frost and creating that chemistry between Sunny and Bajie?
A: I love that guy so much! He's an incredibly smart, clever, well-experienced actor and his sense of timing is impeccable. He's a really funny guy and just a pleasure to work with. Every day that he was on set, I was laughing and smiling all day long. Sometimes when it's really intense, you need someone like that around to make things more fun, and he did that. Being able to riff and improvise with him was fun as well.
Q: How does Bajie's betrayal land on Sunny?
A: He meets Bajie and sees a partner. They're an odd couple, but he sees a partner, and it allows him to have an actual dialogue. We get to see the way Sunny thinks, internally, and what his mission is. Sunny doesn't really trust him [at first], and it takes him a while to be able to trust him. So when he finds that Bajie may have broken that trust, he's angry. He rarely ever trusts anyone and the one person he trusts turns his back on him… That causes a lot of anger in that relationship.
Q: What was it like being away from most of the cast at the beginning of the season?
A: It was very weird because we hardly saw each other at all. We would only see each other in passing as we walked to our trailers. I saw Oliver [Stark], who plays Ryder, maybe once or twice. We were all so separated this season. When we finally started to see each other, it started to feel like Season 1 again, but for the first half of the season, I was with Bajie, M.K. was off alone, and then Veil is with Quinn. So, everyone's been shifted around. It's great for the show, but we also had no idea what everyone else was doing.
Q: As an Executive Producer and martial arts expert, how did you work to evolve the fights this season?
A: With every fight, we're trying to do something more interesting and more creative. This season, we started with the idea that Sunny's not going to be the fighter he was last season and that not every fight would be easy for him. Last season, he was untouchable. This season, from the very first fight, you can tell it's going to be difficult for him when he's fighting with that wooden stock and he loses. With that first fight, we tried to add some Jackie Chan-esque elements with the stocks and using props to incorporate within the fight. With each fight, we're taking different inspirations and trying to push them to levels we haven't done before to make it new and fresh for the audience. That's really the challenge of the show because the story evolves and changes and the fights have to be equally as engaging, no matter how grand they are, or else you'll get complacent.
Q: At the end of the episode, we discover that Quinn is alive and with Veil and Sunny's baby – although Sunny doesn't know it yet. What can you tease about what's to come?
A: I think people are going to be excited about how Quinn operates this season. If you liked him last season, you're going to love him this season. He starts getting crazier and crazier. With that, he becomes really unpredictable and he's an interesting character to watch, but he's also with Sunny's woman, so there's this element of danger and that, at any minute, someone could die in that situation. There's also the power struggle that exists in the Badlands with all of the Barons, including the Widow and what she's trying to fight for. It pulls from just an individual story and makes it a story about political aspirations that kind of reflect on our modern day political predicament now.
Read a Q&A with Co-Creators/Executive Producers Miles Millar and Alfred Gough.
Watch full episodes of Into the Badlands on Xbox One, Apple TV, Roku, AMC mobile apps and amc.com.
Into the Badlands airs Sundays at 10/9c. To get more exclusive interviews with the cast, sign up for the Badlands Insiders Club.
Read More