Q&A
Into the Badlands Q&A — Aramis Knight (M.K.)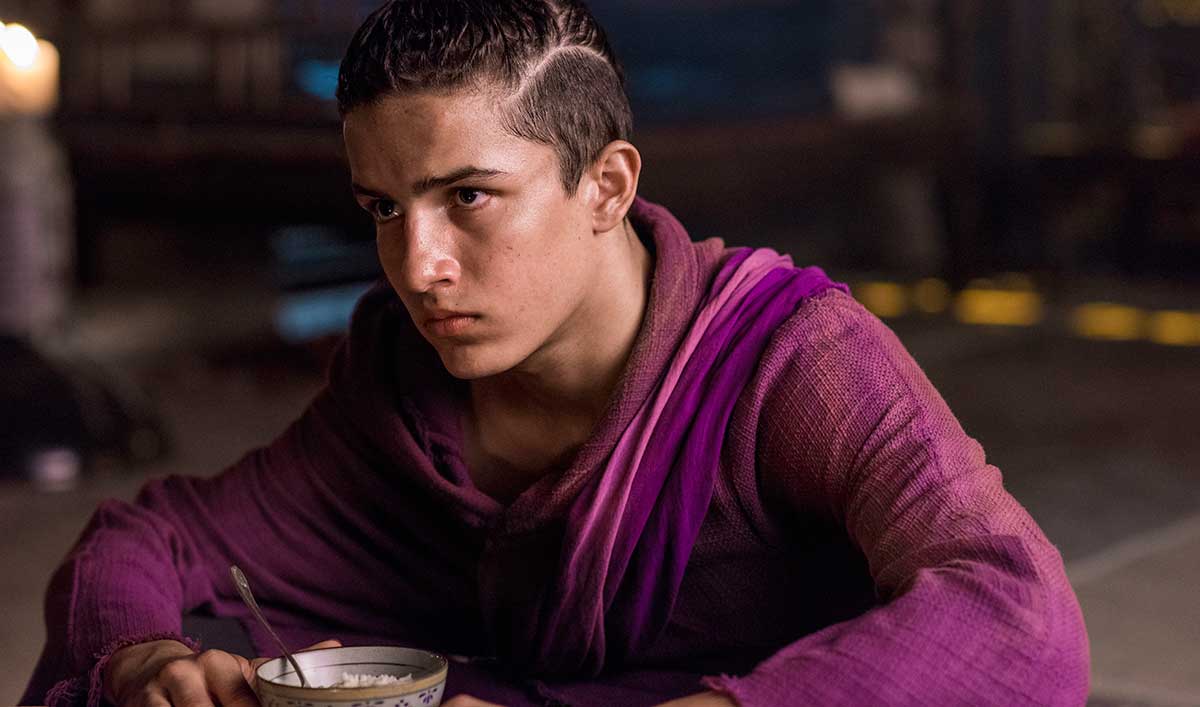 Aramis Knight, who plays M.K. on AMC's Into the Badlands, talks about facing off against himself, what's difficult about reverse choreography and the biggest lesson M.K. has yet to learn.
Q: How did you prepare, both physically and mentally, to come back for Season 2?
A: Just like we did in Season 1, they sent us through a training period. We did six weeks of training before we began filming, which was huge not only for the martial arts but for the cast dynamic and cast chemistry. It's hard to keep up without that bit of training. A lot of us train in the off-season and we all became better martial artists even when the show wasn't on, so coming back, we were really prepared. I learned a lot last season that I was able to apply towards the second season, which I was really happy about. Besides Daniel Wu, no one had martial arts experience, but we all caught a knack for it. We knew it was such an important part of the show and we all really applied ourselves.
Q: What's it been like digging into M.K.'s past and understanding more about his dark mysterious power?
A: It's been really awesome. I'm really appreciative that he's sort of the spiritual guide of the show. No one's ever done that on a martial arts show since the '80s, so it's nice to be a part of a new revolution. Everyone really feels for him and can relate to his journey as he's trying to find his way home. I think there's going to be loads of people out there who can find some refuge in the character of M.K.
Q: In Episode 2, you literally get to play your character's dark side. How does your approach change when playing that version of M.K.? Is it tough walking that fine line and finding a balance?
A: It's really rough because you have to differentiate between the two characters. You have to understand when M.K. is in his altered state and when he's in his normal state. That was something I really had to make very distinct and I was doing costume changes every ten minutes. It was something I really had to think about and understand. I worked with Paco [Cabezas] and Nick [Copus] and all of our other directors as well.
Q: How were those scenes pulled together where M.K. faces off against himself? What was the biggest challenge of shooting them?
A: I would say the biggest challenge is learning the reverse of the choreography. When you work one-on-one in choreography, you're relying on the other person to know their part as well, but then when you switch, it's really confusing because you're relying on what you're doing and you have to remember what the other person was doing. It was difficult to remember the moves and then remember to do the opposite. If you're hitting right, you're blocking left, so each time I had to remember what I was doing last time. It was difficult but at the same time, it was amazing. How many people can say they played not just two characters but two versions of one person? I think it's really awesome and it leaves the audience to think about what it means to them.
Q: A fellow novice saw his own dark power as something to be praised. How does M.K. see his?
A: For M.K., it's a bit more of a burden than it is a blessing. Whereas some of the boys have thrived on the bloodthirsty killing that comes with the power, M.K. has gone through so much because of it. He's lost his mom because of it and he's probably killed loads of people that he never meant to kill. It's something that constantly hangs over his head. I think M.K. has a sense of empathy that I think is lacking in the Badlands and among the boys his age in the world. I think that's something very new that you see. You also see him spark something in Sunny as well when we see Sunny's good side. You really start to see his true colors and not the trained killer he's perceived as.
Q: The Abbot Monastery looks quite peaceful. What was it like filming there? Did you find any places to take a breather?
A: Absolutely. It was very relaxing. There were candles everywhere! I loved working with Chipo Chung [the Master], who's an amazing actress, and she did so much for the show and made me feel so comforted. That was something that was really necessary for the Monastery, and you want [the audience] to wonder if it's a good place for M.K. or a bad place for him. I think, slowly, you start to realize it's a bit of both.
Q: How does the dynamic between M.K. and the Master develop as he undergoes this journey of transformation?
A: It's similar to how Sunny and M.K. worked it out and how Ava and M.K. worked it out with the teacher-pupil relationship, but I think something that's very different about this is that M.K. doesn't quite understand the Master's motives. He understood that Sunny was trying to get him home and shared a common goal with him and he understands what Ava wants from him, but I don't think he exactly knows what the Master has in store because she is a woman of so many secrets. He's quite confused and maybe a bit off-put. Is she a mother figure or is this his demise? He has to make that own decision for himself.
Q: What's the biggest lesson you think M.K. has to learn before he can leave the Monastery?
A: I think his biggest lesson is to not underestimate any opponent, whether it's someone who's older or smaller, and to really try his best no matter what. I think you saw that in Season 1 with Waldo, but you see it even more in Season 2 with Ava. He under-appreciates the value Ava has fighting-wise and the wisdom she's gained from living at the Monastery her whole life. He teases her a bit and gets his ass kicked because of it.
Q: Similar to Sunny, M.K. is off in a totally new environment. What was your experience filming away from most of the cast?
A: It was quite different. I really enjoyed working with Daniel every day in Season 1 because our characters had such an amazing, father-son dynamic. That was something I relied on for Sunny and M.K. It was interesting to do my own thing and have him do his own thing, but it was really an adjustment and felt like a completely different show. It was all about Sunny and M.K.'s journey together, but now it's our journey back to each other. We see a lot of progression in the characters and it's cool to see them still be so persistent in finding each other even while separated.
Read a Q&A with Daniel Wu, who plays Sunny.
Watch full episodes of Into the Badlands on Xbox One, Apple TV, Roku, AMC mobile apps and amc.com.
Into the Badlands airs Sundays at 10/9c. To get more exclusive interviews with the cast, sign up for the Badlands Insiders Club.
Read More