Press
Badlands EPs Talk Season Finale; Daniel Wu's Reddit AMA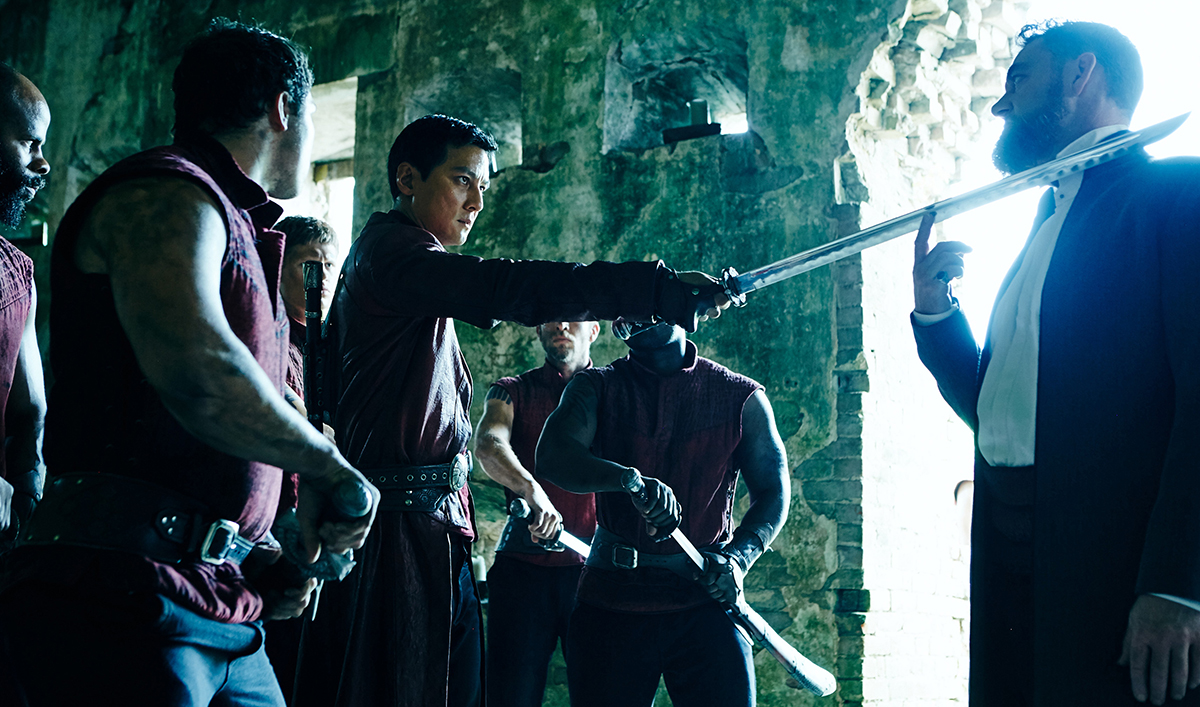 This week, Miles Millar and Alfred Gough talk about the season finale with TV Guide and TheWrap, while Daniel Wu does a Reddit AMA. Plus, Aramis Knight speaks with International Business Times. Read on for more:
• Miles Millar tells TV Guide that Into the Badlands is "loosely based on Journey to the West, which is about spiritual enlightenment, so that aspect of the show is critical and essential. It's a huge component, and you get your first big taste of it in this finale."
• TheWrap talks to Alfred Gough, who says, "I think this six-episode season is about Sunny waking up. At the beginning he's very much part of the power structure and literally enforces it. So in a way he's this incredibly powerful person but he's sort of dead inside."
• ComicBook.com chats with Alfred Gough, who explains that "one of the reasons that we set [Into the Badlands] far in the future was so that things like race and gender weren't really issues. It was really all about strength and weakness."
• During a Reddit AMA, Daniel Wu says, "I like my scenes with Waldo because it's the only time you hear what Sunny is thinking. He gets to confide in someone."
• Aramis Knight, speaking with International Business Times, says the season finale's climactic fight scene "shows how powerful M.K. is – as Quinn said, M.K. is as powerful as an army."
• Zap2it interviews Edi Gathegi, who says, "I absolutely think there is a possibility that Quinn and Jacobee could work together many times — and many times keep trying to assassinate each other."
• Ahead of the Season 1 finale, TheWrap talks to Daniel Wu, who says Sunny's been "Quinn's right-hand man for a long time and there's been this built up trust and this brotherhood between the two of them, so it's not easy for Sunny to just leave."
• Al Gough and Miles Millar chat with Den of Geek, saying they see Season 1 as "almost a giant pilot–a giant first episode. You get to dive into the world, you get a sense of it, but then we'll get to explore this world outside of the Fort and really get into the Badlands."
• Den of Geek interviews Daniel Wu, who says that "if we do a second season, I think definitely it would be in the 10 episode range, 10-12. I don't think we can do any more than that because it's just too physically demanding."
• Daniel Wu tells Business Insider the show's martial arts choreographer would work on different skills with the actors "and then pick and choose what was great or what they were naturally good at, and then use that for their ability."
• Billboard reports that November's top TV songs, according to Shazam tags and Nielsen Music sales and streaming information, included Jamie N Commons' Lead Me Home, which was heard on an episode of Into the Badlands.
• Inverse proclaims that Into the Badlands has "produced some of the most thrilling and brutal choreography that outpaces any other show."
• For recaps and reviews of the Season 1 finale, "Hand of Five Poisons," check out Entertainment Weekly, IGN, Three If By Space, TV Equals
To stay up-to-date on all the latest news about Into the Badlands, sign up for the Badlands Newsletter.
Read More