Press
Vanity Fair Applauds Badlands; Daniel Wu Chats With Daily Beast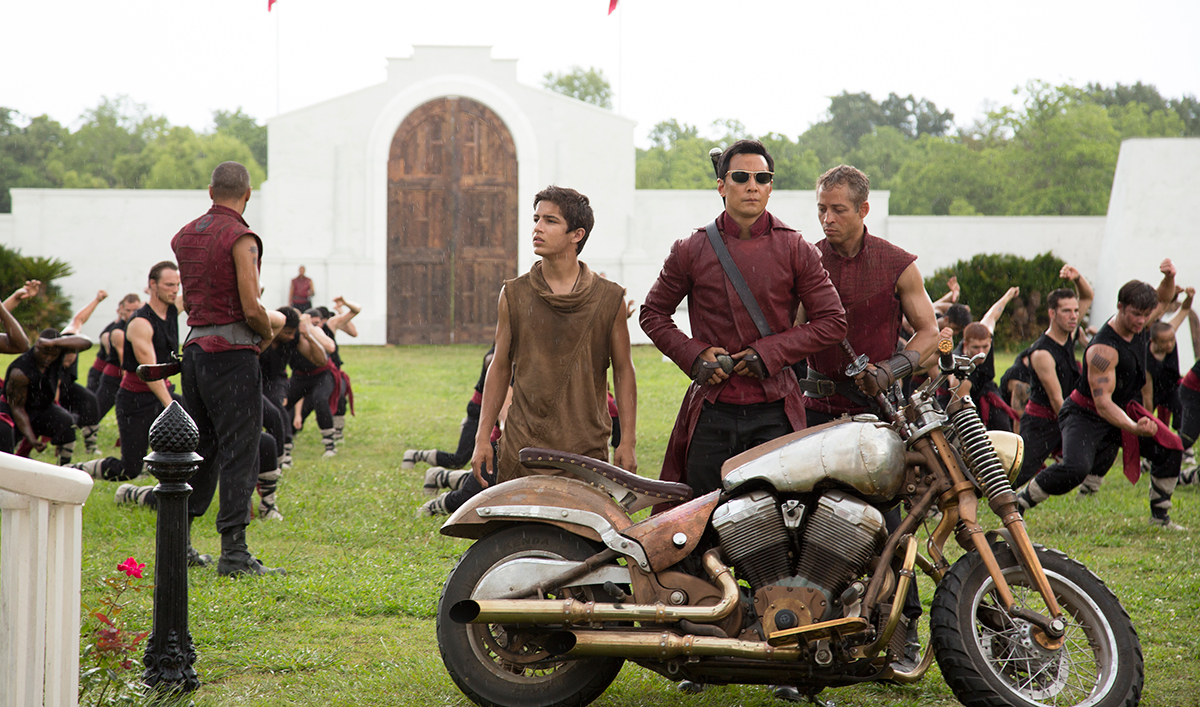 This week, Vanity Fair applauds Into the Badlands, while Daniel Wu chats with The Daily Beast. Plus, TVLine reports that the show was the fall's top-rated freshman debut. Read on for more:
• Vanity Fair declares, "The violent world of Into the Badlands is a bonafide martial arts extravaganza that delivers all the bone-breaking action and fists of fury you could possibly want thanks, in large part, to its charismatic lead and executive producer, Hong Kong-based Chinese-American film star Daniel Wu."
• Daniel Wu tells The Daily Beast that one of Into the Badlands' main goals was "to bring the Hong Kong action style to American television" and explains how that was done.
• TVLine reports that the series premiere attracted 6.4 million viewers and a 3.2 demo rating and ranks as "the fall's top-rated freshman debut (broadcast or cable)."
• TheWrap interviews Miles Millar, who says Into the Badlands' setting is "a sweaty, dirty world. But actually it's all very beautiful in the sense that nature is sort of preeminent. So you see that power of nature and the physical beauty of nature as well."
• Alfred Gough tells Los Angeles Daily News, "The only thing that really matters in this world is strength and weakness. Race, sex, none of it matters. Martial arts is the great equalizer. It doesn't matter if you're male or female."
• GQ speaks with Daniel Wu about his intense training regimen for Into the Badlands in order to "get a feel for how demanding it is to be the star of a martial arts TV show."
• Zap2it believes that Into the Badlands will be The Walking Dead's "worthy counterpart in portraying a very different hyper-colored dystopia that takes place centuries from now in a very different version of our world."
• io9 observes, "If the show can achieve character development that's worthy of the same network that brought us Don Draper and Walter White, then Into the Badlands could be a landmark show. It's bringing this genre [martial arts] back to mainstream American media on a big platform."
• After watching the series premiere, Moviepilot says, "AMC could very easily be on its way to having yet another hit on its hands."
• Ally Ioannides talks to The Atlanta Journal-Constitution about martial arts training for Into the Badlands, saying, "The trainers had worked on movies like The Matrix and Kill Bill. It was just such a dream. Our world is rooted in martial arts. This built camaraderie."
• Bustle takes a closer look at M.K., wondering "who is M.K on Into The Badlands, and why are people trying to capture him?"
• TV Cheat Sheet touts Into the Badlands, noting, "Early viewing shows us a series that blends the kung-fu elements of Crouching Tiger with a classic Western appeal. The end result is something unlike anything else you'll find on TV."
• Bustle, calling Into the Badlands "nothing if not stylistic by the look and sound of the trailers," takes a closer listen to the show's theme music.
• For recaps and reviews of Season 1, Episode 1, "The Fort," check out A.V. Club, Geeks of Doom, TV.com and TheWrap.
To stay up-to-date on all the latest news about Into the Badlands, sign up for the Badlands Newsletter.
Read More