Q&A
Into the Badlands Q&A – Daniel Wu (Sunny)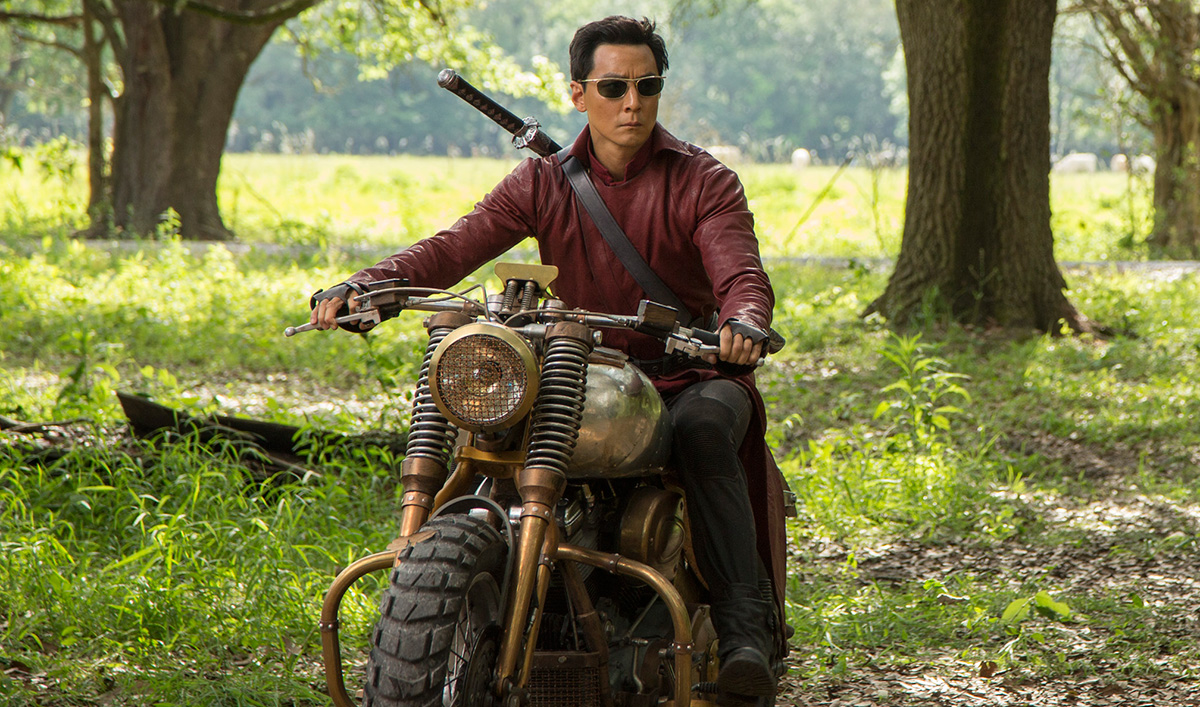 Daniel Wu, who plays Sunny on AMC's Into the Badlands, talks about training at martial arts boot camp and why Sunny helps M.K. escape during the Series Premiere.
Q: Who inspired you to learn martial arts? How long have you been practicing it?
A: I would say I was definitely influenced by Bruce Lee, Jackie Chan, and Jet Li. When I was seven years old, my grandfather took me to see Jet Li's first movie, The Shaolin Temple and I was really enamored by Shaolin Kung Fu. Four years later, I started learning. I was a hyperactive kid and my mom thought I would get into a lot of school fights, so she waited a little bit longer. [Laughs]
Q: You had to participate in a martial arts boot camp to prepare for this role. What was that like?
A: I started training six months out because I hadn't done a martial arts film in a long time. It's a different kind of exertion when you're filming. It's 12 hours a day, six days a week, for four months straight, so you have to prepare your body for endurance. Sunny uses double swords and I hadn't had much experience with that before, so I spent much of the boot camp working on specific moves like that.
Q: What was your initial impression of Sunny? Could you see any of yourself in him?
A: I thought he was a really cool character. I like the arc designed for him. As the story starts, he's this cold-blooded killer who's been numbed to what he does. Death to him means nothing. As he meets M.K. and as his relationship develops with Veil, a different side of him opens up – maybe a side of him that was always there, but was brainwashed by Quinn. He sees innocence in M.K. that he once had. I would say where Sunny is trying to get is where I'm at now in life with my family and child. He's searching for enlightenment and purity.
Q: In the Season Premiere, Sunny explains how he "never had a choice," as he helps M.K. escape the Fort. Do you feel a sense of compassion for what Sunny has become?
A: Definitely. Especially during that scene when Quinn is telling all the kids what they have to look forward to. Sunny looks at M.K. and thinks, "This may not be right for everyone." M.K. hasn't gone to the dark side yet, so Sunny can stop that path from happening.
Q: We get to see a softer side of Sunny when he interacts with Veil. What does her character represent to the story? Is there more than meets the eye when it comes to Sunny? Is he more than just a ruthless killer?
A: Buried down deep inside him is his true self. All this time, he's been forced to be a certain way under Quinn's rule. His relationship with Veil has become more and more complex, and her pregnancy complicates that even more since Clippers are not allowed to have a family – especially not Regents. When he realizes she's carrying a life, it wakes him up. He just created a life as opposed to taking a life. It's a metaphor for him. His kill tattoos have a physical weight to them now.
Q: What are some behind-the-scenes elements that go into a typical fight scene that the audience might not realize? What brings it all together to make it look so effortless?
A: Our goal was to put martial arts on television and we wondered why it hadn't been done before, but now we know why. It's complicated! [Laughs] That rain fight scene in Episode 1, for example, was about four minutes long and we did it in six days.
If the performer can perform on their own, that's the best because it saves the time of having to get a double in there. All of the other actors had no martial arts experience at all, but we observed what they could do during boot camp and what they were good at naturally. Aramis [Knight] is young and athletic, so he was into doing back flips and aerial moves. With Emily [Beecham], we felt she moved very gracefully, so we made her moves fluid. We had a nine-member stunt team as well; five from China and four from the U.S. There's a lot of magic that goes into this.
Q: What are some of the challenges you face as both an actor and an executive producer?
A: Busy. [Laughs] Not only was I learning moves on set, but I was also fixing problems and making sure everything was smooth for shooting. I had a trailer that I was never in because I was always on set.
Q: Have you found a favorite way to wind down after an intense day?
A: It's not hard because I was exhausted. A nice, hot shower really winds me down. Sometimes I would have a masseuse come over, but mainly, I was just trying to get to bed as soon as I could.
Q: What sets Into the Badlands apart from other martial arts productions, in your opinion? Are you hoping to spark interest in this genre on television?
A: Badlands is interesting because it's a conglomerate of a whole bunch of different genres. We try to get the fighter to do as many moves as they can in one take, without cutting. It creates a fluidity and high-dynamic pacing. We also had specific technology, like the MōVi cameras which are agile and allow the cameraman to become a part of the fight itself. We're looking to bring out something fresh and new, and rekindle an interest in this genre.
Q: What are some of your favorite martial arts films to watch?
A: Bruce Lee's Fist of Fury and Jet Li's Once Upon a Time in China. I could go on, but those are my top two.
Into the Badlands airs Sundays at 10/9c on AMC.
To stay up-to-date on all the latest news about Into the Badlands, sign up for the Badlands Newsletter.
Read More