Q&A
Into the Badlands Q&A – Aramis Knight (M.K.)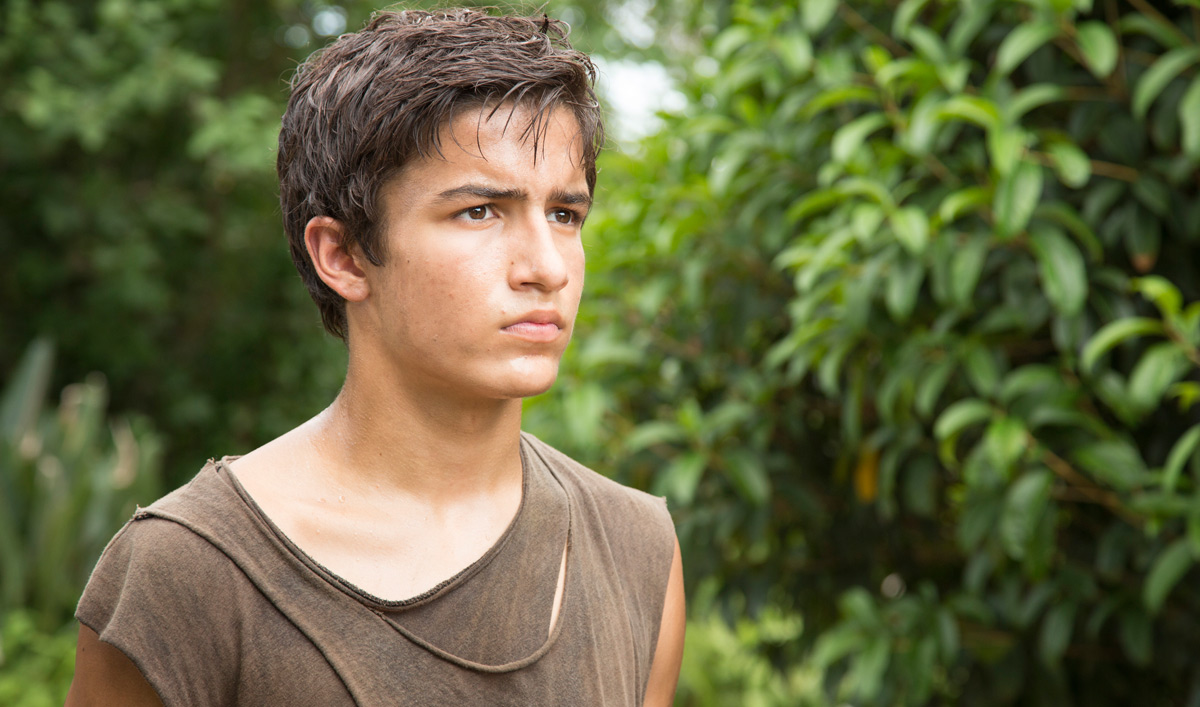 Aramis Knight, who plays M.K. on AMC's Into the Badlands, talks about what his character represents and his meeting The Widow in Episode 2.
Q: Where does your character, M.K., fit into this story?
A: The characters that were created are not black and white. There's no protagonist or antagonist. It's up to the crowd to choose whose side they're on and who's the good or bad guy. With M.K., though, I feel he's the closest thing to purity there is. He's sort of ignorant to this world. He doesn't exactly get how Sunny, Tilda, The Widow and Quinn can kill people so easily because he's not used to that. He comes in and shakes things up, and he brings Sunny back to reality. He's needed in this cruel world.
Q: Though there is no antagonist or protagonist in this story, is there any character you're hoping the audience will root for?
A: It's going to be interesting to see whose side people choose. I definitely think M.K. is going to be heavily rooted for because he's trying to find his place in the world. There's also a lot of comic relief between M.K. and Sunny that people are going to like. Sunny is a much better skilled martial artist, but M.K. still stands up to him, which is something most boys wouldn't do in the Badlands.
Q: M.K. is struggling with some sort of dark, mysterious power within him. What is it like playing a character who has this darkness within, ready to be unleashed at any moment? How does he cope with the violent and destructive part of his personality, which seems so much against his otherwise innocent nature?
A: It's really fun to play a character that can go off at any moment. It makes everything interesting because you're kept wondering. I wanted to really develop a difference between M.K.'s dark chi state and his normal self. I wanted to make those two things contrast so people knew exactly when I was in each mode. Although it's something he's learned to cope with, it's also something he can use to his advantage.
Q: You've been acting from such a young age. What's one thing that stood out to you about this role in particular?
A: One thing that is very cool is the kick-ass martial arts — bottom line. It's absolutely amazing. Even more, there's a very good balance between the martial arts and the drama, and it's very character-driven. They fit together like two perfect puzzle pieces, which is quite awesome. The show is groundbreaking and is starting a new era.
Q: Daniel Wu told us that none of the actors had martial arts experience prior to this show. How intense is it, physically, to portray M.K.? 
A: It was very intense. I was more than intimidated going into it and I knew I had to live up to expectations. Daniel Wu is an amazing martial artist and I wanted to get to a point where they were comfortable with me doing some of the stunts. I have an extensive basketball background, so I'm used to jumping high, running fast and being agile, but the thing that I lack is flexibility. He helped me a lot with that so that I could kick higher and I became much stronger.
Q: What was it like working and training with Daniel Wu? Did that help create the dynamic between Sunny and M.K. on camera?
A: Yes, most definitely. Not only were we training in martial arts, but we were all becoming closer as a cast and developing our chemistry off-screen. You definitely see that. We talked a lot, joked around and developed very much like Sunny and M.K. It was cool to work with someone I was comfortable with. Also, doing fight scenes with Daniel makes the fights so much smoother. He'll see something and say, "Tweak this." He was really able to help me and utilize my strengths.
Q: M.K. meets The Widow in Episode 2. Is she someone we should fear?
A: Yes! I was in awe of how clever the writing was. I think The Widow is going to be a character that people love to hate.
Q: We're also introduced to Tilda in Episode 2. Can you describe her relationship with M.K.?
A: They find their ways back to each other a lot and I think they make each other better in a lot of ways. Tilda slows M.K. down, while M.K. wakes her up to reality and gives her a voice.
Q: Were you already into martial arts as a genre, or did this series spark your interest in it?
A: I did a small amount of martial arts when I was young. I was pretty good at it, but I didn't continue, which I do regret. I hadn't really watched many movies à la Crouching Tiger, Hidden Dragon or Kill Bill, but after booking the series, I found myself into it.
Q: If you really lived in the Badlands, what would fit your personality best: A Clipper? A Baron? Something else?
A: I think I'd be sort of a freelancer, like M.K. in a lot of ways. I'd march to the beat of my own drum.
Click here to read an interview with Daniel Wu, who plays Sunny.
Into the Badlands airs Sundays at 10/9c on AMC.
To stay up-to-date on all the latest news about Into the Badlands, sign up for the Badlands Newsletter.
Read More