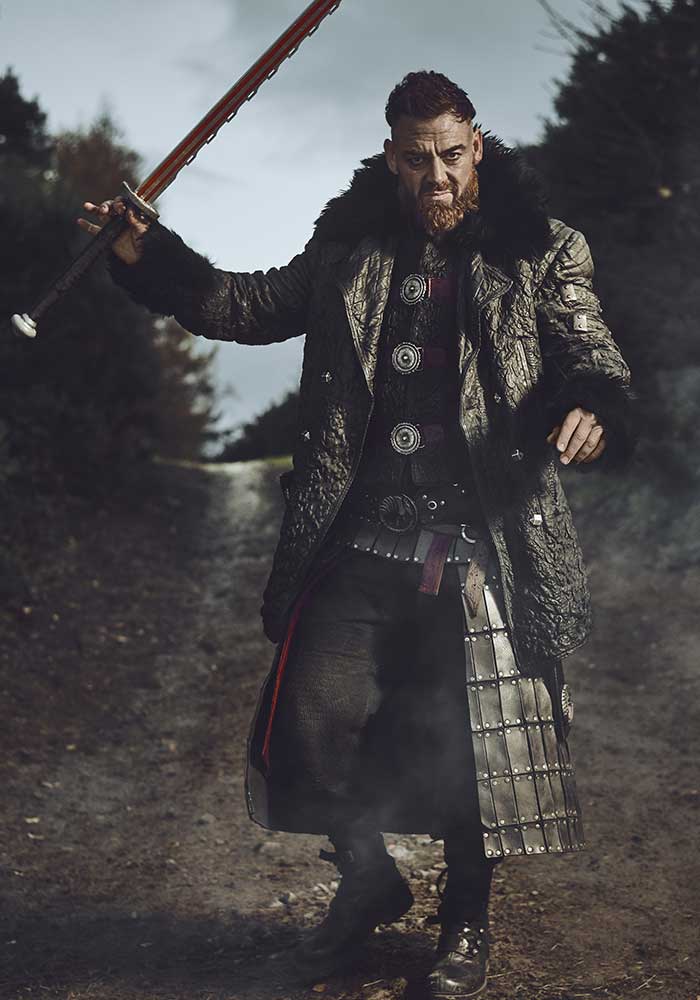 Quinn is a man who has lost everything -- his territory, his family, and his power. The deposed Baron and his remaining squad of loyalists are holed up in a secret bunker. He has gone from Baron to terrorist, and he plans to exact his revenge on all those who betrayed him and ignite the Badlands into anarchy. As the tumor in Quinn's head grows bigger, the only things keeping the encroaching madness at bay are Veil and her newborn son, whom he now sees as his own family.

Marton Csokas (pronounced Chokash) stars alongside Joel Egerton and Ruth Negga in Jeff Nichols's critically-acclaimed new film Loving (2016 Cannes and Toronto Film Festivals). He recently completed shooting Felt with Liam Neeson. Csokas can also be seen in True Crimes with Jim Carrey; the supernatural thriller Voice From the Stone opposite Emilia Clarke; and Burn Your Maps (2016 Toronto Film Festival) with Jacob Tremblay and Vera Farmiga.

Csokas starred opposite Denzel Washington in Sony's hit film The Equalizer . He played a brutal fixer for the Russian mafia and a formidable villain to Washington's reluctant hero. Csokas appeared in Darren Aronofsky's Noah, as well as Robert Rodriguez's Sin City: A Dame to Kill For, a sequel to the 2005 hit film Sin City.  Csokas also played the psychiatrist, "Dr. Kafka," in the hit movie sequel, The Amazing Spiderman 2, alongside Andrew Garfield, Emma Stone and Jamie Foxx.

Csokas most famously starred as "Lord Celeborn" in one of the highest-grossing film series of all time, Peter Jackson's Lord of the Rings trilogy. Some of his other film credits include 2010's The Debt opposite Jessica Chastain and The Bourne Supremacy with Matt Damon.  His depth of experience is illustrated in Asylum in which he starred opposite Natasha Richardson and Ian McKellen, as well as the Ridley Scott epic, Kingdom of Heaven, with Jeremy Irons, Brendan Gleeson and Liam Neeson.

On the small screen, Csokas starred on the History Channel's miniseries Sons of Liberty, as well as Discovery Channel's miniseries Klondike with Tim Roth and Sam Shepard.

On stage, Csokas continues to work internationally, most recently starring in a production of Lillian Hellman's Little Foxes at The New York Theatre Workshop by acclaimed director, Ivo van Hove.  The play was noted by  Time Magazine as one of the "Top 10 of Everything of 2010."  The actor has numerous classical credits, including "Orsino" in Shakespeare's Twelfth Night at the National Theatre of Great Britain, "Antony" in Antony and Cleopatra at the Theatre of a New Audience, "Brutus" in Julius Caesar and as "Septimus" in Tom Stoppard's Arcadia in his birthplace of New Zealand.  On the Australian stage, Csokas has appeared as "George" in Who's Afraid of Virginia Woolf, directed by Benedict Andrews of the Schaubuhne Theatre in Berlin and in Riflemind, directed by Phillip Seymour Hoffman at the Sydney Theatre Company.

Csokas has a Bachelor of Arts degree in Drama, Acting, from Te Kura Toi Whakaari o Aotearoa, the New Zealand Drama School.