Uncategorized
Immortalized Q&A – Immortalizer Page Nethercutt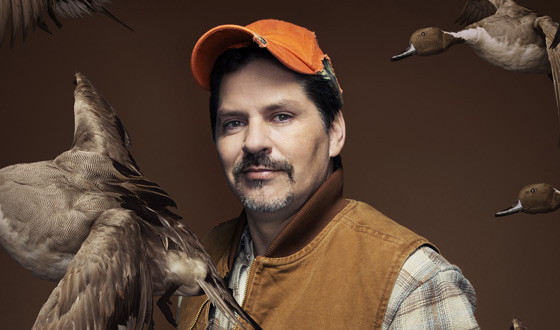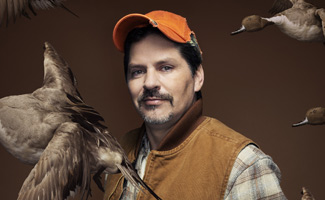 Taxidermy expert and author Rachel Poliquin talks with Page Nethercutt from AMC's Immortalized about the importance of eyeballs and how a taxidermy piece is judged in competition.
Q: You're a second-generation taxidermist. When did you decide to follow in your father's footsteps?
A: When I was in the military, I did taxidermy for myself, and I really liked it. So when my term was up, I came home and sat down with my dad who straightened me out with a lot of technical problems I had with my taxidermy.
Q: Was there a learning curve from doing taxidermy as a hobby to doing it as a business?
A: There is a big learning curve. Anybody can get a book or video, see how it's done, and try to mimic it. The problem is that in a person's mind, they think they've done it correctly, and that the animal looks like it's supposed to look. But what you really need is someone with more knowledge and experience to look at your piece. They'll find the mistakes you've made and they tell you how to correct them. Everybody, starting out, their work looks pretty bad. It takes years of practice and learning to get it right.
Q: Is there any particularly tricky feature — maybe the eyes or mouth — that gives an amateur taxidermist away?
A: If an amateur is struggling with something, it's going to be all of the above. They're going to be making mistakes in every aspect, whether it be setting the eyes or sculpting the ears. Painting is always an issue, and everybody struggles with their finish work. The finish work is what we call repairing areas of bare skin where there is no hair. You can see the shrinkage in the skin as the skin dries. You have to rebuild those areas with an epoxy and make it look like skin again before you can apply your paint. Hair patterns are another problem a lot of people overlook. And amateurs also try to incorporate habitats for their animals: plants, dirt, rocks, or whatever it may be. Everybody always starts out making a monster base that's so big you almost don't see the animal standing there.
Q: When some people think of taxidermy, they think of Norman Bates in Psycho…
A: You know, at the banquet at the World Taxidermy Championships, they have a big screen set up and they show every commercial or movie sequence that talks about taxidermy. They've got Norman Bates working on his crows. They've got the guy from Jaws. There's a couple of commercials… I suspect this year they'll have AMC's Immortalized up there.
Q: Has Hitchcock's movie given taxidermists a bad name? How would you dispel that misconception?
A: To an extent. A lot of people think taxidermy is morbid, for the dark and sinister type, and that we're not right in the head because we play with dead animals. And I experience that with my clients… I tell the guys to bring their wives over to my studio so they can see whole animals on nice bases.
VIDEO: Who is Page Nethercutt?
Q: Taxidermy can be such a delicate art. Is there any particularly difficult animal to work with?
A: The African animals tend to be more difficult because of the way the skins…have to be treated with chemicals over there that are required by the FDA so that they don't bring in any diseases to transfer to the American animals. That extra process makes the skins more difficult to work with.
Q: Talk to me about eyeballs. Are there good eyes and bad eyes? How much do eyes cost?
A: There are different kinds of eyes, and there are different levels of eyes… One of the cheaper pair of deer eyes is probably around five bucks. It's just a real simple dark brown. But then there are other eyes that will cost around $17 for a pair. The eyes that we use are half of a sphere: the inside is concave and painted. There is a guy in Russia that designed an eye that is completely round — completely spherical — and the inside of it is painted with reflective paint so when you shine a light on it, it reflects back at you just like the eyes of a live animal out in front of your headlights. The last pair I bought was $50 for one pair of eyes, but I heard they cost about $75 now.
Q: But I guess it's worth the cost? Eyes must be one of the most important parts of taxidermy.
A: That's just one of the most important parts. In taxidermy competitions, it's the entire animal. You can have a deer with a good set of eyes in it, but if you didn't put your hair pattern back in the right place, and your ears were messed up, and your paint job was bad, it would still be a bad mount. The eyes wouldn't save you. Then again you could have a great deer head with a bad eye job, and it would still be a crappy-looking mount. It's the whole package.
Q: Take me through how the pieces are judged at the competitions. Is there a list of criteria for each part of an animal's anatomy?
A: It is judged based on a score sheet, which has a listing of every possible mistake that you could have made. The judges will go over your piece with a flashlight and magnifying glasses, and they will tear that thing apart trying to find every possible mistake that you could have made. When it is all over, you will get your score sheet and have an interview with the judge who will discuss all the problems that you had and he'll tell you ways in order for you to make corrections.
Q: So taxidermy competitions are actually a learning process?
A: Right. That's what they are designed for: to teach people how to become better in their field.
Click here to see photos of Immortalizer Page Nethercutt in his studio.
Read More