Uncategorized
Immortalized – Q&A With Fashion Designer Cesar Galindo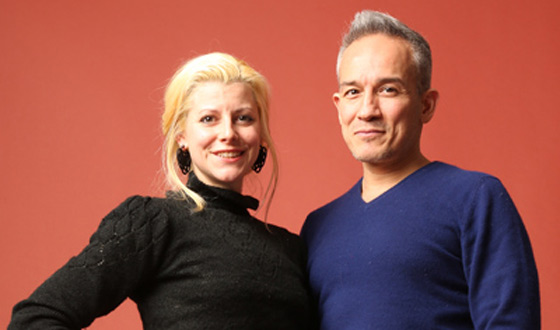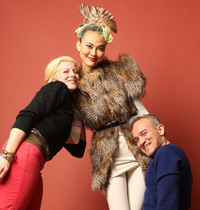 "I think fashion can exist in real life," says celebrated fashion designer Cesar Galindo from his studio in midtown Manhattan, "But it can also create theater and spectacle in its own right. And I don't think we should be afraid of that!" Galindo's upcoming New York Fashion Week showing fully embraces that idea by staging a highly theatrical presentation of his haute couture collection at a NYC pop-up experience this weekend in conjunction with AMC's new original series Immortalized. (Click here for more details.)
Besides the exhibit, Galindo has his own runway show — for CZAR by Cesar Galindo — during New York Fashion Week, which will also feature a special collaboration: Hats created by the taxidermy artist (and Immortalized star) Beth Beverly and made from black and white birds. ("They come from a friend's farm upstate," she explains. "They give me the ones that pass on naturally. I won't work with an animal unless I know exactly where it came from.") We met Galindo during a fashion shoot to discuss his work.
Q: You're no stranger to fashion television. You've already been on Bravo's Ultimate Fashion Show and Sundance's All On the Line. Why pair with another TV network?
A: First, and I mean this honestly, because my meetings with AMC were very different [from other networks.] They approached me as an artist and as a creative partner — as someone they could collaborate with on an artistic project — and to me, that was an excellent sign… And I think Immortalized is such a cool concept, you know, because it's finding beauty in something unusual and sometimes dark, and very dramatic. I think that's very inspiring and also very fun. And the exposure is fantastic…I want to expose my clothes to millions of people!
Q: Beth Beverly, who will be on Immortalized, is here in your studio. Have you given her tips for being on an unscripted show?
A: In terms of fashion, Beth has her own aesthetic and it's very strong — I wouldn't give her tips on that! But as for appearing on television as yourself, you know, sometimes I think I should start a school or a tutoring business for people about to go on TV. I just want to say, "Look, I've been filmed for hours at a time. Let me tell you what you need."
Q: What do you need?
A: Ultimately? Talent and positive energy. Positive energy is key… Of course, that's easy to say until you're on camera, competing, after days of no sleep.
Q: The clothes draping mannequins in the studio right now are really beautiful. Can you tell us a little bit about what you're making?
A: Thank you! I was really inspired by tattoos this season, and I made a long sequined gown that, to me, looks like tattoos on bare skin from far away. It's not literal — it doesn't have anchors or letters embroidered on it; it's not like that — but I think it gives the illusion of ink on skin. So I love that.
VIDEO: Who is Immortalized's Beth Beverly?
Q: How is your catwalk collection different from what will be at the Immortalized pop-up gallery?
A: It's very avant garde; it's very theatrical and over-the-top! It's a great thing to have, because it means I can express this crazy, dramatic, more-is-more side of my work.
Q: Will there be models at the pop-up gallery?
A: No, my clothes will be on mannequins, but there will be animals — taxidermied animals — that will be interacting, in a visual way, you know what I mean? Interacting with the clothes.
Q: So each element will play off each other, the taxidermy and your pieces — and I imagine the music, and the lighting, too.
A: Exactly! It's going to be an experience. When the guests walk into the space and see this show, I want their emotions to be heightened. I want a sense of wonder, and a sense of really, really outrageous beauty. I cannot wait to see people in the gallery, because then the whole art exhibit will come alive.
Immortalized premieres Thu., Feb. 14 10/9c as part of AMC's Real Original Thursdays.
Click here to learn more about AMC's Immortal Love pop-up experience, located at 530 Fifth Avenue, NYC, Fri. Feb. 8 – Sun. Feb. 10 from 12 Noon – 6PM.
Read More