Uncategorized
Immortalized Handbook – Fun Facts About Taxidermy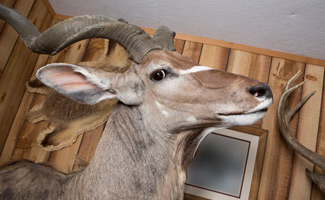 In the Immortalized Handbook, AMCtv.com shares trivia about taxidermy such as the largest animal ever mounted and the age of the oldest living specimen. Immortalized premieres on Thu., Feb. 14 at 10/9c.
The largest mammal ever mounted for a museum is the male African bush elephant, which made its public debut in the rotunda of the Washington, D.C. Smithsonian Museum of Natural History in 1959. The hide alone weighed two tons, and it took the museum's taxidermists 16 months to re-create the animal.
Among the oldest surviving taxidermy specimens is a crocodile that was mounted in 1623 and is still on display in the Natural History Museum of St. Gallen, Switzerland.
Taxidermy became hugely popular in 19th century North America, England and Europe. English Victorians were particularly fond of it, and no stylish house was complete without a taxidermy collection.
One of Paris's most beloved shops is Deyrolle, a taxidermy wonderland founded in 1831 by entomologist Jean-Baptiste Deyrolle. When a 2008 fire destroyed much of the store's stock, its many devotees rallied to help by donating items to replace what was lost. Deyrolle recovered and reopened, and in 2011 moviegoers got a nice look at the shop when Woody Allen used it for a scene in Midnight in Paris.
America's first taxidermy competition took place in 1880, and represented the newly organized American Society of Taxidermists' aim to make taxidermy a proper profession with standards for scientific accuracy, artistry and realism.
Immortalized premieres Thu., Feb. 14 at 10/9c.
Read More