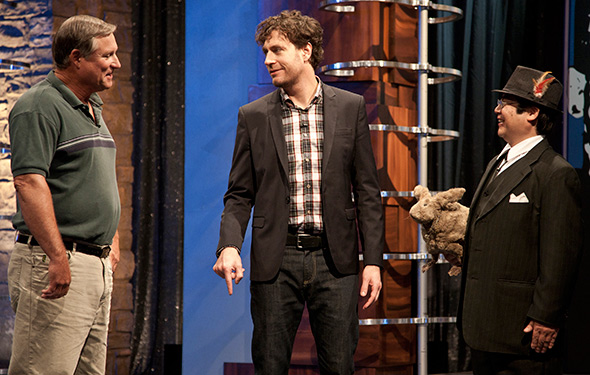 Season 1, Episode 8
Heaven and Hell
Immortalizer Takeshi Yamada faces off against challenger Gary Robbins with the theme "Heaven and Hell."
Show Full Recap
Full Recap
Theme: Heaven and Hell
Immortalizer: Takeshi Yamada
Born in Japan, Yamada collected natural specimens at a young age, transforming his bedroom into a "Cabinet of Curiosities." Currently residing in NYC, Yamada is often seen with his most-prized accessory, Seara. This half-rabbit, half-duck creature with a seal's tail is his ode to Coney Island, whose original Dutch name translates to "Rabbit Island."
Challenger: Gary Robbins
Based in Burbank, CA, Robbins has done both traditional and rogue taxidermy work for the entertainment industry. Some of his biggest projects have been seen in the movies Seabiscuit and Stuart Little, as well as the TV shows Lost and True Blood. He plans to "throw the Hollywood twist" into this competition.
The Competition:
Immortalizer Yamada guarantees he will "blow people's minds away" with his creation, which transforms a goat's body into "something completely different and spectacular." The final creature has six eyes, six horns, scaled legs, and a mermaid's tail – "a real devil in Heaven." All three judges are impressed by Yamada's craftsmanship and attention to detail.
Challenger Robbins takes a more lighthearted approach, avoiding the potentially "gory" subject matter. His interpretation of the theme uses mice to represent humans in Heaven above and Hell below. Doves and a serpent amplify the piece's fantastical element. Judge Brian Posehn appreciates the work's comical details and says, "For theme, it's so on the nose."