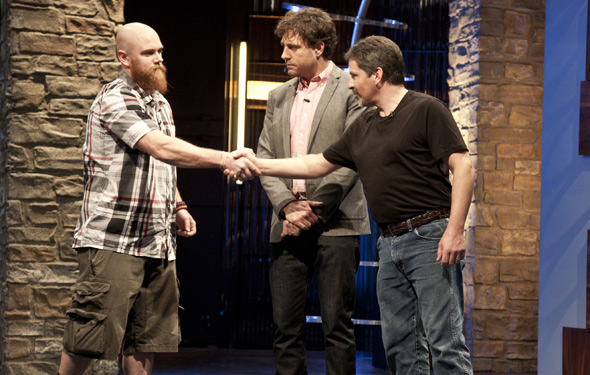 Season 1, Episode 2
End of the World
Immortalizer Page Nethercutt faces off against challenger CJ Fegan with the theme "End of the World."
Show Full Recap
Full Recap
Theme: End of the World
Immortalizer: Page Nethercutt
A second generation taxidermist from North Carolina, Nethercutt runs the full-time studio Moore's Swamp Taxidermy. Although best known for creative waterfowl mounts, he works primarily with African and North American mammals and has been honored with some of the most prestigious awards in his field.
Challenger: CJ Fegan
The Maryland-based challenger is a second-generation taxidermist, having mounted hundreds of animals for his father's business. Fegan's father has a long history of competing with Nethercutt (and being judged by him as well), which makes this particular competition personal for Fegan.
The Competition:
After learning the theme, Immortalizer Page explains, "I'm classical. I try to be like Michelangelo" so his piece focuses on the theme as experienced by the animal world, rather than mankind. With that in mind, his artwork portrays a leaping cat harvesting a quail in mid-flight. "For that one animal, it's the end of the world. For the other one, it's the meaning of life." Viewing Page's piece, Judge Paul Rhymer remarks on the Immortalizer's attention to detail: "Everything about it is elegant."
Challenger CJ take a decidedly less traditional approach by incorporating elements he's never seen in taxidermy. His piece shows a number of animals – a wolf, a fox, and a raccoon among them -- "running for their lives." According to CJ, his piece "Judgment Day" is unified by a simulated fire connecting all elements of the larger artwork. An impressed judge Brian Posehn tells CJ that if taxidermy doesn't work out, he could work in haunted houses.