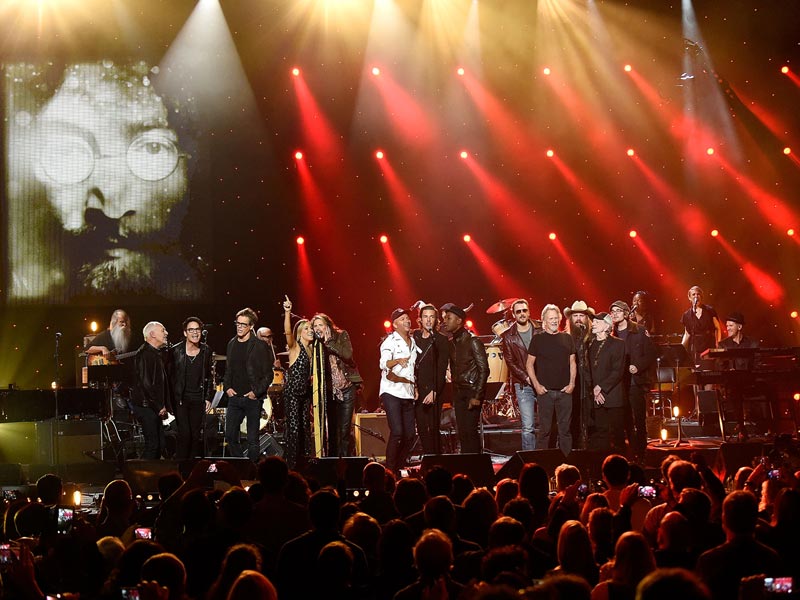 Season 1, Episode 1
Imagine: John Lennon 75th Birthday Concert
Watch Paul McCartney, Ringo Starr, and the rest of this all-star line up honor John Lennon in this once-in-a-lifetime concert for what would've been his 75th birthday.
Show Full Recap
Full Recap
In honor of what would have been John Lennon's 75th birthday, AMC, in partnership with Blackbird Presents, brings you Imagine: John Lennon 75th Birthday Concert, an all-star concert event celebrating the music and message of the legendary music icon.
The evening, hosted by Kevin Bacon, was filled with genre-spanning show-stoppers that brought the crowd to their feet. Moving performances ranged from an electrifying "Come Together" by Steven Tyler to the soulful classic, "Imagine" by country legend, Willie Nelson, as well as the fist pumping anthem, "Power To The People," by incendiary guitar genius, Tom Morello (Rage Against The Machine) with the New York Freedom Choir.  Other performances included CMA's "Best New Artist" winner Chris Stapleton singing "Don't Let Me Down" with Sheryl Crow and The Killers' Brandon Flowers, and a blissful "Happy Xmas" with trio Peter Frampton, Sheryl Crow, and powerhouse singer Aloe Blacc, along with performances by luminaries including John Fogerty, Kris Kristofferson, Eric Church, Spoon and Juanes.
The night was complete with a heartfelt speech by Yoko Ono who professed  "Every song has a story… that mean so much to me" and special video appearances by The Beatles' Paul McCartney and Ringo Starr.
Imagine: John Lennon 75th Birthday Concert is a reminder that "Love is all you need."