Q&A
HUMANS Q&A — Will Tudor (Odi)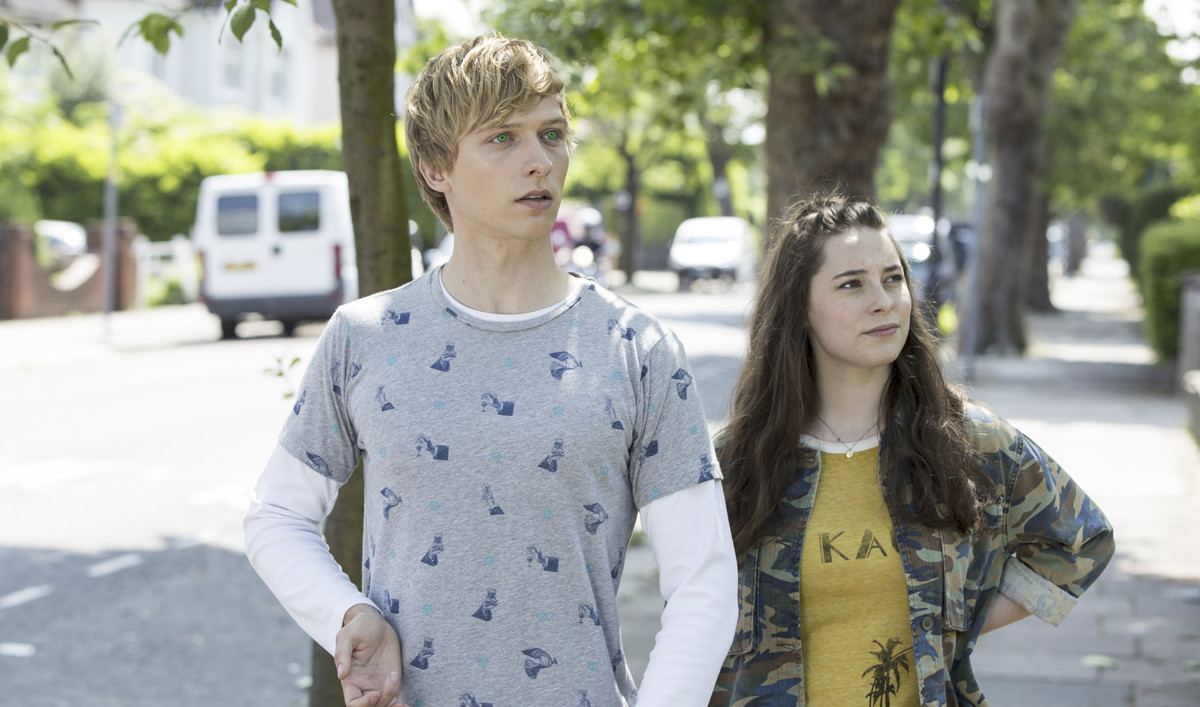 Will Tudor, who plays Odi on AMC's HUMANS, discusses why his character is so overwhelmed by consciousness, how Odi feels about Mattie, and why he almost instinctively comes to the Hawkins family's rescue.
Q: Based on where Odi's story ended last year, did you expect to come back for Season 2, or was it a bit of a surprise?
A: There were a few different ideas being touted for what would happen to Odi in [Season] 2. I think I always knew that it was in the cards, but I didn't quite know in what capacity that would be. When I found out that the very first time we see him, it's as scrap, I thought it was a beautiful way to do it – to have this Synth who's viewed as worthless was a very moving moment, especially when we've created a love for the character throughout the series. To see him in a place where he's treated like an an object is quite powerful.
Q: How did you and movement director Dan O'Neill develop your performance around Odi's permanent injuries?
A: I came in wanting to develop where we left him because after he was left in the woods for such a long time, we played with his body becoming more and more twisted and stiff. That's where we see him starting in this [season]. We figured the consciousness code allows him to free that up slightly, so we see a development in that way as well. His stiffness eases up as the series goes along. It was great fun to work with such detail on the movement. Dan is so extraordinary and it was so great having someone there to nitpick those tiny things, movement wise, because it could be such monumental task, but he made it so enjoyable and creative.
Q: Last season, you spent almost all of your time on one set with only a couple actors. How was it for you to branch out and work with the Hawkins family this year?
A: I remember thinking it would be very different because my experience last year was quite isolated. When I knew I was going to be in the Hawkins house, I already felt like I knew the actors very well. I was very excited because I love the Hawkins storyline and to work with Lucy [Carless] was wonderful. She's such a warmhearted person and we had a lot of fun filming. It couldn't have been better. It was such a nice transition. I had a blast.
Q: Why do you think Odi seems particularly overwhelmed by his consciousness? Does being a first generation model present him with other limitations?
A: Presumably, the consciousness code was designed to work on a Synth that is fully functioning, so we had to ask how it would affect an old version – the Windows 98 sort of model [Laughs]. When you upgrade your iPhone and the hardware is too slow to run the new software, what kind of things happen? It was also this idea of the childlike way of viewing the world if you were to simplify experience and reduce it to the smallest element of what that's like. He's looking at things in a very simple way and that's how I imagine the computer would be able to process it. It was just a joy to explore that stuff… It definitely made me look at the world very differently.
Q: Odi was a service/companion model. Do you think he struggles with the notion of having to care for himself now rather than others?
A: If your purpose is to do one thing and you're denied that, then what does that mean for your own sense of identity? It's his search for reason, and it's kind of the search for the meaning of life. This is why I love this character, because he's asking the big questions. He's asking all the questions we all ask and that's why this show is so great. In a roundabout way, it deals with the biggest questions, the most philosophical questions we ask ourselves every day, and presents it to us in this beautiful package. I love that about Odi. It was a real philosophical experience for me, and it was really eye-opening.
Q: In Episode 4, Odi tells Mattie that he felt nothing at the time of George's death, but feels something now. How did you approach portraying a character very suddenly experiencing every emotion they've ever had, but with few means to express that emotion?
A: If you watch a tiny baby experience things – their first peekaboo or if their parents roll a ball and it goes underneath the sofa – it's the surprise that they express. That's how they experience emotions. They wouldn't know how to process it — they just know they feel this thing. To have those overwhelming experiences and not be able to express it is something he really struggles with because he has no filter for it. He understands that this grief comes from the fact that George is no longer there. There's this intense loneliness and he's latching onto anything he can in order to try to relieve that. I think that's the kind of primitive thing that came out of it. Something we kept coming back to is that a Synth with consciousness is not human. It's potted humanity and an expression of humanity in its most basic form. Odi sees the world in a very literal sense. He goes to George's house with hope that he's there because he can't really process the fact that the place can exist without the person. Going to the place opens his eyes to the fact that it's a very different world.
Q: How does Odi feel about Mattie? 
A: That was the most complex thing we had to deal with and talk about. In his conscious state, Mattie is all he knows. He certainly believes at the beginning that she's his new owner and his experience with humans is someone who will love him unconditionally and stay there forever. The experience of going, "This person has their own life. They're not there for me" is very difficult for him. I think the most human part of his experience in the entire series is his relationship with Mattie because it's not simple. It's not black or white, and that's one of the first thing he realizes. He cares for her and is grateful for the consciousness because I think he feels like he should be grateful, but there's definitely the thing of, "You did this to me. I was happier before." It's like they say about the human condition – it's a gift and a curse. I think the predominant view of her is very positive because it kind of has to be. If it's not, then he's all alone and he has nothing at all. She's the only anchor he has.
Q: At the end of Episode 4, Odi immediately springs into action and de-activates the rogue Synth. Why does he almost automatically move to protect the Hawkins family?
A: This Synth coming into this person's home mirrors awfully closely the Synth coming into George's home and then him ending up dead. Automatically, there's this sense of everything that's built up in him – the anger that he doesn't know how to express, the grief, the sadness – that's the expression of it. In his mind, it's as similar of a situation as you're going to get, and it's him going, "This time, I'm going to make a difference." He's aware that last time it happened, he couldn't do anything. The way he was programmed, and the fact that he was so broken, meant that he couldn't do anything. For the first time, he can. That was the driving force for that. It was a way to go, "Not this time."
Q: Odi is really a fan-favorite character. Why do you think the audience connects with him so easily? 
A: I think the way he looks at the world is in such a pure, innocent way, and I think there's something so endearing about that. He embodies the human condition completely. Everything he's experiencing are the kinds of things we all experience, but we don't allow ourselves to process it. Through his actions, he asks the biggest questions, and I think people really respond to a being that is really trying to make sense of things. He's a fighter despite his restrictions. He doesn't want to settle and I think that's a beautiful thing. He's like a dog – like that loyal dog whose relationships are so pure. There's nothing cynical about him. All he wants to do is care and be cared for. That's a noble thing, and I think it takes away the bad parts of humanity and leaves the good parts… It's a lovely thing and a lovely thing to play, as well.

Read a Q&A with Sam Palladio, who plays Ed.
HUMANS airs Mondays at 10/9c. For the latest information and exclusives sign up for the Insiders Club.
Read More