Video
How HUMANS Turns a Computer Screen Into a Compelling Character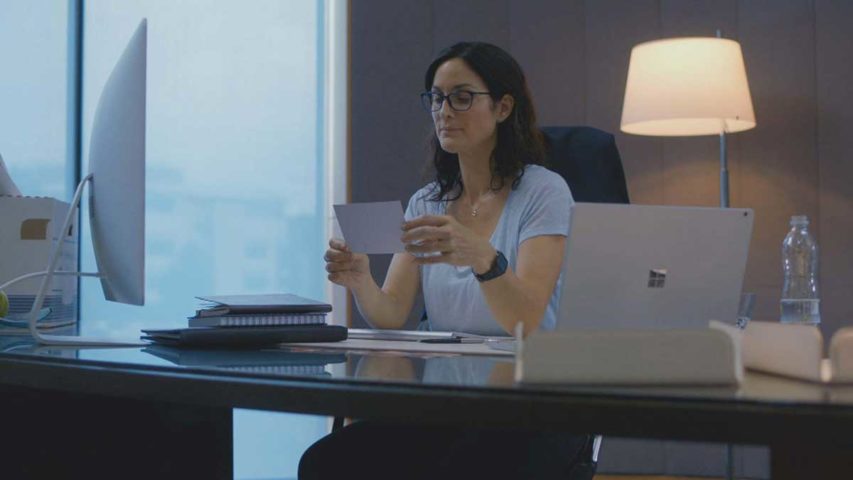 In Episode 3 of HUMANS, Athena and V's secret is revealed. After a tragic accident put her daughter in a coma, Athena transferred her consciousness into a computer in order to keep her memory alive. "The girl we've seen in the flashback dream from Athena, Virginia, is actually V, the computer-generated version of her daughter," producer Chris Fry says in this behind-the-scenes look at the episode.
This poses some challenges for actress Carrie-Anne Moss. "It's challenging to have these big heavy moments with an iPad. I'm the kind of actor that likes to work off other actors, but the character feels pretty rich," Moss says.
Go Inside Episode 3 With the Cast and Creators
Co-creator Sam Vincent says it was difficult to create a character that had very limited ways to express emotion. "She only expresses herself by computer-generated images that she chooses to display on the screen…  to illustrate what she's thinking and feeling inside the computer," explains Vincent. "It's fascinating that you can — with that element, and the voice, and the connection she has with Athena — you can actually create a very compelling character without ever seeing a human face."
Additionally, the cast and creators go inside Mia's intense new feelings for Ed. "Mia and Ed's relationship is interesting because they both have a need for a connection and they find something in each other," Gemma Chan says. Adds director Lewis Arnold: "The relationship she has with Ed is very much like teenage love. It's her first love."
Much like a rebellious teenager, Mia decides to pursue Ed, even if it means breaking with the rest of her family when Leo, Max and Hester decide they need to escape the potential threat of capture. "I think she's had this choice presented to her before and she's always gone with Leo and Max," Fry says. "But right now, she wants to try it with Ed… She wants to experience what life could be like, to love a human being."
Click here to watch the full video and learn more about the growing bonds of love between humans and machines.
Watch the latest episode now on Xbox One, Apple TV, Roku, AMC mobile apps and amc.com.
HUMANS airs Mondays at 10/9c on AMC. For the latest information and exclusives sign up for the Insiders Club.
Read More