Q&A
Humans Q&A — Gemma Chan (Mia)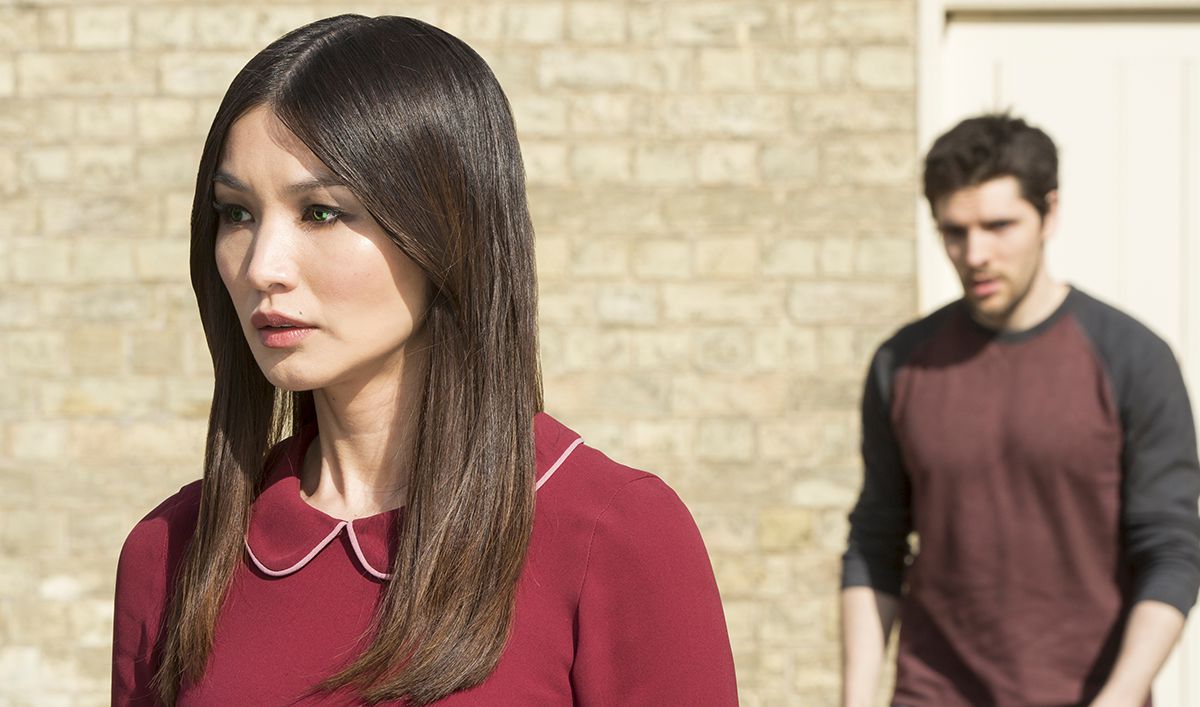 Gemma Chan, who plays Mia on HUMANS, discusses how Mia is finally discovering who she is, how her feelings for Ed cloud her judgment, and why Mia and Leo don't always see eye-to-eye.
Q: Was it difficult to back into the swing of acting like a Synth after the hiatus between seasons?
A: I was actually rustier than I thought I would be. We did Synth school again, like a refresher course, before we started shooting Season 2 and Dan [O'Neill], our choreographer, could see that I had a lot of work to do this time around. [Laughs] I clearly didn't retain much of it. It's always nice getting back to a character, and it was really nice to re-familiarize myself with Mia. Last season, I was playing Anita with the Mia character underneath, and this time, I'm playing Mia as a conscious Synth that's using the guise of Anita. She's pretending to be an unconscious Synth and her performance is not perfect, so it was about finding ways to show that. It wasn't quite the same as Season 1, but it was a different challenge, and I really enjoyed it.
Q: What was your first thought when you found out Mia was getting a love interest this season? What is it like for her to experience such strong and strange feelings for the first time?
A: I think Mia, up until this point, had lived a quite sheltered existence. She was created for a specific purpose – to care for Leo – and she ended up with the Hawkins family against her will. Now in Season 2, it's the first time that she really has a chance to start to discover who she is and what her place in the world might be. Her level of interaction with humans has been limited, so it was interesting for me because she's living quite isolated and she's getting to know this person Ed. There's definitely a connection between the two of them. There's a level of naivety to Mia in that she's never had feelings for anyone before – Synth or human – of any kind of romantic nature. It's all very, very new to her.
Q: What was it like working with Sam Palladio? 
A: Sam is amazing and I was really excited when he was cast. I've watched him in Nashville, and I guess some viewers might be surprised to learn he's actually British. He's not from Texas. [Laughs] It was great getting to work with him.
Q: How would you describe Ed and Mia's relationship as the season begins?
A: They're running this café together, and he doesn't know her true nature. I think he probably shows sides of himself in front of her that he wouldn't if she were a human. He doesn't know that she's conscious, so she gets to see a vulnerability to him. At the end of the day, when he says goodbye to the last customer, she sees the weight that he carries. His mom is ill, and he's trying to support her, trying to run a business, and he's always trying to help his friends. She sees that in him and I think she definitely identifies with that caring side of him because that's what she has in her. She feels that he's kind and is a good person. There's some sort of chemistry going on between them, and I think they both enjoy their interactions during the day.
Q: Leo and Max are very driven to help find other awakened Synths. Why do you think Mia isn't as interested in joining their cause?
A: I think there are two things going on. The reason she is having to work is that she is supporting Leo and Max. They do need supplies and food for Leo, and she rather'd that they didn't have to steal. She would rather earn money, even though it's not that much. And then she admits to Leo that she does crave contact with humans. There's something about it that she needs. She's obviously intrigued by Ed. I think she wants [Mia, Max and Leo] to have a life. This is the first time she's ever had to build any kind of life, and she would like them to have that. It's not that she doesn't care about the plight of conscious Synths, but I think she worries about how effective they can be and she worries about Leo putting them all in danger again. She very much just wants her family to be safe and to be able to live.
Q: Leo is opposed to Mia hanging around Ed. Does Mia understand his reservations? Why is she compelled to continue on, despite them?
A: I think it's a calculated risk that she takes. She obviously feels that she can maintain the façade of the Anita persona. Whether or not that's completely true or whether she's trying to convince herself that it's what she can do is the question to debate… She starts to care for Ed and that desire to help him and protect him does cloud her judgement…. She feels she's not putting them in as much danger as Leo is in terms of seeking out the conscious Synths. She feels he's definitely going to come into conflict with people that would seek to destroy, capture or cause harm to them, whereas she doesn't feel she's doing that.
Q: Ed does find out about Mia, and in the fallout, Mia reveals her consciousness when she burns her hand. What is going through her head in that moment?
A: I think she's in shock. I don't think she anticipated what his reaction might be. She's been familiar with the idea of there being conscious Synths in the world because that's the family she was born into. But for someone like Ed who hasn't had much contact with Synths, I think she's surprised by how strong and how visceral a reaction he had to seeing her true nature. I think she's really very shocked and upset by that because, in her mind, they had developed a level of trust in the relationship, and I don't think she's prepared at all when he tells her to leave. She sees his fear of her.
Q: Mia also seeks that human connection with Ed's mother who has dementia. What do you make of Mia's comment that she knows how Ed's mother feels?
A: I found those scenes very powerful to read and to act. Anastasia [Hille]'s, who plays Ed's mom, performance is really incredibly moving. I think Mia sees in her a person who is lost within herself, and that is what happened to Mia. She was lost within Anita. She was very deep within and could only emerge at certain times. She sees the confusion and fear in Diane, and she really sympathizes. I think that's also part of the reason, along with her emerging feelings for Ed, that compels her to act and do things that aren't very sensible. She can't help but feel an incredible amount of empathy for her.
Q: After two seasons, how has the show impacted your personal feelings about technology?
A: The area of A.I. and technology is such a rapidly changing area, in some ways, it's hard to keep up with everything that's going on. It feels like the show is still incredibly relevant. In terms of my personal feelings towards technology, I wouldn't say it's changed a great deal. I still have a love-hate relationship with it, and I still think a lot of the issues and ideas from Season 1 are still very relevant. Now that we're going into Season 2, our reliance on technology and the impact of that on our personal relationships feels very relevant.
Q: What was it like filming in the beautiful, but isolated, Margate? Was it a nice change of pace, or did you miss filming in London?
A: I loved it! It slightly felt like we were shooting our own little show out there because there were so few cast members. It felt quite special, like we were at the end of the world with this café on the coast and it being so quiet. It was very beautiful and we filmed there in the summer, which was nice. I think in the winter, it's a much bleaker place. It was nice for us actors, as well. At lunchtime when we had a break, we could go for walks on the beach or have ice cream. It was pretty nice to get out of London.
Read a Q&A with Emily Berrington, who plays Niska.
HUMANS airs Mondays at 10/9c. For the latest information and exclusives sign up for the Insiders Club.
Read More