Press
Critics Are Raving About HUMANS Season 2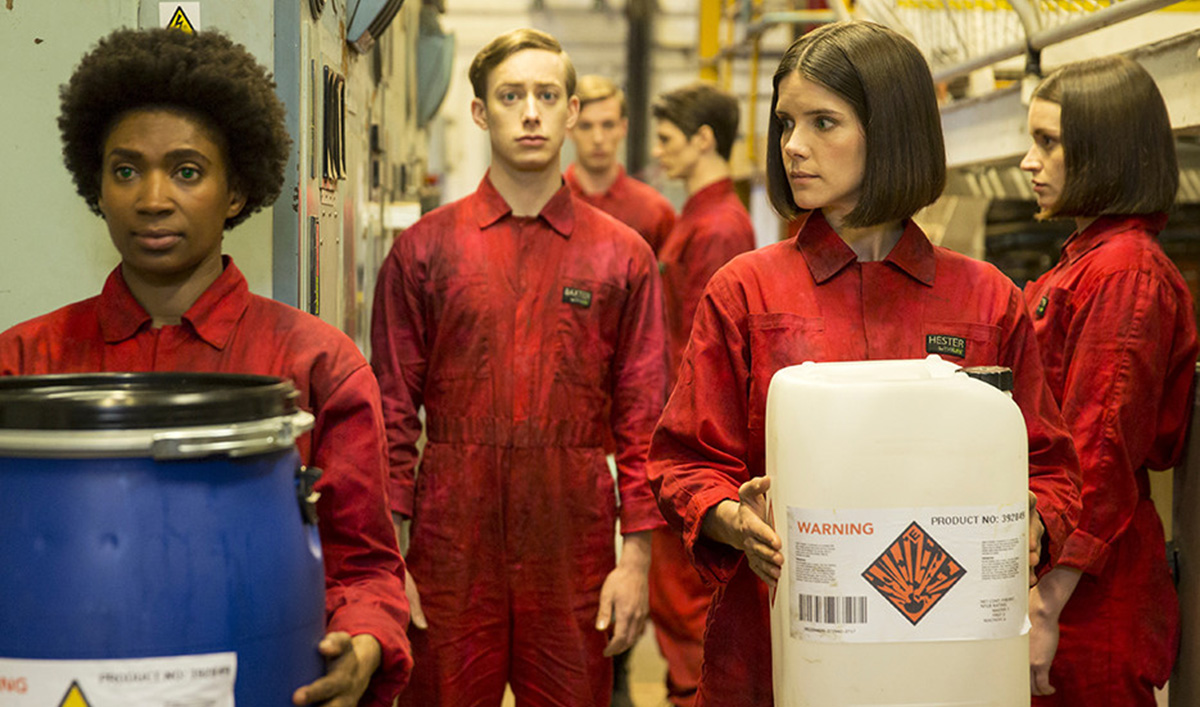 The reviews are in and Season 2 of HUMANS is being met with glowing praise, with Vulture calling it "compelling" and "emotionally resonant" and TV Guide describing it as "utterly absorbing." Plus, Entertainment Weekly gets the scoop on Athena Morrow from Carrie-Anne Moss. Read on for more:
• "HUMANS is the most compelling, emotionally resonant robot-centric show on television," applauds Vulture.
• TV Guide Magazine considers HUMANS to be "utterly absorbing."
• The New York Times says HUMANS "draws its alternative world more broadly and humanely" than other A.I. television series, noting that the show's "more pedestrian nature  — domestic drama merged with a sci-fi thriller — also makes it more emotionally effective."
• The Hollywood Reporter says Season 2 is "even more thoughtful and dramatically creative" than before and notes that the series is "primed for a larger audience as it improves on its already impressively complex and nuanced story."
• Vox hails Season 2, which "builds terrifically to its second half, where revelation after revelation culminates in a finale that feels massive without resorting to big explosions or any of the usual tricks."
• TVGuide.com calls HUMANS the "robot show you should be watching," adding that the series "excels at taking the stories of these individual characters and making them feel universal and, in some ways, inevitable."
• The Season 2 premiere wins kudos from A.V. Club, which says, "Loath as I am to keep calling HUMANS promising, the premiere is just setting up the dominoes. So far the design is beautiful."
• IGN declares that HUMANS is "back with a busy, satisfying second season that solidly builds on the world created back in Season 1 and expands it outward and upward in believable and mostly-grounded ways."
• Collider.com labels HUMANS "AMC's exceptional sci-fi drama" and awards the show a four-star "Excellent" rating.
• "What makes HUMANS work is that attention and care has been paid to each of these characters and their lives. The show takes its time, expanding both on the experiences of the characters and the world so compellingly built in the show's first season," cheers We Got This Covered.
• Discussing Athena Morrow, Carrie-Anne Moss tells Entertainment Weekly, "I loved the parts of her where you really feel her humanity, and you get to understand her journey and the pain that she carries and why she does what she does."
• Speaking with Vanity Fair, Letitia Wright shares the advice she got from the Synth school choreographer: "He would be like, Letitia, you have to break it down a bit. If you do it that well, they're not going to understand that you're a synthy."
• Channel Guide Magazine interviews Carrie-Anne Moss, who says of HUMANS, "The writers' ability to tell a story so complex and expanded in its ideas, while at the same time creating rich, layered characters, is an actor's dream."
• Teasing the new season to Assignment X, Sam Vincent reveals, "With Season 2, the story really expands. It becomes a lot more global, it becomes bigger, the stakes increase."
• Talking about her approach to her character, Sonya Cassidy tells Paste, "I basically treated Hester like a damaged child in that, when she awakens, she has no idea what's going on, but she's acutely aware of the danger she's in."
Watch the Season Premiere with no login required on Apple TV, Roku, Xbox, AMC Mobile Apps and amc.com.
To stay up-to-date on all the latest news about HUMANS, sign up for the show's Insiders Club.
Read More