Q&A
Q&A – Colin Morgan (Leo Elster)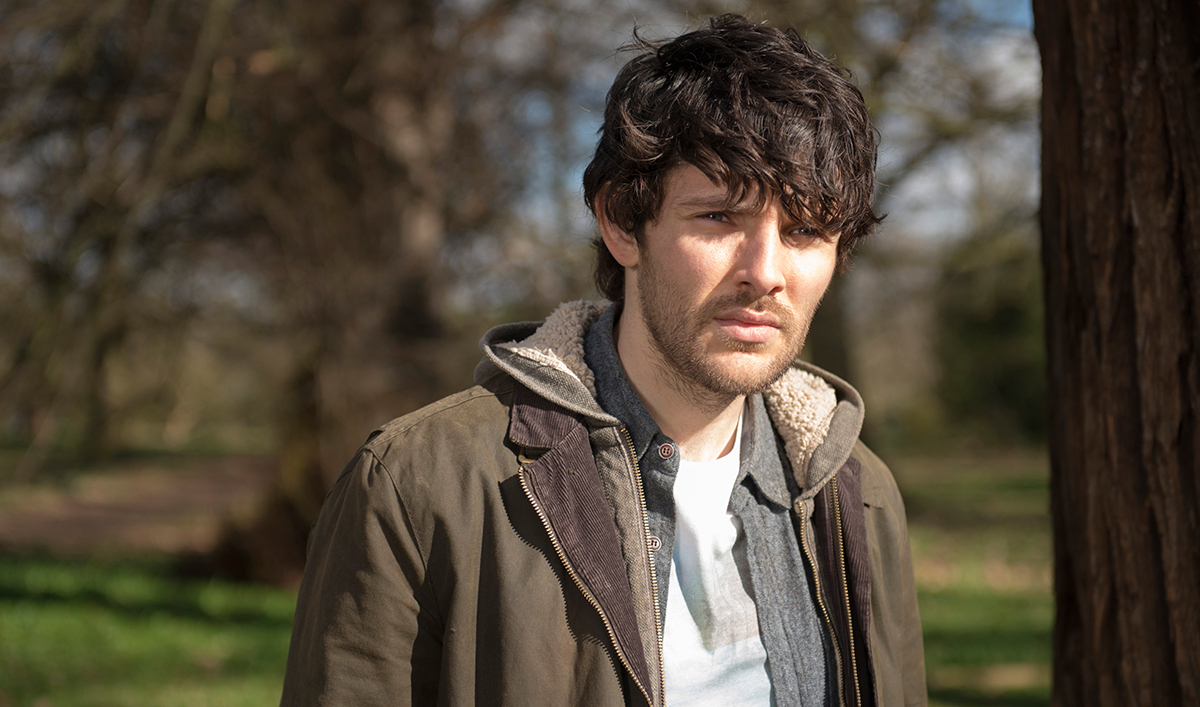 Colin Morgan, who plays Leo Elster on AMC's HUMANS, talks about the fine line between humans and technology, going from Merlin to cyborg, and what it would be like to never forget.
Q: What drew you to the role of Leo?
A: First and foremost, anything that draws me into a script is the story itself. As an audience member, does it draw me in? Is it exciting, different? Next comes the character you're up for. Leo seemed like an intriguing, challenging and unusual character. It was all territory I hadn't explored before, and anything that pushes you in new directions is an exciting thing for an actor.
Q: What were some of the challenges of getting inside the mind of someone who's part human and part machine?
A: It's very complicated. Much of the stuff that Leo is going through isn't for positive reasons; it's purely survival. Having a father who's so obsessed with his work that the few interactions he has with his son were in relation to his technology. It's a hard thing for Leo to reconcile that he got love and attention from his dad, not really for himself, but for the technology his father created. It's a complex kind of thing. Leo is the personification of the relationship between humans and technology in the world. And it's pretty lonely; as far as he knows, there's no one else in the world that's like him, or who can understand him.
Q: Leo seems wary of the Hawkins family, despite Laura and Mattie's efforts to help him and his family. Is Leo threatened by the idea of human connection?
A: He's nervous around humans because any interaction he's had with humans has been negative. He's been failed by both his mother and his father. His mother was ill and unable to look after him, and his dad was involved in his technology, so he received very little attention from them. I think a big part of Leo has been really adamant about making his family on his terms. It's a bit difficult to see a human family develop this relationship with Mia – who, as far as Leo is concerned, is like his mother figure. He has a very strong belief system that he's trying to hold on to, but it's becoming increasingly hard as he sees his family gain their own independence and discover what it means to be human. I think for a long time he tried to protect them from that, but now they're starting to see the world as it is, and they want to be a part of it. Slowly, his family isn't becoming his anymore, and I think he's afraid that he'll be left all alone.
Q: What kind of family does Leo want to create?
A: They were all created to be there for him. Any need he had, he's used to that being done for him. Mia was his mother, Fred was his protector, Niska was his teacher and Max was his best friend. They were always there. As an adult, when suddenly all his family is doing things for other people and themselves, and not for him anymore, it's a hard thing for him to understand.
Q: In the latest episode, it is revealed that Leo's brain is part Synthetic and he can't forget anything. What do you think it would be like to never forget?
A: I think it would be quite torturous really, because as humans, we have mechanisms within our brain to protect ourselves from trauma. The body is so clever in protecting us. To know that you have such a severe trauma in your head, as Leo does, and it's constantly there and you can never forget it, is such a terrifying thought. You can only move on in life if you put things behind you, and if you can't, that would be terrifying.
Q: Fans will likely recognize you as the titular young wizard from BBC's incredibly popular Merlin. What do you think draws people to fantasy and sci fi genres in droves?
A: I think it comes down to an element of escapism. People finish a long day in the office or at work and they don't want to watch something that resembles that. There's something attractive about experiencing something so different from the day to day. It makes you believe in something a little bit magical. It brings a certain spark to the world again. They also have really great communities online and in person where you can talk about shows in a good and warm space.
Q: If Synths were real, would you get one?
A: I don't think I would. I'm pretty independent. I'm not a big fan of people doing things for me and I think I'd feel uncomfortable losing that aspect of myself. Simple things in life that you do for yourself make you who you are, and the further we get away from doing those things, the further you get from who you are and where you come from. I'm from Northern Ireland and I don't think many people from Northern Ireland would be ordering Synths. I like the simplicity of life. You don't need anything complicated. In Ireland, you just need a pub and a few people.
HUMANS airs Sundays at 9/8c.
To stay up to date with all of the latest HUMANS news, sign up for the HUMANS Insiders Club.
Read More