Q&A
Q&A – Lucy Carless (Mattie Hawkins)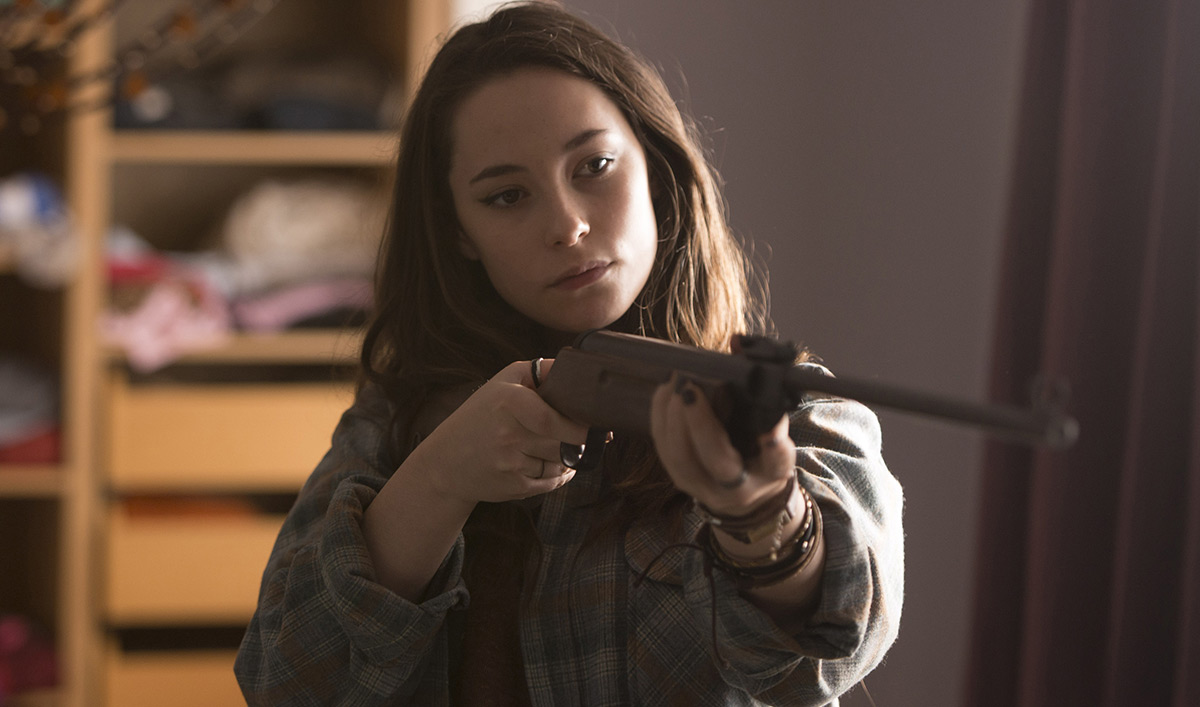 Lucy Carless, who plays Mattie Hawkins on AMC'S HUMANS, talks about Mattie's fascination with Synths and navigating an uncertain future with technology.
Q: Mattie starts the show very anti-Synth, and yet she spends so much time studying them and on headcrack.net. What is her real attitude towards them?
A: She's really opposed to them at the start, but she's fascinated with them. She's interested in tampering with them, sort of because she wants to gain control of the Synths. But when she gets a Synth in her own home, Anita doesn't really let her. So she wants to get inside Anita's head.
Q: Do you share any of Mattie's attitudes towards technology?
A: I'd be just as fascinated in technology as she is, but I wouldn't have the knowledge to investigate them like she does. I'm also a lot less fearless than she is. Mattie's very much into math and science and IT, and I was never great at those subjects. I think I would be equally fascinated without being able to do anything about it.
Q: Would you get a Synth, if they were real?
A: Probably not. But then again, I was like, "Oh, I'm never going to get an iPhone," and now I use it every day. It's difficult. I can't go without internet or Google. But I think the facts that the Synths look like humans is what brings up the ethical questions for me – especially because they're doing the jobs of slaves and servants were doing in the past. Obviously, my laptop doesn't look like it has feelings, so you don't feel a kind of empathy towards it. I just can't imagine a world where human-looking robots are the norm, but it definitely could happen.
Q: Mattie definitely marches to the beat of her own drum. Where does that come from?
A: I think she'd never want to admit it, but she's definitely her mother's daughter. I think Laura has this sort of power and stubbornness that Mattie has as well. And they share a similar compassion. I think it's also because of Laura that Mattie's developed a cold exterior. She's very resentful of her mom being away all the time, and that's led her to feel useless and unwanted, which turned her into this saucy rebel. But underneath it all she's just wants to connect to someone.
Q: Where do you see Mattie in ten years?
A: I think I would see her as some kind of Synth vet. In ten years time, people will become really attached to their Synths and they won't want them to be recycled. So they bring them to Mattie and she fixes them? [Laughs] Or not. I just want her to be doing something she enjoys. And still friends with Harun. I think he keeps her really grounded and happy.
Q: Mattie's concerns about Synths taking over her future prospects are valid and are happening now all over the world. What advice would you give to someone like Mattie who is trying to cope with finding their place in an uncertain future?
A: I think if you really love something and you're truly passionate about something, you should continue doing it and become really, really good at it. It is so uncertain at the moment. You don't know what jobs are going to be required in the future, but if you love something you should keep doing it. If you love the tech jobs that the Synths can do, prove you can do it better.
HUMANS airs Sundays at 9/8c.
To stay up to date with all of the latest HUMANS news, sign up for the HUMANS Insiders Club.
Read More