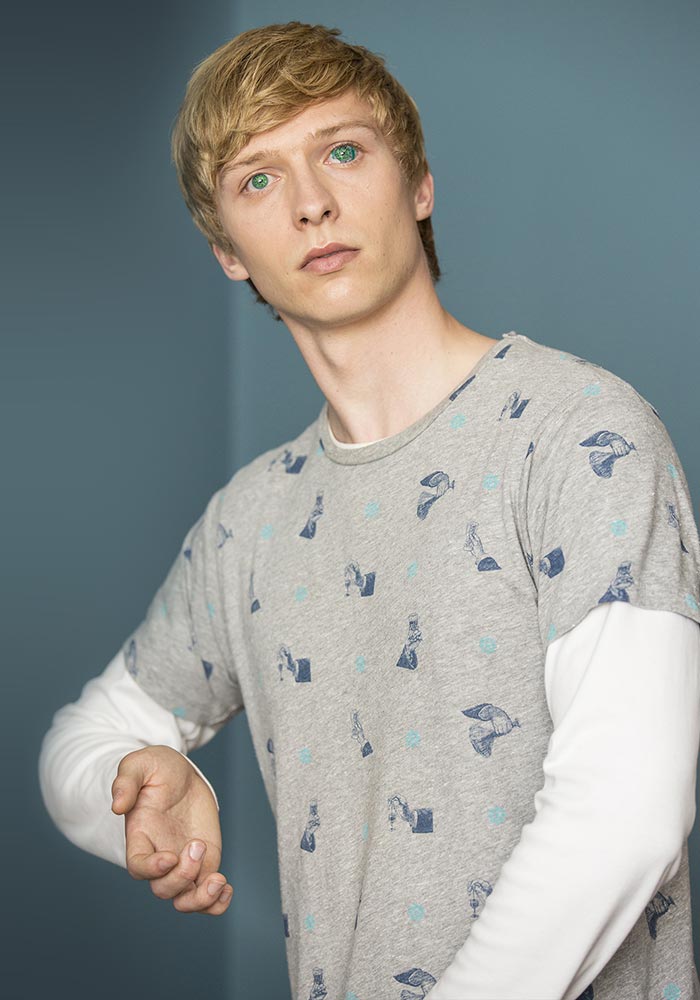 Odi was Dr. George Millican's decrepit, malfunctioning, outdated home-help Synth. Never conscious, he nevertheless provided George with companionship and care, as well as a treasure trove of memories — and was faithfully at George's side when he died. The last we saw, the police sent the hopelessly obsolete Synthetic to be recycled.

Raised in Stratford-Upon-Avon and schooled in Shrewsbury, Will Tudor moved to London to train at the Central School of Speech at the age of 21, having completed a degree in English literature from the University of Leicester.  In his final year of training at Central, Tudor played the role of Duncan in the BBC Radio 4 drama Single but Living Together.  Upon graduating, he gained a role in the BBC adaptation of Great Expectations, alongside Douglas Booth, Gillian Anderson, and David Suchet.

The following year he was cast in the role of Olyvar in Game of Thrones, a role that has recurred in the last two seasons and is currently appearing in the fifth season.  His next role was in the independent film Bonobo starring Tessa Peake Jones and James Norton, which was nominated for Best UK feature at the Raindance Film Festival.  In 2013, Tudor was cast in his first series lead as Jack Moorhouse in the BBC One drama In the Club, written by Kay Mellor and starring Katherine Parkinson and Hermione Norris.  In 2014, he landed the leading role of Joseph in Sony Pictures' miniseries The Red Tent, opposite Minnie Driver, Iain Glenn, and Debra Winger.  This biblical tale tells the story of the twelve tribes of Israel, told through the eyes of Joseph's sister, Dinah.

Tudor was recently seen playing the role of Frank Whitely in the fourth season of Mr. Selfridge, ITV's drama series directed by critically acclaimed Andrew Davies.  Tudor also takes on the role of Tristan in Tomorrow, a drama directed by Martha Pinson which follows the struggle and loneliness of Tesla, a returned solider suffering the effects of personal trauma from the war in Afghanistan.