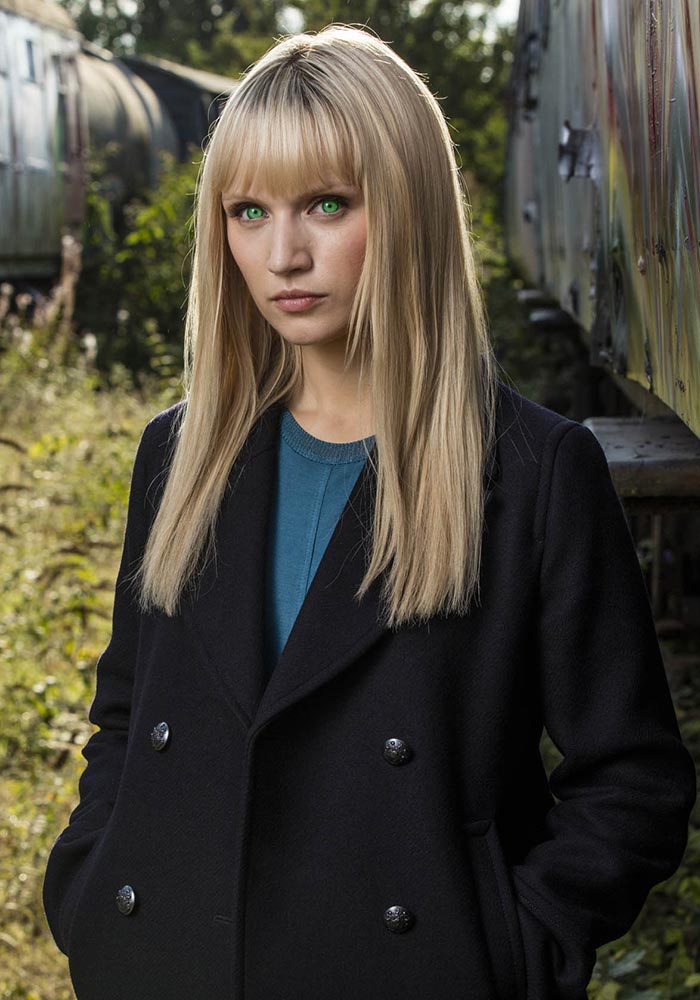 Volatile Niska had come to distrust and hate humans. This culminated in her murder of an abusive client at the Synth brothel where she was forced to work. But through George Millican and the Hawkins family, she saw another side to humanity and was forced to adopt a more subtle view: Perhaps humans weren't invariably worthless. Now in possession of an extraordinary secret, and no less dangerous than she ever was, she has to decide what to do with her world-changing power.

Emily Berrington graduated from Kings College London and, before realizing her passion to act, pursued a career in politics working at the House of Commons for Labour Party MP Siobhan McDonagh.  Berrington then went on to train at Guildhall School of Music and Drama.  During her studies, she secured a part in the Almeida Theatre's production of Children's Children and Michael Winterbottom's The Look of Love.

In 2013, Berrington made her television debut in the popular BBC miniseries The White Queen alongside Rebecca Ferguson, Anuerin Barnard, Max Irons, and Eleanor Tomlinson.  Berrington was next seen in the final season of BBC Comedy Outnumbered alongside Hugh Dennis and Claire Skinner.  In 2014, Berrington starred in the hit TV series 24: Live Another Day alongside Kiefer Sutherland.  Following this, Berrington appeared in the three-part American period drama Sons of Liberty, set in Boston before the War of Independence, alongside Rafe Spall.  In the same year, Berrington appeared in The Inbetweeners 2 as Will's (Simon Bird) new love interest.  Berrington has completed filming The Hippopotamus, a film adaptation of Stephen Fry's novel, with direction from John Jencks.  Berrington will star alongside Roger Allam, Russell Tovey, Matthew Modine, Tim McInnerny, Geraldine Somerville and Fiona Shaw.  Berrington has also joined the cast of Terry Johnson's comedy Dead Funny at the Vaudeville Theatre in London, starring alongside Katherine Parkinson, Steve Pemberton, Ralf Little, and Rufus Jones.

Before graduating in 2012, Berrington landed her first professional acting role in the play Children's Children at the Almeida Theatre and also a part in the British biopic, The Look of Love, starring Steve Coogan.