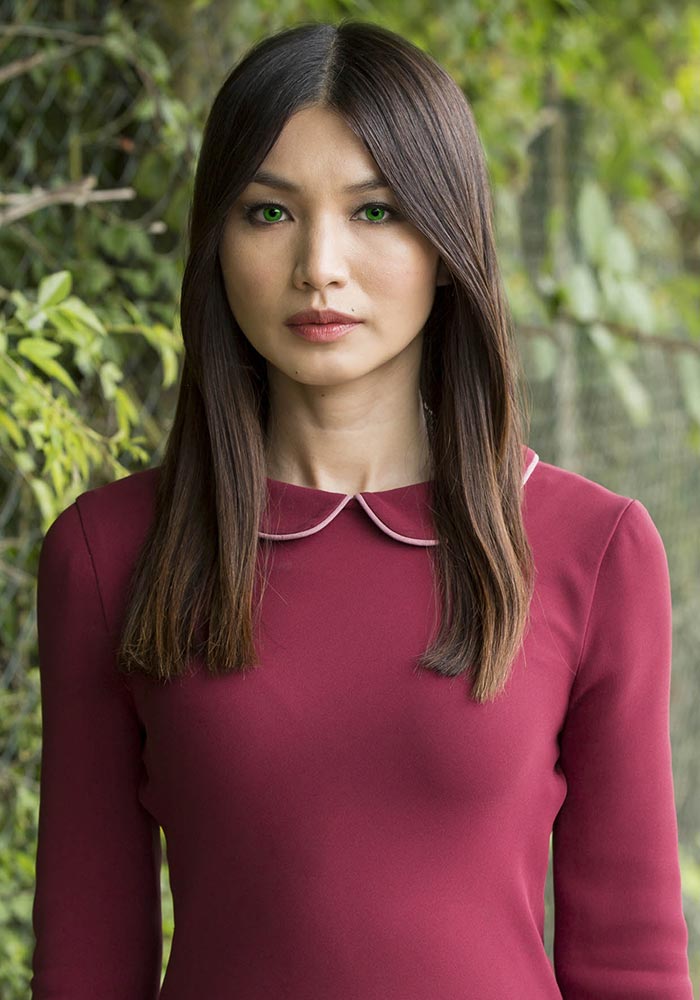 Mia, the first conscious Synth, finally broke free of her "Anita" programming via her intense experiences with the Hawkins family, whom she came to care for deeply. Narrowly escaping with her life as the authorities closed in, she is now determined to explore more of that burgeoning identity, to find her true self and the limits of her emotions and consciousness – even if that means putting herself at risk.

Born in London, British actress Gemma Chan has fast established herself as one of the industry's rising stars. After graduating with a law degree from Oxford University, Chan was offered a job with a leading law firm but turned it down in order to train at the prestigious Drama Centre London. Since graduating from Drama Centre, Chan has demonstrated her versatility in a career that has included roles in both drama and comedy for television, film and theatre.

Chan has shown her range in television dramas such as Sherlock (BAFTA Best Drama Series winner) alongside Benedict Cumberbatch and Martin Freeman and with standout turns in comedies including Showtime/ITV's Secret Diary of a Call Girl and Channel 4's award-winning Fresh Meat. Chan has appeared in some of Britain's best-loved television, including Doctor Who: The Waters of Mars with David Tennant and Lindsay Duncan, and BAFTA and International Emmy® Award-winning sitcom The IT Crowd. She also starred in BBC One's True Love, a five-part drama exploring modern-day relationships from BAFTA-winning director Dominic Savage, alongside David Morrissey, David Tennant, Kaya Scodelario and Jane Horrocks; Shetland, written by award-winning crime writer Ann Cleeves; the second season of Sky Living's supernatural drama Bedlam; and alongside Ben Chaplin, Oona Chaplin and Sheridan Smith as one of the leads in the Channel 4 drama Dates (named in The Guardian's Best TV of 2013).

In 2015, Chan appeared in the BBC's six-part drama The Game, a cold war spy thriller with Tom Hughes and Brian Cox. The series premiered on BBC America last November. She also featured in the comedy series Brotherhood alongside Johnny Flynn, Ben Ashenden and Sarah Hadland, shown on Comedy Central.  2015 also saw Chan take the lead role in the eight-part science fiction drama Humans, Channel 4's most successful drama in 20 years, in which she played Anita, an anthropomorphic robot.  Chan's role as Anita saw her nominated in the Best Actress Category in the NME Awards 2016.  In July of 2016, Chan provided the voice of Dewdrop in the forthcoming animated television series Watership Down for BBC One.

Chan's film credits include the critically acclaimed, BAFTA-nominated Submarine, starring Craig Roberts, Sally Hawkins and Paddy Considine, and The Double (nominated for Best Film at the London Film Festival) starring Jesse Eisenberg and Mia Wasikowska, both directed by Richard Ayoade. She also appeared in the BAFTA-nominated psychological thriller Exam (nominated for Best Feature at the Raindance Film Festival 2009), directed by Stuart Hazeldine and Shanghai, a World War II drama directed by Mikael Hafstrom, starring John Cusack, Chow Yun Fat and Gong Li. In 2014, Chan made her Hollywood film debut in Paramount's spy thriller Jack Ryan: Shadow Recruit directed by Kenneth Branagh, alongside Chris Pine, Kevin Costner and Keira Knightley.  In 2015, Chan was cast in the French film Belles Familles, written and directed by Jean-Paul Rappeneau, alongside Mathieu Amalric and Marine Vacth.  Chan also starred alongside Johnny Depp, Billy Bob Thornton, Amber Heard and Jim Sturgess in London Fields, directed by Matthew Cullen and based on the cult novel written by Martin Amis.  Later in 2015, Chan filmed David Yates' Fantastic Beasts and Where to Find Them, inspired by J.K. Rowling's 2001 novel.  Earlier this year, Chan completed filming the action thriller Stratton, directed by Simon West, which she stars alongside Dominic Cooper and Tom Felton.

An accomplished stage actress, Chan made her stage debut in the British premiere of Bertolt Brecht's Turandot at the Hampstead Theatre. In November 2013, she was chosen by Tony® and Olivier Award-winning playwright Timberlake Wertenbaker to star as Athena in the world premiere Our Ajax at the Southwark Playhouse. Chan performed in the sellout run of the critically acclaimed Yellow Face, by Tony® Award-winning and Pulitzer Prize finalist David Henry Hwang at the Park Theatre and in May 2014 she appeared in the National Theatre's revival of Yellow Face.  Most recently, Chan starred in the West End revival of Harold Pinter's masterpiece The Homecoming at Trafalgar Studios.

Chan is classically trained on the violin and piano and a passionate supporter of human rights, working with charities including UNICEF.