Press
TV.com Says Goodbye to Elam, Ruth; Christopher Heyerdahl to Appear on Gotham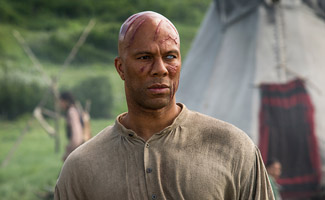 This week, TV.com says goodbye to Elam and Ruth, while Christopher Heyerdahl will appear on Fox's Gotham. Plus, Hell on Wheels will start shooting again in Calgary in April. Read on for more:
• TV.com bids adieu to the major TV characters who died in 2014, including Elam and Ruth.
• CarterMatt is eager for Christopher Heyerdahl's upcoming appearance on Fox's Gotham on Jan. 19 and suggests that viewers watch the first two episodes of Hell on Wheels Season 4 for "a master class performance" from him.
• The Calgary Sun reports that Hell on Wheels will return to Calgary in April to shoot 14 episodes for Seasons 5 and 6.

• Dread Central reports that Where the Devil Hides, starring Colm Meaney, will be released on DVD in the U.K. on Jan. 26.
To stay up-to-date with all the latest Hell on Wheels news, sign up for the weekly Hell on Wheels Telegraph.
Read More