Press
Hell on Wheels Voted Most Underrated Show in CarterMatt Poll; TV Fanatic Revisits Season 4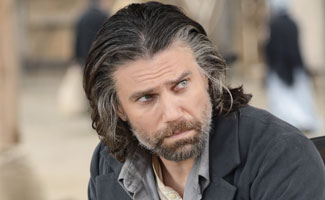 This week, Hell on Wheels is voted the year's most underrated show by CarterMatt's readers, while TV Fanatic takes another look at Season 4. Plus, The Huffington Post has expectations for the last season. Read on for more:
• CarterMatt's voters deem Hell on Wheels the year's most underrated TV show, which had "a tremendous fourth season that included wonderful performances, beautiful sets, and several emotional moments that probably had you welling up."
• TV Fanatic looks back at Season 4 and declares, "The series may be headed towards its final season, but it's not looking to go out with a whimper."
• On the heels of the Season 4 finale, The Huffington Post writes, "As the producers and writers recalibrate Hell on Wheels for next season, to satisfy faithful viewers they must be in agreement on one thing. There has to be a final showdown" between Cullen and the Swede.

• mxdwn Movies spotlights the trailer for Supremacy, a movie featuring Anson Mount that will be released in theaters and video-on-demand on Jan. 30, 2015.
To stay up-to-date with all the latest Hell on Wheels news, sign up for the weekly Hell on Wheels Telegraph.
Read More