Q&A
Hell on Wheels Q&A – Rick Clark (Music Supervisor)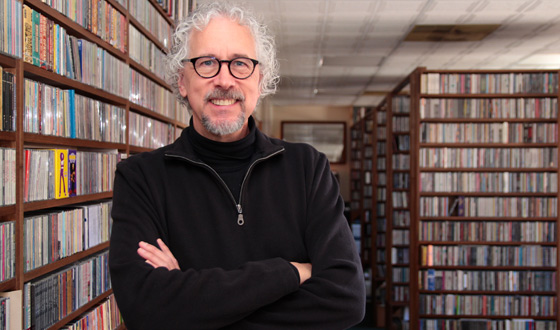 Rick Clark, Music Supervisor on AMC's Hell on Wheels, talks about selecting music for Season 4 and featuring a Bob Dylan song in the season finale.
Q: This is your first season as Music Supervisor for Hell on Wheels. What interested you most about working on the series?
A: I really enjoy well-conceived, well-written westerns. Hell on Wheels, in my book, is one of the best. The writing on the show is extraordinary, as is the acting. All around, it's a top-notch show with rich, detailed characters and powerful moral dilemmas.
Q: The Season 4 finale features a just-released alternate take of a Bob Dylan classic, "I Shall Be Released." How did you come to select that song as an appropriate one to use in the episode's closing moments?
A: John Wirth, the showrunner, called me up with an idea for putting a piece of music in at the very last scene. He suggested the song, but performed by a different artist. I liked the song, but that particular version didn't communicate what I felt was most effective for the scene. What it all comes down to is what works for what's at hand. I don't care what the song is or who it is – all I want to do is feel something. I just want to support the power of the moment. There's an emotional nakedness to Dylan's performance of this song, and when I put it up against the picture, it worked.
So, I called the guys at Dylan's office and we arrived at this recording that, at that point, had been previously unreleased. I listened to it and immediately thought it was a perfect fit. A lot of people would have gone for a grand, big finish for the final scene, but to me, Dylan's more personal feeling performance left enough air in the scene to allow Anson [Mount]'s acting to really breathe. They complemented each other. The final look on Cullen's face, combined with this beautiful song, is pretty powerful.
Q: Talk a little bit about the process for arranging for the rights to use a song in an episode. Were there any unique challenges with arranging for the use of "I Shall Be Released (Take 2)"?

A: Anything that's worthwhile in film and television making is never a solitary effort. It's always the work, ideally, of a quality team of people who are trying to serve what is best for the show. Bob Dylan's office is incredibly passionate and helpful. They've worked with me over the years, and these are people who love music and are excited to engage. They've been a joy and are extremely supportive.
Q: Were there any Season 4 scenes for which you had immediate ideas for music?
A: In Episode 411, where Ruth is being led to the jail, there's a hymn playing called "Never Grow Old." That was performed by a Mormon female artist, Debra Fotheringham, who has a group called The Lower Lights. I loved the idea of the song title and the sentiment of the song. Early on in the season, I was given an image that Ruth would be looking out of the jail cell window at the gallows. The song is often sung more upbeat and positively, and Debra sings it with a heaviness to it. I thought it would be really appropriate.
Q: In addition to being the Music Supervisor this season, you also composed some of the music. One of your contributions was the mariachi song "Favorite Son," heard at the beginning of Episode 405, "Life's a Mystery," when we first meet Sidney Snow. Talk a little bit about what went into creating the track — what were your inspirations?
A: I had mariachi-style strings, horns, whistles, and all kinds of things brought in, and recorded it. I was looking for a singer that had a Roy Orbison-esque kind of voice, someone who possessed a romantic quality. The singer that came to my mind was Grant-Lee Phillips, who was voted as Male Vocalist of the Year by Rolling Stone magazine. The musicians I used, Deliverance Sisters, are a creative stew of people. From reading the scripts, Sidney was being hung as a womanizer. There's a dark comedic element underneath. I had this idea of having lyrics being sung from the point of view of Sidney. So, Sidney's singing about being his mother's favorite son and appreciating the love of beautiful women. It's all totally over the top and pathological. He feels entitled to have all the women he wants! [Laughs] The projecting of Sidney's entitlement and then him struggling with the rope – it's hilarious.
Q: Talk a little bit about some of the other notable songs you selected or composed for Season 4 — for example, the song "That I May See Your Face," heard in the scene in Episode 410, "Return to Hell," in which Ruth is escorted to Ezra's grave.
A: It was originally an a cappella duet performance written years ago by Laurelyn Dossett. I always loved the song, and it was in my pile of tracks to consider. I wanted it to be a little more cinematic and textural. I asked Laurelyn to change a few lyrics and if she would sing this re-envisioned version. It played out beautifully. I really love the moment where Cullen and Ruth look at each other and Ruth climbs up on the wagon. I muted out everything so you just hear Laurelyn's voice. I wanted Ruth to be utterly alone, and I wanted you to feel her isolation and her loss.
Q: How would you define the overall mood for Hell on Wheels this season, and how did the music help set the tone?
A: There was a need to have things organic and true to the times. That's why I researched things like Mormon hymns. I wanted clear and emotionally-present voices. Part of it was matching those voices with the spirit of the characters. I really wanted to provide music that was nuanced, dramatically supportive, and memorable. I like where we took the show, musically.
Read More