Press
Anson Mount Shares Jon Hamm's Advice; TV Fanatic Ready for Season 5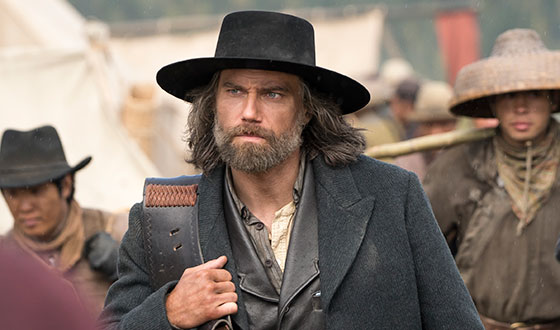 This week, Anson Mount shares with Entertainment Weekly some advice he once received from Jon Hamm, while TV Fanatic is already eager for season 5. Plus, The Huffington Post is still lamenting Ruth's death. Read on for more:
• Anson Mount tells Entertainment Weekly a story about receiving advice from Jon Hamm (that involves bumming a cigarette from Aaron Paul).
• TV Fanatic, reviewing the season 4 finale, remarks that season 4 "definitely came back with a vengeance proving that this western television series has still got it. And it's certainly got me ready to take that final journey with Cullen and company."
• The Huffington Post wasn't ready for Ruth to die or for Hell on Wheels to lose its "courageous spiritual overseer."
• Paste thinks season 4 "has definitely had some of the strongest episodes in the show's history. As the series heads toward its final season, we can look forward to what seems like a truly exciting end."
• CarterMatt spotlights AMC's video of the main players — Anson Mount, Jake Weber, Colm Meaney and John Wirth — discussing the season 4 finale.
• For recaps and reviews of the season 4 finale, "Further West," check out Basket of Kisses, CarterMatt, Cowboys & Indians, Den of Geek, Guardian Liberty Voice and TV.com.
To stay up-to-date with all the latest Hell on Wheels news, sign up for the weekly Hell on Wheels Telegraph.
Read More