Uncategorized
Hell on Wheels Q&A – MacKenzie Porter (Naomi Bohannon)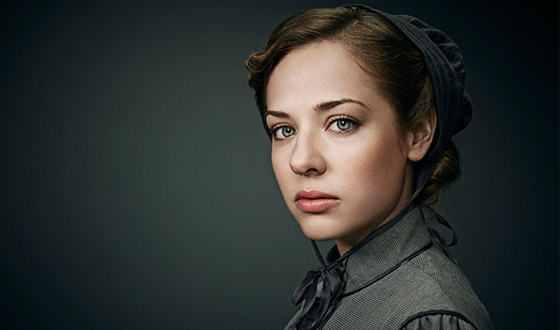 MacKenzie Porter, who plays Naomi Bohannon on AMC's Hell on Wheels, talks about composing music inspired by the show and acting with a baby.
Q: You're originally from southern Alberta, where the show is filmed. Did you feel at home during production? Do you know Calgary well enough to tip your castmates off about great local places?
A: I know Calgary pretty well and I felt close to home. On the weekends, I could go home to my parents and be with my family. But the cast had already been there for three years, so they knew more hot spots than I did!
Q: You grew up on a cattle and bison ranch. Do a lot of things on set feel like second nature to you? For example, are you experienced with riding and handling horses?
A: Yeah, definitely. It's such a whole different world on set because of the era that we're creating, but the horses and even the mud were very similar to the ranch I grew up on. I did feel comfortable and safe. Although, I was only around horses in a couple of scenes, it did feel like second nature.
Q: In Episode 408, Naomi says goodbye to Cullen and takes baby William back to the Mormon fort. Do you think she made the right choice? If you were in her shoes, what might you have done?

A: At this point, I do think she made the right choice for the safety of William. She's been through so much with being in Cheyenne and not being around her family. I think anybody can relate to that. If I was in her situation, not near my family and around people who weren't really accepting, that would probably be the best move for me as well – even if it meant not being with my husband.
Q: Talk a little bit about acting with a baby. What kind of unique challenges does it pose?
A: I think the biggest thing is that you have a crying baby. Sometimes, we have to switch in a doll. The baby that we had, though, was actually amazing and barely cried. I fell in love with him. I've never held a baby that was so calm and relaxed. Even during the shooting scenes and all of that, he was super chill.
Q: In addition to acting, you're also a singer/songwriter, and your debut album was recently released on iTunes. Do you ever sing on set?
A: My manager, after I booked Hell on Wheels, gave me a congratulatory present which was a recording setup that I could put in my trailer. So, the whole time we were filming, I was actually recording my album on the weekends. I did a lot of music in-between setups.
Q: Have you composed any music inspired by the show? Did you have a chance to talk about music with Common?
A: I did talk to him about balancing music and acting. It was so funny because when I was on set, Common was like, "How do you do it?" and I'm like, "How do you do it?" [Laughs] He's been doing it way longer. I'm inspired by all types of music, and I love the music they have on the show. I love listening to everything. I've been writing to hopefully get a song placed on the show or have it incorporated.
Q: Are there ways in which your two career paths overlap? For example, do your acting chops come into play when you're working on your music videos? How so?
A: I feel so much more comfortable shooting a music video. I get to play myself in a music video and not a character. It's really relaxing to me. Also, with writing songs, sometimes I'm inspired by things that I read during an audition or something my character goes through. So, they do go hand-in-hand, and I hope to bring both into my work.
Read an interview with Common, who plays Elam Ferguson >>
Read More