Uncategorized
Hell on Wheels Q&A – Common (Elam Ferguson) Answers Fan Questions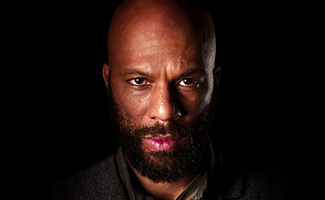 In this interview comprised of questions from Hell on Wheels fans, Common talks about a memorable blooper on set, his final scene, and what it was like to let go of Elam Ferguson.
Q: How difficult was the transition from music to acting? — Burnside
A: It was difficult because it was something I had never done before, but at the same time, it was so invigorating and energizing and so inspiring that it really wasn't difficult. Because I love it so much, and I feel like it's a blessing to do, I'm always excited about it. When you love something, it's not as difficult. One difficult aspect, though, was having people within the film and television industry see me as an actor and not just Common, the rapper. Being able to be seen as the actor that I am and let my work do the talking — that was difficult. I definitely know that I'm growing. It's a journey, but I'm with the journey.
Q: When you're immersed in playing your character, how much of Elam is drawn from historical interpretation, and how much is drawn from your own experiences? — Snake Eyes

A: I really believe a lot of it is from the historical, ancestral legacy, and from whatever interpretation and truth that I was able to draw from that — the research that I did about the people who lived during those times and my own connection with them, the stories that I know, and the things that I've picked up inherently. I feel connected in certain ways, and the stories that were written for the character allowed me to really just be there.
Q: What are some of the most memorable bloopers you've made while shooting Hell on Wheels? — Danny T.
A: Oh, yeah! There was one that was really funny. It was when Elam had to go find his baby. Of course, we had a real child for most of the scenes, but nobody was willing to take the chance on me riding with the baby on the horse. So, we actually had a little baby doll, and as I was riding, the baby's head was flopping around so much it almost came off. Thank God it wasn't the real baby! [Laughs]
Q: You were so strong in "Bear Man." I felt your agony, no words had to be said. What were you thinking while shooting the episode? — Marilyn K.
A: That was a difficult episode for several reasons. It was a lot of work, but I was super happy with what they gave me. When I read that script, I was so enthused. What I was thinking was: What is this person really going through? What is it like to know you are intelligent and powerful and strong, but not be able to find that place in your brain because you've been traumatically damaged, and really trying to find yourself because of the injury you have? I was thinking about trying to remember who you are, with certain things coming back to you and certain things not. I was just in the moment and taking it in. I didn't understand some of the things the Comanche natives were saying, and Elam didn't understand. It was a powerful experience for me, and I learned a lot. I love getting to act that much.
Q: The makeup for your wounds totally scared me! How much time did it take to give you that scary look, and what was your reaction the first time you saw yourself? — Ramona J.
A: The first time I saw myself, I couldn't believe it! It totally put Elam in a different place. I immediately pulled out my phone to take a picture. The makeup took two hours a day and the makeup artist, Sharon Toohey, is incredible. Her work is phenomenal. People would see me on set, and it was hard for them to talk to me because they would always want to look at that one eye. With all the scars and things that she created, she did a phenomenal job. That was really special, and she would get it done fast because I was in all of the scenes in "Bear Man." One day, we had to film three stages of where Elam was at. One was the dream sequence where Elam was fully clean, and then we had to go back to where he was fully bruised up, and then back to where his scars were healing. It was a lot of work.
Q: What was it like filming the fight and then the death scene with Anson Mount? Was it emotional? — Caitlyn Erin B.
A: Elam and Bohannon have had fights, and I fought on every season, so it was almost like getting back into the ring with someone you've fought with many times. Emotionally, it was definitely tough, and just to know that the last scene where Elam is killed, the doors would be closed and there's no turning back — it's a sad feeling. This show is monumental in my life, and one of the best experiences I've had as a creative artist.
Q: What have you enjoyed most about playing Elam? Is it hard to let go of the character? — Beebom
A: I enjoyed really being able to express what a human being from that time is and was, and to really represent a black man from those times in a strong way — what he felt. How much of a human being he is — one that loves, makes mistakes, has determination, is a warrior, and all the things that Elam embodied. It's hard to let go. I was on the show for four years, so it's like we all went to college together. The character is somebody I got to know very well and was a true expression of me and of my respect for my ancestors.
Read an interview with Colm Meaney, who plays Thomas Durant >>
Read More