Press
Common Talks Elam's Exit With Deadline; TV Fanatic Says Anson Mount "Shines"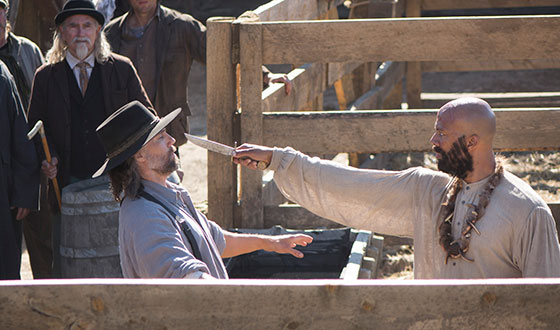 This week, Common talks to Deadline about Elam's exit from the show, while TV Fanatic lauds Anson Mount's performance in the most recent episode. Plus, CarterMatt takes a look at next week's installment. Read on for more:
• Common, interviewed by Deadline about his departure from the show, says, "I thought it was a brilliant way to give Elam an exit. I think it paid honor and respect to him and it is unexpected and it is shocking and it shakes you and rattles you."
• Reviewing "Elam Ferguson," TV Fanatic applauds Anson Mount, who "shines as Cullen Bohannon."
• CarterMatt previews the next episode, "Under Color of Law," and asks, "Are you ready to see Cullen Bohannon take the next step on Hell on Wheels?"

• CarterMatt spotlights AMC's video of Anson Mount, Robin McLeavy and the producers discussing the "devastating" events of "Elam Ferguson," the "hardest episode to watch quite possibly of the entire series."
• For recaps and reviews of Season 4, Episode 7, "Elam Ferguson," check out CarterMatt, Cowboys & Indians, Den of Geek, Paste and TV.com.
To stay up-to-date with all the latest Hell on Wheels news, sign up for the weekly Hell on Wheels Telegraph.
Read More