Press
John Wirth Teases Season 4 With Calgary Herald; Dominique McElligott in New TV Project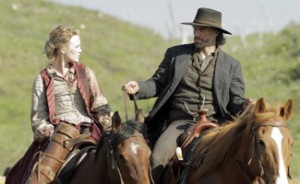 This week, the Calgary Herald gets some Season 4 tidbits from John Wirth. Plus, Dominique McElligott is set for a new TV series. Read on for more:
• John Wirth talks to the Calgary Herald about Season 4, saying, "One of the challenges of keeping the show fresh is to bring the show back that we all know and love and want to see but change it up, recreate it, reinvent it for the new season."
• According to E! Online, Astronaut Wives Club, starring Dominique McElligott, has received a series order from ABC.
• The U.K.'s Radio Times calls Colm Meaney "well-cast" in The Damned United, a movie directed by Tom Hooper.
To stay up-to-date with all the latest Hell on Wheels news, sign up for the weekly Hell on Wheels Telegraph.
Read More