Press
THR Praises Hell on Wheels Saturday Performance; CarterMatt Checks on Season 4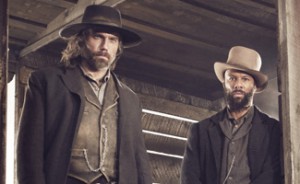 This week, Hell on Wheels is commended by The Hollywood Reporter for its Saturday night ratings, while CarterMatt checks in on Season 4. Plus, one of the show's writers and producers wins kudos from Den of Geek. Read on for more:
• The Hollywood Reporter calls Hell on Wheels a "staple and solid performer on Saturdays."
• CarterMatt offers an update on Hell on Wheels, noting the drama "flourished and maintained an audience of live viewers" during its Saturday time slot.
• Reviewing an episode of Starz's Da Vinci's Demons, Den of Geek applauds the episode's writer, Jami O'Brien, who's also a writer on Hell on Wheels, saying she "proves that she knows her way around the Renaissance just as well as she knows her way around the American frontier."
• The Tennessee Titans website reports that Anson Mount will take part in a Q&A, along with the team's coach Ken Whisenhunt, to raise money for Duchenne muscular dystrophy.
• Talking to The Huffington Post, The Charlie Daniels Band's eponymous frontman credits Hell on Wheels for the group's Bob Dylan album. Daniels also speaks with The Journal News about the drama's influence.
To stay up-to-date with all the latest Hell on Wheels news, sign up for the weekly Hell on Wheels Telegraph.
Read More