Press
CarterMatt Calls Hell on Wheels "Thrilling"; Colm Meaney Interviewed by Den of Geek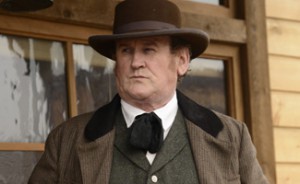 This week, CarterMatt names Hell on Wheels one of the year's most underrated TV shows, while Den of Geek talks to Colm Meaney about his new film and his career to date. Plus, Common chats with the Chicago Sun-Times. Read on for more:
• CarterMatt considers Hell on Wheels one of 2013's most underrated TV shows, calling it "fast-paced, thrilling entertainment."
• Den of Geek, observing that Colm Meaney's "varied career has seen him contribute to some prime fillets of geekbait," talks to the Hell on Wheels actor about his new film, Alan Partridge: Alpha Papa.
• Common talks to the Chicago Sun-Times about Midwest women, who possess "that real balance of soft with authentic toughness."
• Zagat profiles Phil Burke, a veteran NYC bartender who finds himself getting recognized now for his role on Hell on Wheels as Mickey.
• Talking to Metro, Calgary's commissioner of film, television and creative industries cites Hell on Wheels as an example of the many productions shot in Alberta.
• To stay up-to-date with all the latest Hell on Wheels news, sign up for the Hell on Wheels Telegraph.
Read More