Press
THR Trumpets Hell on Wheels Renewal; Colm Meaney Film To Open During Holiday Season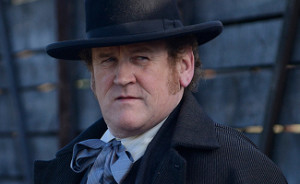 This week, news of the Season 4 renewal is covered by several high-profile publications including The Hollywood Reporter. Plus, the holiday season will see the opening of a film starring Colm Meaney. Read on for more:
• "AMC is going back to the Old West," declares The Hollywood Reporter while reporting that Hell on Wheels has been renewed for an expanded Season 4. Entertainment Weekly, Los Angeles Times, New York, The New York Times, TV Guide, Variety and TheWrap also cover the news.
• The Los Angeles Daily News's holiday season movie line-up includes One Chance, a film starring Colm Meaney that opens Dec. 27.
• The Sydney Morning Herald highlights new releases such as Alan Partridge: Alpha Papa, which features Colm Meaney as an "embittered former employee."
• To stay up-to-date with all the latest Hell on Wheels news, sign up for the weekly Hell on Wheels Telegraph.
Read More