Press
Colm Meaney Talks New Film One Chance; Motley Fool Spotlights Hell on Wheels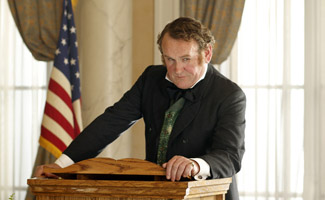 This week, Colm Meaney discusses one of his new films, One Chance, while Motley Fool cites Hell on Wheels as a reason for liking AMC Networks' stock. Plus, Phil Burke is doing a reading in New York. Read on for more:
• Australia's The (Gladstone) Observer interviews Colm Meaney about his role in One Chance, "a feel-good film with a classic rags-to-riches story" about Britain's Got Talent's Paul Potts.
• The Motley Fool likes AMC Networks, citing the cable channel's original programming, namely what it's accomplished with Hell on Wheels.
• Phil Burke will participate in a reading of Rebecca Gilman's screenplay adaptation of Blue Surge next week in New York, according to Broadway World.
• Calgary Herald interviews Rick Janzen, who has created historical lettering and period scenic backgrounds for productions such as Hell on Wheels.
• To stay up-to-date with all the latest Hell on Wheels news, sign up for the weekly Hell on Wheels Telegraph.
Read More