Press
Anson Mount Cast in John Travolta Film; Den of Geek Talks Hell on Wheels With Mount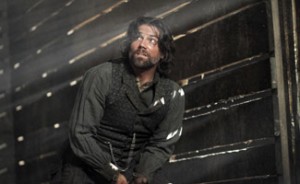 This week, Anson Mount books a role in a film called The Forger, while Mount discusses Hell on Wheels with Den of Geek. Plus, the Times Colonist is pulling for a Season 4. Read on for more:
• Anson Mount has joined the cast of The Forger, a film starring John Travolta and Christopher Plummer, according to Variety.
• Den of Geek interviews Anson Mount, observing that his "performance on Hell On Wheels has been phenomenal, and if you aren't watching the series, well, you should be."
• The Times Colonist is hoping for a Season 4 since Hell on Wheels "remains compelling to watch," and Den of Geek "would welcome a Hell On Wheels Season 4."
• CarterMatt.com thinks that the Season 3 finale ratings (2.5 million viewers) make the show "worthy for a renewal."
• Colm Meaney joins the cast of Pelé, a film about the Brazilian soccer player, according to Movies.ie.
• StudioDaily profiles Sim Digital and talks about the work the company is doing with Hell on Wheels.
• Us Weekly reports that Dohn Norwood tied the knot at the end of September with Marlene Glasper, a musical consultant on Hell on Wheels.
• The Times of Israel reports on a visit to Israel by Anson Mount and other U.S. celebrities as part of America's Voices in Israel.
• For recaps and reviews of Season 3, Episode 10, "Get Behind the Mule," check out The A.V. Club, Basket of Kisses, CarterMatt.com, Cowboys & Indians, Starpulse and TV.com.
• To stay up-to-date with all the latest Hell on Wheels news, sign up for the weekly Hell on Wheels Telegraph.
Read More