Uncategorized
Q&A – Tayden Marks (Ezra Dutson)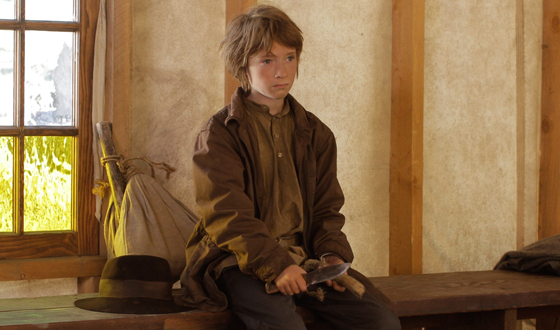 Tayden Marks, who plays Ezra Dutson on AMC's Hell on Wheels, shares acting tips from Anson Mount and talks about his favorite scene.
Q: You were initially going to appear as Cullen's son in a flashback. How'd you end up playing Ezra instead?
A: We originally did that scene a long time ago back in Season 1, but it ended up getting cut. Then, the role for Ezra came along and I think the producers knew that I had it in me to get that part.
Q: Is it weird watching yourself on TV?
A: Yeah, it's fun, though!
Q: Do your friends watch you too?
A: Yes. It's really cool because one of my friends' dad is a drama teacher.
Q: Ice hockey was a big part of your childhood. What made you decide to be an actor? 
A: My brother and sister both did ice hockey, so I started doing it. When I was doing it, I didn't really like it too much. I used to always like getting costumes and playing around, so I asked my parents if I could be an actor.
Q: Is it tough having to act without being able to talk?
A: No, not really. It's pretty easy. Anson [Mount] told me about something called "head to toe" which means not to use too much facial expressions, so I used a little bit of that.
Q: You participated in an acting competition. What was that like?
A: That was really fun. A whole bunch of agencies got together and went to Vancouver for this huge acting competition. The first day I went to, I won!
Q: Do you have a favorite Hell on Wheels scene?
A: My favorite scene is the one where Cullen and I are sitting by the campfire and I say my first words to him. [Anson] is super nice and super fun to work with. He taught me a lot.

VIDEO: Inside Episode 308 Hell on Wheels: It Happened In Boston
Q: Did you have any experience riding horses before working on this show?
A: I didn't. I learned how to ride my horse and his name is Danny.
Q: Christopher Heyerdahl (The Swede) told us about the gift you made for him. Have you kept in touch with him or anyone from the show?
A: I'm on Twitter now and all of the Hell on Wheels people who are on Twitter follow me, so I am in touch with them.
Q: Do you enjoy interacting with the fans on Twitter? What's been the coolest thing anyone's said?
A: Yeah, it's really fun. They say things like, "I hope I'll save you from that nasty Swede."
Q: What's Christopher Heyerdahl like in person?
A: He's probably the nicest guy you will ever meet. It's ridiculous how good of an actor he is to play such an evil character.
Q: What would you be doing if you weren't acting?
A: This is probably my biggest dream.
Click here to read an interview with Christopher Heyerdahl, who plays The Swede on AMC's Hell on Wheels.
Read More